Announcements
Planning for your retirement someday – Start now to reach your dreams - Workshop
Thursday, October 12, representatives from VOYA will present a workshop Planning for your retirement someday – Start now to reach your dreams. This workshop will be held in Farrell Center, Room 211A from 12 p.m. to 1 p.m. and lunch will be provided. Click to sign up for and learn more about this workshop.
VOYA REPRESENTATIVES TO VISIT CAMPUS – INDIVIDUAL MEETINGS
Tuesday, October 24, 2017 from 9 a.m. to 4 p.m., Bush Hall Room 138, VOYA representatives will be on campus to meet with employees on an individual basis. Individual meetings are for employees who wish to discuss their personal financial circumstances, strategies and retirement plans. Contact Robert Laferriere to schedule an appointment at 518-738-0060 or Robert.Laferriere@voyafa.com. Click here for additional information.
2018 PRODUCTIVTY ENHANCEMENT PROGRAM (PEP) For CSEA and M/Cs– OPEN ENROLLMENT OCTOBER 2 - NOVEMBER 6
Open Enrollment for Productivity Enhancement Program (PEP) is open October 2 through November 6, 2017. This benefit allows employees to exchange previously accrued annual vacation leave in return for a credit to be applied toward the employee share of health insurance premiums on a bi-weekly basis. View the 2018 CSEA Program Description and Enrollment Form. View the 2018 M/C Program Description and Enrollment Form. This program has not been released for UUP units as of yet. Please submit your completed forms to the Office of Human Resources by Monday, November 6. For more information, contact Ruth Ehrets in the Office of Human Resources at ehretsrh@delhi.edu or 607-746-4498.
2018 NYS FLEX SPENDING - OPEN ENROLLMENT OCTOBER 2 - NOVEMBER 6 ONE PROGRAM TWO GREAT BENEFITS!
Health Care Spending Account (HCSA) and the Dependent Care Advantage Account (DCAA), learn more about both benefits by clicking here. Open enrollment will be open Monday October 2 through Monday, November 6, 2017 (enrollment will close at midnight). If you are currently enrolled in Flex Spending you must re-enroll by Monday, November 6 to continue your benefits in 2018. Enroll online or by calling 1-800-358-7202. You will need your NYS employee ID number which can be found on your time and attendance record, your paycheck/payroll advice and NYS Payroll Online. Click to view:
Fall Holidays
Please view this very important announcement from the Office of Human Resources regarding 2017-2018 Fall Holidays. As a reminder floating holiday credits can be taken in ¼ hour units and faculty are not eligible to observe holidays. Click to view the Holiday Schedule and Administrative Payroll Lag Calendar. Please contact the Office of Human Resources with questions regarding holidays and payroll related matters at 607-746-4495.
New York State and CSEA Partnership for Education and Training
The New York State and CSEA Partnership for Education and Training is pleased to announce the 2017-2018 tuition benefits program. Eligible CSEA employees are eligible for two tuition vouchers or tuition reimbursements. Courses include: Information Technology, Welding, Nursing and Commercial Drivers License (CDL). Click here for a complete list of courses. Educational Advisement Services are available to CSEA represented employees by calling 518-486-7814 or 800-253-4332. For further information, visit NYS and CSEA Partnership, call 800-253-4332, or email advisors@nyscseapartnership.org.
NATIONAL RETIREMENT SECURITY SAVINGS WEEK
National Retirement Security Savings Week October 15 through October 21. No matter your age or retirement planning stage, now is the time to focus on long-term financial planning for retirement and this year's theme is "Your Whole Story." SUNY has developed a variety of interactive tools, video clips, financial calculators and more to help you meet your retirement goals and show you how today's financial decisions impact your retirement security down the road. Click to access all the retirement financial tools SUNY has put together just for you!
SUNY Delhi Employment Opportunities
If you are looking for a career change, are interested in teaching a course or have friends or family interested in working with us, please visit and share within your social networks our Employment Opportunities webpage:
Internal Career Development: The college recognizes the need for providing promotional opportunities for current employees and will give first consideration to internal candidates who meet the minimum qualifications and apply within 10 days of the Delhi Today vacancy notice. Please view the Internal Promotion Policy for complete details.
Adjunct Instructors: The college continuously welcomes applications for adjunct instructors in the Schools of Liberal Arts & Sciences; Business & Hospitality Management; Veterinary & Applied Sciences and Nursing (clinical instructors). When applying to a specific School, please note that candidates are contacted only when there is a need for additional instructors and if candidate qualifications and experience are aligned with course needs.
Future Employment Opportunities: new positions are posted almost every week, so please check back frequently or subscribe to receive daily or weekly job alerts. To sign up, visit www.delhi.edu/jobs, select any job title in each category in which you are interested in receiving alerts (Faculty, Staff, CADI etc.), click the yellow bell in the "Apply Now" box, and enter your email.
NYS Teachers Retirement System (NYSTRS) Pension & Retirement Education Program (PREP) Seminars & One-On-One Consultations
NYSTRS has developed free PREP seminars for NYSTRS members of all ages. These seminars are held throughout the year and across the state; click here to view the PREP Schedule of dates & locations. To make a reservation online, log into your MyNYSTRS account, or create one today at NYSRTS.org or call 800-348-7298 ext .6180. Seminars often fill up quickly, so make your appointment early! Visit NYSTRS.org Pension & Retirement Education page for more info. TRS members may also choose to attend a one-on-one consultation; view the Summer 2017 Schedule.
New York State and CSEA Partnership for Education and Training (Partnership)
The Partnership is pleased to announce the 2017 Summer Webinar Series. Webinars allow CSEA-represented New York State employees the opportunity to learn from the convenience of their office or home. Webinar course titles include: Professionalism in the Digital Age; Addressing Conflict in Customer Relations; Getting Organized: Time, Tasks and Life; Merit System: Examinations and Eligible Lists; Understanding Today's Computer; and Using the Tuition Benefits Program. For a complete list of all courses, visit Summer Webinars webpage. Supervisors, please share these opportunities with your team and encourage employees to enhance their job skills and help meet the goals of the campus and your department. For more information about these and other programs, visit NYS & CSEA Partnership. Employees should apply as soon as possible as space in these statewide programs is limited. Employees can apply by submitting an application OR by registering through the Statewide Learning Management System (SLMS) https://nyslearn.ny.gov. For more information, contact the CSEA Partnership at 518-486-7814 or learning@nyscseapartnership.org.
The Partnership is pleased to announce two new online learning certificate programs for CSEA-represented New York State employees: The Microsoft Word 2013 Certificate Program is a learning opportunity for employees who are looking to enhance their knowledge and develop their skills in the Microsoft Word 2013 application. Applications are due January 22, 2018. In order to earn a certificate, participants must successfully complete all required courses by January 23, 2018. Space is limited; apply as soon as possible to reserve your seat. For more information please contact the Partnership directly at 518-486-7814, learning@nyscseapartnership.org or visit them online at www.nyscseapartnership.org.
SUNY Retirees Newsletters
NYS UUP Joint Labor-Management Committees - Empire Knowledgebank
The New York State/United University Professions Joint Labor-Management Committee (NYS/UUP JLMC) is pleased to announce the Empire Knowledgebank (EKB) eLearning Program for UUP-represented employees. Employees who apply to the EKB Program can access thousands of eLearning courses, eBooks and short course videos to enhance their professional and career development, for certification preparation and continuing education in a variety of areas. Licenses will be issued to applicants on a first-come, first-served basis. Employees seeking permission to use the EKB eLearning Program during normal business hours for job or career-related courses must request prior supervisor approval. UUP employees interested in using the EKB must complete an application and submit it to the NYS/UUP JLMC. For more information please see EKB Program Guidelines, visit NYS/UUP JLMC on the web, OR contact a program representative directly at 518-486-4666 or at nysuuplmc@goer.ny.gov.
Over40 COMP Time II Pilot Program for CSEA
State employees represented by CSEA who are overtime-eligible may opt to earn compensatory time at the time and one-half rate in lieu of overtime pay for hours worked in excess of 40 in a work week and can cash out that time at a later date. Program highlights:
Over40 II Comp Time enrollees must record the Over40 time in a separate column on their time record.
The maximum Over40 II credits that employees can bank is 240 hours.
Over40 II credits cannot be charged as a leave accrual.
Annual Cash Out: enrollees may cash out up to 120 hours of accrued credits once per year; details will be announced October 2017.
For additional details, please refer to the Over40 Comp Time II Pilot Program Description.
To enroll in the 2017-2018 program year of Over40 II, employees must complete the Over40 Comp Time II Pilot Program Enrollment Form and submit it to the Office of Human Resources no later than the close of business May 15, 2017.
Please contact the Office of Human Resources at 4495 with any questions.
SUNY Discounts
Discounts are also available to all SUNY employees by visiting SUNY PerksCard/PerksConnect, Plum Benefits, My Better Benefits, SUNY Discount Programand our own Delhi Discounts.
Online Services Available: NYS Payroll Online!
2017 Health Insurance Information:
Long Term Care Insurance Plan
(NYPERL) New York State Public Employee and Retiree Long Term Care Insurance Plans are currently not available for new or current employees looking to enroll in long term care coverage. For individuals who are currently enrolled in NYPERL and have questions about their policy, please contact MedAmerica directly at 800-544-0327. For individuals seeking long term care insurance contact the New York State Partnership for Long Term Care (NYSPLTC) at 866-950-7526 or by e-mail at nypltc@health.ny.gov or visit New York State Partnership for Long Term Care Program on-line.
NYS Department of Civil Service – Examination Schedules
Open-competitive examinations are open to an individual who meets the minimum qualifications specified on an examination announcement; view the tentative exam schedule, the scheduled exams and sign up for email alerts when new examination announcements are issued. Promotion and Transition examinations are open to all qualified state employees; view the tentative exam schedule, the scheduled exams and sign up for email alerts when new examination announcements are issued. Visit the NYS Department of Civil Service for additional information.
2017 Retirement Plan Limits & Required Universal Availability Notice
The Internal Revenue Service has announced Cost Of Living Adjustments (COLA) affecting dollar limitations for pension plans and other retirement-related items for tax year 2017. SUNY is also required to notify all employees on an annual basis of the availability to participate in a 403(b) tax-deferred savings plan. Please view SUNY's Universal Availability Notice which also provides information about NYS Deferred Compensation Plan. If you are over 50 years of age and wish to contribute over the $18,000 limit, you must complete a new Salary Reduction Agreement and submit it to the Office of Human Resources, preferably before December, so that deductions can be taken at the beginning of 2017.
NYS Teachers Retirement System Prep
NYSTRS has developed pension and retirement education seminars for all TRS members. To make a reservation online, log into your MyNYSTRS account, or create one today at NYSRTS.org or call 800-348-7298 ext. 6180. Seminars often fill up quickly, so make your appointment early! Visit NYSTRS.org Pension & Retirement Education page for more info.
Leaves of Absence & FMLA Information for Employees
In an effort to recognize the need of employees who require time away from work for personal reasons, employees must submit a request for a leave of absence with the understanding that not all requests are granted. To begin the process, complete the Request for Leave of Absence found on the Human Resources Forms page. Types of leave under the Family Medical Leave Act (FMLA) are to care for your own serious illness, a family member's serious health condition, a military family member's injury/illness or qualifying military exigencies. Please review NEW Employee Rights and Responsibilities under FMLA and note that supporting documentation may be required. For more information, contact the Human Resources Office, 607-746-4495.
Time Off for Breast Cancer Screenings
Employees are allowed to take up to four hours of paid leave annually for physical exams and mammograms for the detection of breast cancer and prostate cancer without charge to leave credits. Absence beyond the four-hour cap must be charged to leave credits. Employees are entitled to a leave of absence for breast cancer screenings scheduled during the employees' regular work hours. Employees who undergo screenings outside their regular work schedule do so on their own time. For example, employees are not granted compensatory time off for breast or prostate cancer screenings that occur on a pass day or a holiday. Employees must indicate Breast Cancer Screening or Prostate Cancer Screening on their time sheet when using this leave, and attach appropriate medical documentation to support the absence. Click here to locate mammography facilities.
Pre-Retirement Planning
Whether you are planning on retiring soon or thinking ahead to the distant future, NYS Work-Life Services has a variety of resources to assist you: Self-Help Guide, Retirement Checklist, Videos, Seminars and more! Additional resources include: Pension benefits calculator (for ERS & PFRS members) and Pension & Retirement Education Program (TRS members), SUNY planning tools and Asset checklist.
CSEA Tuition Benefits Program
The Tuition Benefits Program provides educational benefits to CSEA-represented NYS employees, enabling them to achieve greater career mobility, qualify for promotional opportunities, improve job skills, and prepare for future state workforce needs. For more info click here, download the application and visit benefit programs below:
SUNY Statewide Learning Management System (SLMS)
The SLMS has been updated providing SUNY better access to training information available to all SUNY employees; for instructions on how to access click here. Courses and Certificate programs within the SLMS include supervision/management, Microsoft Office, Information Technology, leadership, Empire Knowledge Bank (customer service), business & finance, CSEA Partnerships, general workplace skills, conflict resolution and mediation, and a variety of other professional development courses in several formats such as: online, instructor led, self-instruction, pod/web casts and video conference.
Pension and Annuity Income FAQs & Exclusions
Check out the commonly asked questions & summary of the various NYS retirement/pension tax exemption options, including reference to the SUNY ORP and 403(b) distribution.
NYS Deferred Compensation & SUNY Voluntary Tax Deferred Annuity
Did you know that you can contribute up to the maximum in both your 403(b) SUNY Voluntary Tax Deferred Annuity and your New York State Deferred Compensation Plan account! Click here to view the plan comparison chart. To learn more or enroll check out 403(b) SUNY Tax Deferred Annuity, New York State Deferred Compensation Plan and the SUNY Voluntary Savings Plan websites.
CSEA Accidental Death Benefit
CSEA is now offering a $5,000 Accidental Death Benefit at no cost to all active employed members. There is no application to fill out, and no premiums to pay. Download your $5,000 insurance certificate and beneficiary form by logging into your CSEA account online at https://www.cseaebf.com. To assign a beneficiary, mail a completed hard copy of the form to:
CSEA, Inc.
ATTN: Insurance Dept.
143 Washington Ave.
Albany, NY 12210
NYSHIP: Domestic Partner Tax Change
As per the Internal Revenue Code Section 152, domestic partners do not qualify as dependents, however domestic partners will continue to be eligible for NYSHIP coverage. NYSHIP enrollees who participate in the Pre-Tax Contribution Program (PTCP) and are covering domestic partners on their health insurance will see a change in how their NYSHIP premiums are taxed. In order to comply with IRS regulations regarding the tax treatment of health insurance premiums, the NYSHIP plan only allows for pre-tax deductions for coverage provided to federally-qualified dependents. Effective 2016, the enrollee portion of your health insurance premium will be deducted on a pre-tax basis, the additional portion of the premium you pay for dependent coverage will be taken on a post-tax basis. If enrollees have questions about this change, they should consult with a certified tax accountant or other qualified tax professional.
NYS Free Smoking Cessation Program
NYS offers free resources to help you quit smoking regardless of insurance status. Click here for your Stop Smoking Medication Discount Card; you may also qualify for free nicotine replacement therapies such as nicotine patches. To learn more info click here, click to download the Refer-To-Quit form, for more information call 1-866-NY-QUITS (1-866-697-8487).
Pension & Retirement Education Program (PREP) for TRS
NYS TRS has created several PREP seminars to educate members in financial planning, social security, estate planning and all things retirement. The seminars are free and your spouse/companion is also invited to attend. Reservations are required, visit NYSTRS.org (using your NYS TRS account), then see the "My Tools" tab OR call 800-348-7298 ext. 6180 weekdays from 8:30am to 4:15pm. To view the seminar locations and for more information please click here.
NYS TRS Retirement Benefits Consultations
NYS TRS has developed both in-person and video consultation sites where you can learn about NYS TRS benefits, review your benefit options at retirement and receive personalized benefits' estimates. Albany and video consolations are offered year round; in the video sessions you get to "meet" an expert using a webcam. To view the video and in-person sites, click here. To schedule a consultation, visit NYSTRS.org (using your NYS TRS account) OR call 800-348-7298 ext. 6100.
Interactive Retirement Planner
NYS Deferred Compensation Plan parented with Nationwide to develop the "On Your Side Interactive Retirement Planner." In less than ten minutes you can set a retirement goal and get suggestions to improve your retirement outlook. Find out more by clicking here.
Fidelity Wellness Series & Dedicated Phone line just for SUNY Employees
Fidelity has created several workshops designed to help you understand the financial and personal risks you may face and how to put a plan in place to prepare for living in retirement. Click for more info about the Thrive Series. Now contacting Fidelity is easier than ever! To learn about the SUNY ORP and 403(b) plans, simply dial 844-FOR-SUNY (844-367-7869) to reach a Fidelity Retirement Representative. Representatives are available Monday through Friday, 8 a.m. to midnight (EST).
Injured on the job? Call the Accident Reporting System (ARS)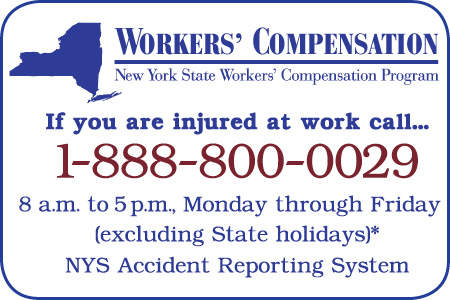 Each injured employee & student worker injury must:
call the ARS 1-888-800-0029, you will need to know:

our Workers' Compensation carrier is the NYS Insurance Fund

Glendale Tech Park Building 16, 2001 East Perimeter Road, East Endicott, NY 13760-7390 Phone 888-875-5790 fax 607-741-3985
our participating prescription service is CVS Caremark 1-866-493-1640

complete the Employee Accident & Investigation Report
provide report to your supervisor for their signature
send completed report to Human Resources, Bush Hall
Please see revised versions of the accident & injury reporting forms below...
Thinking about Retirement? After you retire, NYS starts calculating the amount of your final retirement benefit. This means you won't receive your full pension right away. For the first few months of your retirement, your first payments will be advance payments - but what are they? Click here to find out.
Planning for Retirement: Health Insurance & Related Benefits
The Social Security Administration has developed several online tools to help you plan for the future: Estimate Your Retirement Benefits & check out other Benefit Calculators.
Do you or does someone in your family need help with:
Alcohol or drug issues
Budgeting & finances
Childcare
Parenting
Education
Eldercare/disabilities
Health/mental health concerns
Problem gambling
NYS Work-Life Services can help, for more details click here.
Optional Retirement Plan (ORP)
Participants are now eligible to direct their active contributions, as well as transfer any post-1990 ORP contributions invested with other ORP vendors:
Patient Protection and Affordable Care Act
As you are aware, the Patient Protection and Affordable Care Act (ACA) was signed into law March 2010. One of the ACA requirements for employers is to inform employees of their coverage options, including the availability of coverage through the health insurance marketplace.
The attached notice satisfies this government requirement and provides some basic information about the new marketplace and employment based health coverage offered by the State of New York (NYS). Because NYS offers a significant contribution to a high quality health plan for eligible employees, you will not be eligible for a subsidy from the government to purchase health insurance in the marketplace unless you are not eligible for coverage under a NYS plan. Health plan coverage offered by NYS meets the minimum value requirement. Therefore, no action on your part is necessary if you are currently enrolled in NYSHIP coverage, as the attached notice serves specifically as a notice requirement.
Additional Announcements: