Residential Construction
AAS/AOS: Associate of Applied Science/Associate of Occupational Studies
- Two & Four Year Degree
Constructing a career in homebuilding begins at SUNY Delhi. OR Learn skills to become a master of your craft in building or renovating houses.
SUNY Delhi is proud to have the nation's oldest post-secondary program for students interested in carpentry and construction. Both degree options emphasize manual skills and techniques learned through real-world experience. The Associate in Occupational Studies degree prepares students to enter directly into the workforce with more focus on lab work. The Associate in Applied Sciences degree includes general education classes that prepare students to not only get a job, but also includes courses often required to continue to higher-level degrees.
Our Residential Construction program is open to students of all skill levels and the most successful students have a passion for working with their hands, a strong attention to detail, and take pride in their work. Students will learn all aspects of home building from creating plans, to construction of residential structures, and completing fine finishes. Skills are developed in carpentry, masonry, roofing, drywall hanging, and more. A certificate in cabinetmaking for advanced woodworking techniques is also available.
Why Delhi?
Our facilities include a fully equipped carpentry lab, cabinet shop, and masonry lab.
Each year students build a full residential structure, renovate a home, or construct additions for actual customers in the local community.
All industry safety standards and information are included and reinforced in all lab work.
Experienced instructors who are also building professionals with years of experience.
Our student chapter of the National Association of Home Builders (NAHB) takes field trips, participates in competitions, and volunteers in the community.
Students attend conventions and trade shows like Journal of Light Construction LIVE, NAHB International Builders Show, and more.
Students can put their skills to the test by competing in Skills USA and NAHB student contests.
The cabinetmaking certificate is a 1-year program where students learn furniture making, decorative techniques, case construction, plywood and veneer work, and hand finishing.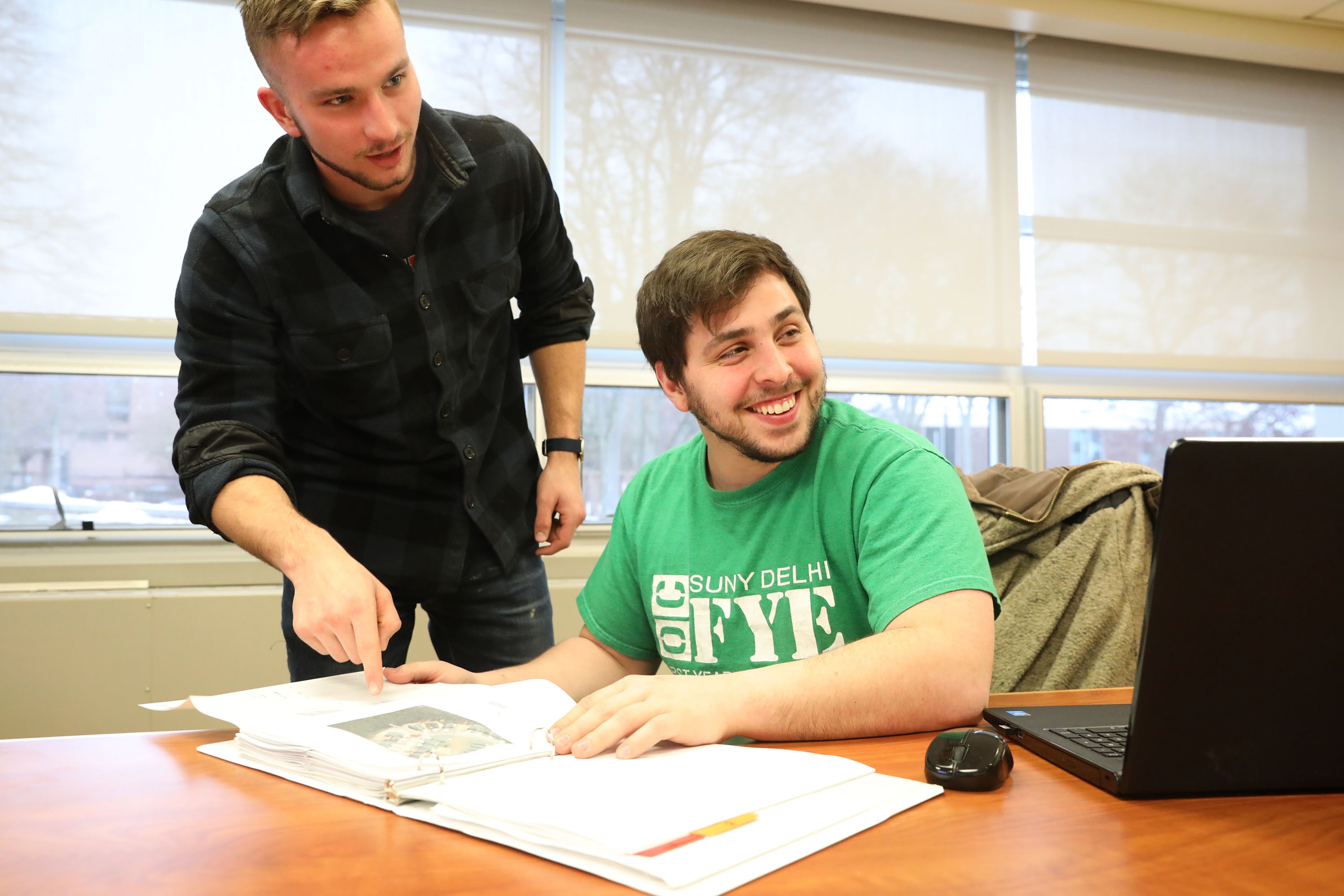 2019 NAHB STUDENT COMPETITION & INTERNATIONAL BUILDERS SHOW
This February, five students in the Residential Construction program traveled to Las Vegas, NV, to compete in the National Association of Home Builders (NAHB) Student Competition, held annually at the International Builders Show (IBS).
Read More about the NAHB Student Competition
The Delhi Advantage
A history of commitment to the building trades as the first college in the nation to offer a building/construction program.
SUNY Delhi was the national champion for NAHB the associate student competition in 2018, and has finished in the top five for the last five years.
Our graduates are employed in every part of the carpentry and homebuilding industry. Several alumni own their own businesses or are master tradespeople in woodworking, cabinetry, masonry, carpentry, and more.
SUNY Delhi has the only program with such a strong hands-on component to their curriculum. You can take a student from the lab and give them lumber, and they'll know what to do with it. Those real-world skills on top of the book knowledge is a huge advantage going into the workforce. I recommend Delhi to anyone who asks.

Jeff Rainforth '95 Vice President & Co-founder, Phelps Construction Group
What Can You Do with This Degree?
Woodworker/Carpenter
General Contractor
Mason
Roofing contractor
Remodeler
Home Inspector
Building Code Inspector
Theatrical Set Building/Construction
Cabinet/Furniture Maker
Sales Representative
Alumni Highlights
John Gonzalez '01, Owner – R.J. Millworkers, Oneonta, NY
Matthew Millham '17, Associate Editor – Fine Homebuilding Magazine
Lawrence Dykhouse '95, President – Dykhouse Construction Co Inc, Midland Park, NJ
Jeff Haines '91, Owner – Haines Home Improvement, Brooklyn, CT