Veterinary Technology
Go above and beyond in your career as a Vet Tech.
This degree will enable graduates to take on management responsibilities at clinics or prepare to pursue higher level degrees in veterinary medicine (DVM), public health, or animal science. Our articulation agreement with Ross University School of Veterinary Medicine makes the bachelor's degree includes upper level courses in both Veterinary Technology and Liberal Arts. Students must complete an associate degree in Veterinary Science Technology prior to enrolling in this program.
Building off our storied history of starting the first Veterinary Science Technology program in the country, students can continue their veterinary technology studies and advance their career opportunities by enrolling in this bachelor's degree.
Applicants must be license eligible or a current LVT, RVT, or CVT with unencumbered license and meet the following requirements:
Associate degree in Veterinary Technology from a program accredited by the AVMA-CVTEA
Cumulative GPA of 3.0 or higher
A minimum of 60 semester hours from an associate degree Veterinary Technology program with all coursework grades of "C" or better
Students will learn advanced veterinary technology practices and take applicable advanced science and management courses.
Why Delhi?
Students can use electives to choose an area of focus in Advanced Clinical Techniques, Lab Animal Science, or Public Health.
In their final year of study, students will perform a 15-week internship at an approved clinical site that matches their area of interest.
Fully accredited by the American Veterinary Medical Association (AVMA).
Canine and feline dental cleanings are a staple of our program.
Partnerships with local animal shelters and the Guiding Eyes for the Blind program allow students to work with animals on socialization and training.
Opportunity to study abroad through our Wildlife Management Program in South Africa.
All faculty in our program are Doctors of Veterinary Medicine or Licensed Veterinary Technicians.
Facilities include surgical, clinical, and diagnostic imaging suites, laboratory animal amenities, and a large animal farm.
Private study space for Vet Sci students in the Merril Special Collections room in the Resnick Library featuring specific reference materials.
A living-learning community (LLC) where veterinary science technology students can live in the same residence hall with special access to a vet tech community study room.
Animal Behavior: Biology Class Goes on the Road
In September, the Animal Behavior class visited West Wind Horse Farm in a beautiful, quiet valley about ten miles from the college. In order to illustrate classical conditioning and reinforcement learning to the students, horse trainer Sally Scofield demonstrated a training method called "Intrinzen" on Kongur, Diva, and Duna, three Icelandic horses.
Read More about Animal Behavior
The Delhi Advantage
Past internship locations include Cornell University Companion Animal Teaching Hospital, private large and small animal hospitals, and more.
Guaranteed direct transfer into Ross University's DVM program (upon completion of required courses and maintaining required GPA).
What Can You Do with This Degree?
Veterinary Technologist at private practices, zoos, humane societies, etc.
Doctor of Veterinary Medicine degree (with special faculty advisement)
Public Health (USDA, Fish & Game)
Lab Animal Science
Research
Professional organizations ( NAVTA, AVMA)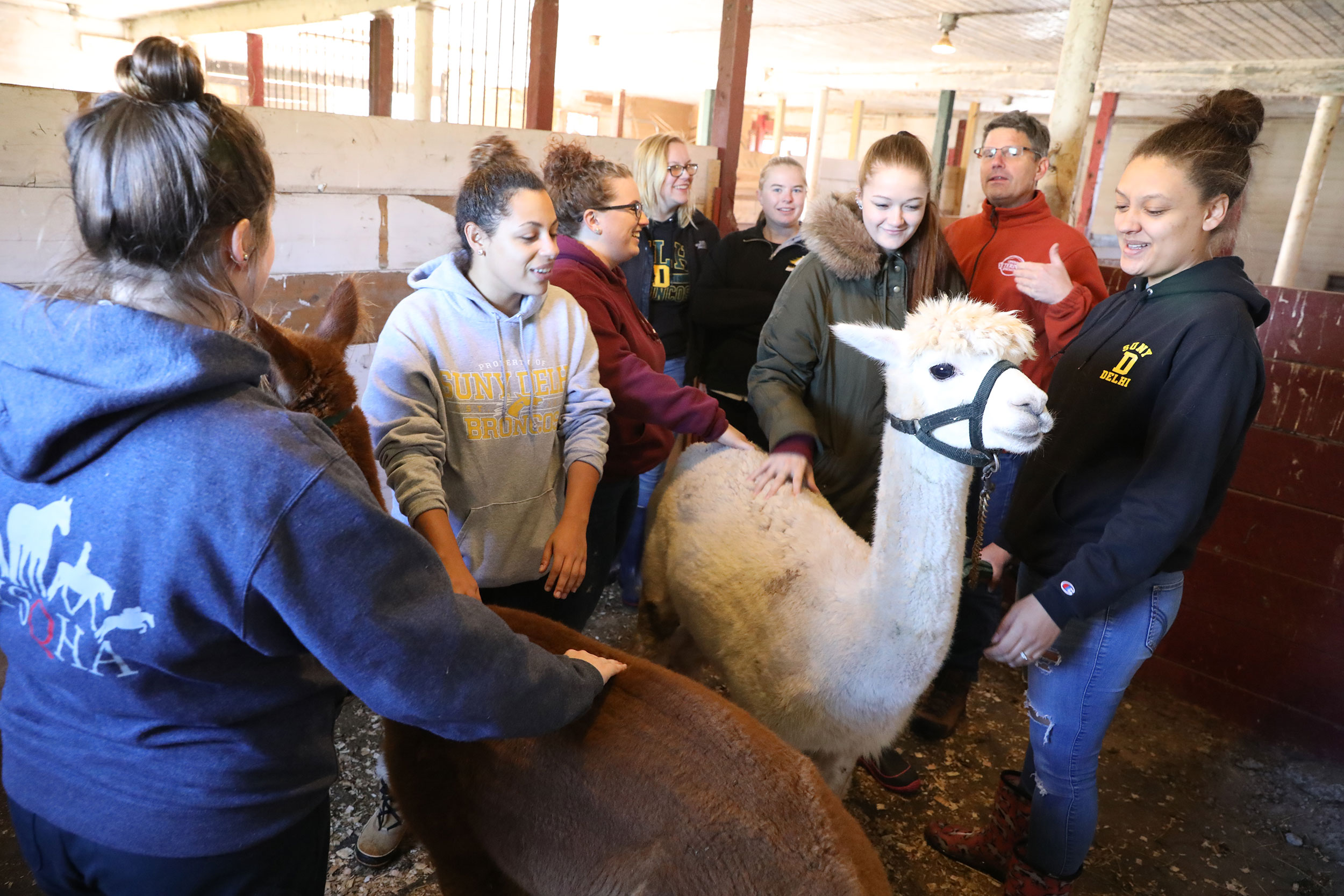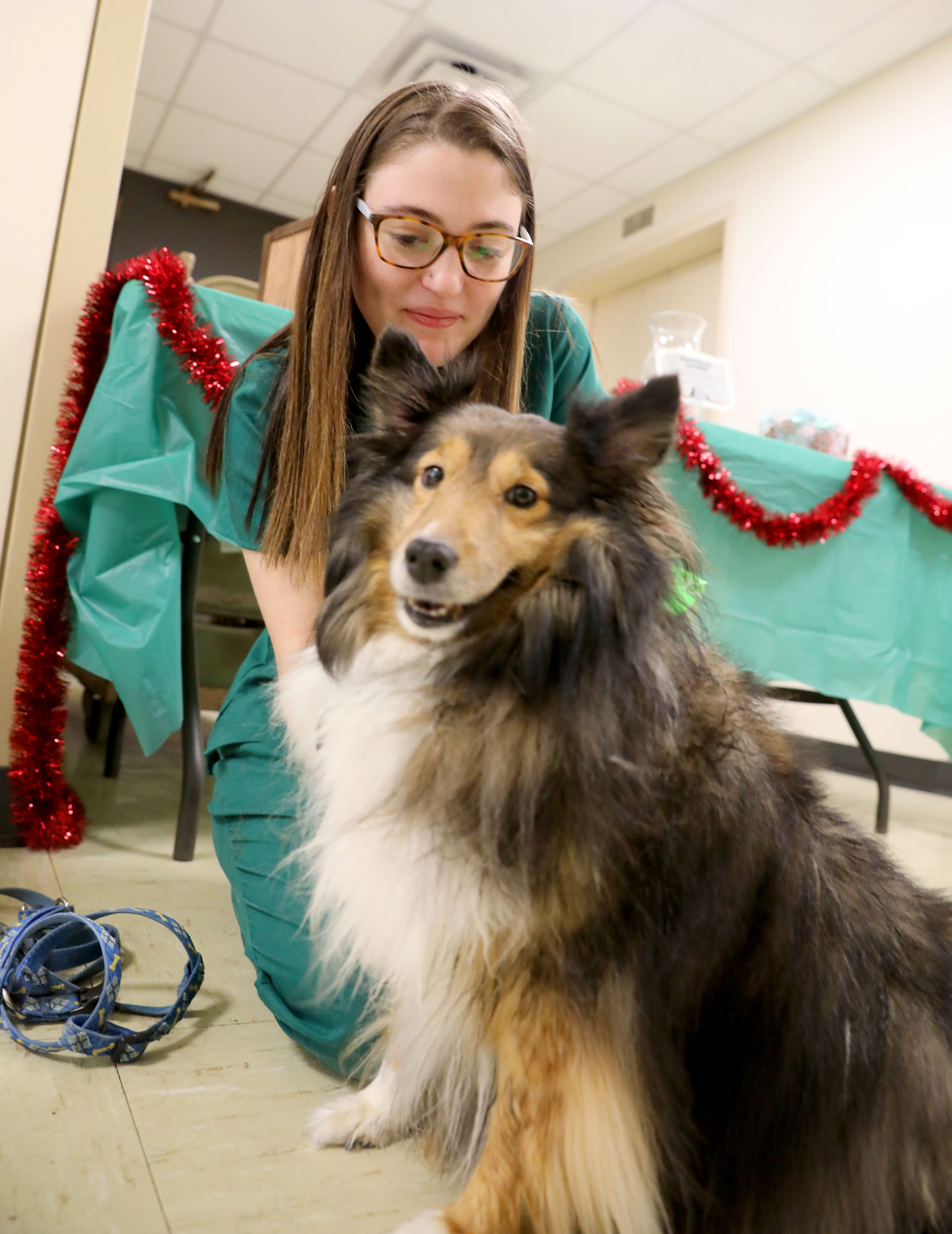 Current student forms & information IACUC Related Organizations