Announcements
NYS Teachers Retirement System (NYSTRS)
Pension & Retirement Education Program (PREP) Seminars
NYSTRS PREP is designed to help NYSTRS members of all ages with careful financial and retirement planning. Members can tailor PREP to fit their needs by staying for the entire seminar (8:30 a.m. - 3:30 p.m.) or just those modules that help them the most: NYSTRS benefits; financial planning; Social Security; estate planning; retirement - a new beginning; and, the retirement process. Detailed information is available here.
Tuition Benefits
UUP: United University Professions (UUP) employees may enroll in one course tuition-free per term on a space available basis. If you are a UUP employee interested in taking a course at SUNY Delhi please download and complete the revised form here.
CSEA: Offers authorized repayment of tuition to employees who successfully complete coursework at accredited schools, learn more here.
SUNY: Available to state employees, the SUNY tuition support program provides reimbursement for part of an employee's tuition cost. For UUP and CSEA this benefit it used when taking a second class during a semester, utilizing the union tuition benefit for the first class. The percentage of tuition that can be waived is determined by the applicant's percentage of full-time employment and the available funding. The applicant must be enrolled in a participating school (all SUNY schools are participating). Learn more about this benefit.
Fees: Under the SUNY and UUP tuition benefit program, all other fees and costs other than tuition are the responsibility of the employee.
SUNY Delhi Fee Waiver: all campus employees including CADI, College Foundation and Child Care Center (DC-4) enrolled in courses at SUNY Delhi may request a waiver of the College's mandatory Athletic Fee, Health Services Fee, Transportation Fee and Student Activity Fee in accordance with Delhi's broad based fee policy. Access the web form here.
NYSHIP Health Insurance Online Services
NYSHIP Online has been designed and structured to provide you with more targeted information about your NYSHIP benefits. Use this flyer as a guide to navigate the site (pdf). To access NYSHIP Online, visit the New York State Department of Civil Service website. First, click on the Employees tab, then State Government Employees, select New York State Health Insurance Program and click Continue.
Retirement@work®
SUNY has created a new online retirement system called Retirement@work® this new online system centralizes retirement plan benefits and investment providers and will allow employees to manage the retirement programs listed below. Employees who already have accounts with VOYA, TIAA, Valic or Fidelity will need to create an account to "manage" their investments. Information sessions are forthcoming. Stay tuned to Delhi Today for details. View the enrollment guides listed below for more information:
For New Employees Only:
Call 866-271-0960 Monday to Friday between 8 a.m. and 10 p.m., and Saturdays between 9 a.m. and 6 p.m. for assistance.
Extraordinary Weather Conditions
Now that the colder temperatures are here we are prompted to provide information to the college community regarding campus closings.
SUNY Delhi, as with other State agencies, can only be "closed" by the Governor. Local government officials, police and radio and television stations and campus officials do not have authority to close State offices or facilities. If weather conditions warrant, the President of the College, or his designee, may decide to cancel classes. The following media will also be notified about conditions that affect the normal operations:
Radio Stations: WDHI (100.3 FM), WDLA (92.1 FM/1270 AM), WDOS (730 AM) and WSRK (103.9 FM), and WIOX (91.3 FM)
Television Stations: Albany (CBS Channel 6), Binghamton (CBS Channel 12)
Information on the status of campus operations is also available on www.delhi.edu.
Members of the campus community who have signed up for RAVE will also directly receive a notification if classes are canceled or delayed.
On the rare occasion when a faculty member may need to cancel an individual class, the faculty member will need to notify their Dean and school secretary by phone (or voicemail), and also email their Dean, school secretary, PD, and students.
New York State and CSEA Partnership for Education and Training
The New York State and CSEA Partnership for Education and Training is pleased to announce the 2017-2018 tuition benefits program. Eligible CSEA employees are eligible for two tuition vouchers or tuition reimbursements. Courses include: Information Technology, Welding, Nursing and Commercial Drivers License (CDL). A complete list of courses is available. Educational Advisement Services are available to CSEA represented employees by calling 518-486-7814 or 800-253-4332. For further information, visit NYS and CSEA Partnership, call 800-253-4332, or email advisors@nyscseapartnership.org.
NYS UUP Joint Labor-Management Committees - Empire Knowledgebank
The New York State/United University Professions Joint Labor-Management Committee (NYS/UUP JLMC) is pleased to announce the Empire Knowledgebank (EKB) eLearning Program for UUP-represented employees. Employees who apply to the EKB Program can access thousands of eLearning courses, eBooks and short course videos to enhance their professional and career development, for certification preparation and continuing education in a variety of areas. Licenses will be issued to applicants on a first-come, first-served basis. Employees seeking permission to use the EKB eLearning Program during normal business hours for job or career-related courses must request prior supervisor approval. UUP employees interested in using the EKB must complete an application (pdf) and submit it to the NYS/UUP JLMC. For more information please see EKB Program Guidelines (pdf), visit NYS/UUP JLMC on the web, OR contact a program representative directly at 518-486-4666 or at nysuuplmc@goer.ny.gov.
SUNY Discounts
Discounts are also available to all SUNY employees by visiting SUNY Discount Program, SUNY PerksCard/PerksConnect, Plum Benefits, My Better Benefits, and our own Delhi Discounts (pdf).
NYS Payroll Online Services Available:
NYS Department of Civil Service – Examination Schedules
Open-competitive examinations are open to an individual who meets the minimum qualifications specified on an examination announcement; view the tentative exam schedule, the scheduled exams and sign up for email alerts when new examination announcements are issued. Promotion and Transition examinations are open to all qualified state employees; view the tentative exam schedule, the scheduled exams and sign up for email alerts when new examination announcements are issued. Visit the NYS Department of Civil Service for additional information.
NYS Teachers Retirement System Prep
NYSTRS has developed pension and retirement education seminars for all TRS members. To make a reservation online, log into your MyNYSTRS account, or create one today at NYSRTS.org or call 800-348-7298 ext. 6180. Seminars often fill up quickly, so make your appointment early! Visit NYSTRS.org Pension & Retirement Education page for more info.
Leaves of Absence & FMLA Information for Employees
In an effort to recognize the need of employees who require time away from work for personal reasons, employees must submit a request for a leave of absence with the understanding that not all requests are granted. To begin the process, complete the Request for Leave of Absence (pdf) found on the Human Resources Forms page. Types of leave under the Family Medical Leave Act (FMLA) are to care for your own serious illness (pdf), a family member's serious health condition (pdf), a military family member's injury/illness (pdf) or qualifying military exigencies (pdf). Please review NEW Employee Rights and Responsibilities under FMLA (pdf) and note that supporting documentation may be required. For more information, contact the Human Resources Office, 607-746-4495.
Time Off for Breast Cancer Screenings
Employees are allowed to take up to four hours of paid leave annually for physical exams and mammograms for the detection of breast cancer and prostate cancer without charge to leave credits. Absence beyond the four-hour cap must be charged to leave credits. Employees are entitled to a leave of absence for breast cancer screenings scheduled during the employees' regular work hours. Employees who undergo screenings outside their regular work schedule do so on their own time. For example, employees are not granted compensatory time off for breast or prostate cancer screenings that occur on a pass day or a holiday. Employees must indicate Breast Cancer Screening or Prostate Cancer Screening on their time sheet when using this leave, and attach appropriate medical documentation to support the absence. Visit the U.S. Food & Drug Administration website for information about mammography facilities.
CSEA Tuition Benefits Program
The Tuition Benefits Program provides educational benefits to CSEA-represented NYS employees, enabling them to achieve greater career mobility, qualify for promotional opportunities, improve job skills, and prepare for future state workforce needs. For more info, visit NYS & CSEA Partnership for Education & Training, download the application and visit benefit programs below:
Pension and Annuity Income FAQs & Exclusions
NYS Deferred Compensation & SUNY Voluntary Tax Deferred Annuity
Did you know that you can contribute up to the maximum in both your 403(b) SUNY Voluntary Tax Deferred Annuity and your New York State Deferred Compensation Plan account? Details are provided in the plan comparison chart (pdf). To learn more or enroll, check out 403(b) SUNY Tax Deferred Annuity (pdf), New York State Deferred Compensation Plan and the SUNY Voluntary Savings Plan websites.
Pre-Retirement Planning
Whether you are planning on retiring soon or thinking ahead to the distant future, NYS Work-Life Services has a variety of resources to assist you: Self-Help Guide, Videos, Seminars and more information about Work Life Services. Additional resources include: Pension benefits calculator (for ERS & PFRS members) and Pension & Retirement Education Program (TRS members), SUNY planning tools and Asset checklist (pdf).
NYS TRS Retirement Benefits Consultations
NYS TRS has developed both in-person and video consultation sites where you can learn about NYS TRS benefits, review your benefit options at retirement and receive personalized benefits' estimates. Albany and video consolations are offered year round; in the video sessions you get to "meet" an expert using a webcam. To view the video and in-person sites, visit New York State's Benefits Consultation page. To schedule a consultation, visit NYSTRS.org (using your NYS TRS account) OR call 800-348-7298 ext. 6100.
Top 5 Pre-Retirement Goals
Thinking about Retirement? New York State and Local Retirement System (NYSLRS) suggests the top five pre-retirement goals for its members.
Interactive Retirement Planner
NYS Deferred Compensation Plan parented with Nationwide to develop the "On Your Side Interactive Retirement Planner." In less than ten minutes you can set a retirement goal and get suggestions to improve your retirement outlook. Visit My Interactive Retirement Planner to find out more by My Interactive Retirement Planner.
After You Retire
Injured on the job? Call the Accident Reporting System (ARS)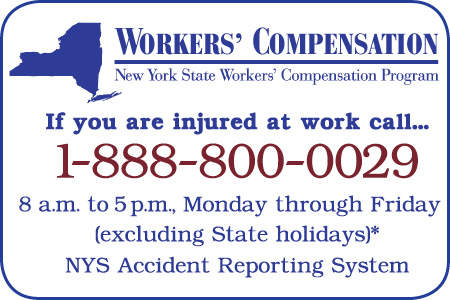 Each injured employee & student worker injury must:
call the ARS 1-888-800-0029, you will need to know:

our Workers' Compensation carrier is the NYS Insurance Fund

Glendale Tech Park Building 16, 2001 East Perimeter Road, East Endicott, NY 13760-7390 Phone 888-875-5790 fax 607-741-3985
our participating prescription service is CVS Caremark 1-866-493-1640

complete the Employee Accident & Investigation Report
provide report to your supervisor for their signature
send completed report to Human Resources, Bush Hall
Please see revised versions of the accident & injury reporting forms below.