Horticulture Sciences
Horticulture Sciences (AAS)
A degree in Horticulture Sciences from SUNY Delhi prepares you for a variety of careers in horticulture and landscape design with the skills and experience to advance quickly in the industry. Students in the program can choose between the Horticulture track and the Landscape Design and Management track.
Horticulture
Study the art and science of growing and maintaining ornamental plants under the guidance of caring professors in preparation for a career working in a variety of settings, from greenhouses, estates, and botanical gardens, to parks, historical sites, vineyards and scientific research.
Landscape Design and Management
Learn to design and install residential and commercial landscapes through courses that emphasize practical experience. Students may choose to transfer to a four-year degree program in Landscape Architecture.
Program Highlights
Hands-on experience in real-life environments with state-of-the art equipment
Small classes with many opportunities for one-on-one time with faculty
Transfer opportunities for students who are interested in pursuing advanced degrees in Landscape Architecture, Landscape Management and other related programs
Horticulture Club, a Student Chapter of the National Association of Landscape Professionals (NALP), promotes the development and advancement of students through industry contacts, field trips and additional career-focused educational experiences
Career Opportunities
Greenhouse/Public Garden/Arboretum/Nursery Manager
Horticultural Inspector
Fruit or Vegetable Production
Vineyard Specialist
Interior Landscaper
Florist/Floral Designer
Technician/Crew Supervisor/Manager
Estimator
Wholesale or Retail Sales
Landscape Designer/Landscape Design Manager
Landscape Architect
Landscape Contractor
Landscape Management and Lawn Care
Salesperson or Marketing Specialist
Internships
Students are required to complete paid, credit-bearing summer internships at sites across the country. The internship component is a priceless way to gain on-the-job experience and many times leads directly into employment.
Facilities
Landscape design studio
Computer labs with the latest software
Display gardens with a wide variety of plant life
280-acre natural arboretum
Tree and shrub nursery
Greenhouses
Turf Education Center
Recommended Admission Requirements
75 High School GPA with a Regents Diploma or 2.0 Cumulative Transfer GPA
Completed Coursework in Algebra and Biology; Geometry and Chemistry Recommended
Curriculum
SUNY Curriculum Code: 2591
Program Links
LANDSCAPES 2018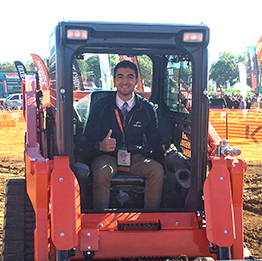 Read a journal kept by current student, Mario Malagasi, on his experience at the National Association of Landscape Professionals 2018 national conference.