Horticulture Sciences
Two-Year Associate in Applied Science (AAS) Degree
Turn your green thumb into a great career!
Our two-year degree in Horticulture Sciences prepares you for a variety of careers in horticulture and landscape design with the skills and experience to advance quickly in the industry. Choose from one of two tracks that will allow you to focus on your area of interest while learning to create ergonomically, economically, and environmentally sound management systems in turf and landscapes.
The Horticulture track concentrates on the science and art of growing and maintaining ornamental plants. You'll study plant management, design, and maintenance with a focus on sustainable and regenerative practices. You'll be prepared for careers at nurseries and greenhouses, botanical gardens, historical gardens, parks, zoos, vineyards, private estates, and scientific research.
The Landscape Design & Management track concentrates on residential and commercial landscape development. You'll learn to design and install water features, trees, shrubs, and outdoor kitchens and living areas. Our strong emphasis on hands-on experience gives you plenty of opportunities to hone your skills and prepare you for a career in landscape design, grounds management, estate management, and more.
If you love to work with plants and are a creative problem solver, this program is for you! Our coursework includes landscape design and construction, botany, weed and pest control, water management and conservation, and business and accounting.
The Delhi Difference
Our graduates enjoy 100% job placement in the landscaping or plant science industry.
Be ready to get your hands dirty - every course includes extensive hands-on learning!
Our facilities include a landscape design studio, computer labs with the latest software, a tree and shrub nursery, greenhouses, equipment repair lab in the Turf Education Center, display gardens with a wide variety of plant life, and a 280-acre natural arboretum at our Outdoor Education Center, located one mile from the main campus.
Learn to safely use, maintain, and repair hand and power tools and heavy machinery common to landscaping and plant management practices.
Small class sizes allow you to develop strong relationships with your peers and faculty.
Take advantage of scholarship opportunities from industry organizations like the New York State Turfgrass Association, National Association of Landscape Professionals, NYS Nursery and Landscape Association, and more.
Participate in the Horticulture Club, a student chapter of the National Association of Landscape Professionals, for opportunities to network and attend competitions and conferences.
Connect with our strong alumni network of industry professionals through guest lectures and networking events.
A required paid internship allows you to gain valuable real-world experience at an actual job site and can lead to a full-time job offer.
This degree prepares you to transfer to a related bachelor's program at SUNY Delhi or the landscape architecture program at SUNY ESF through our articulation agreement.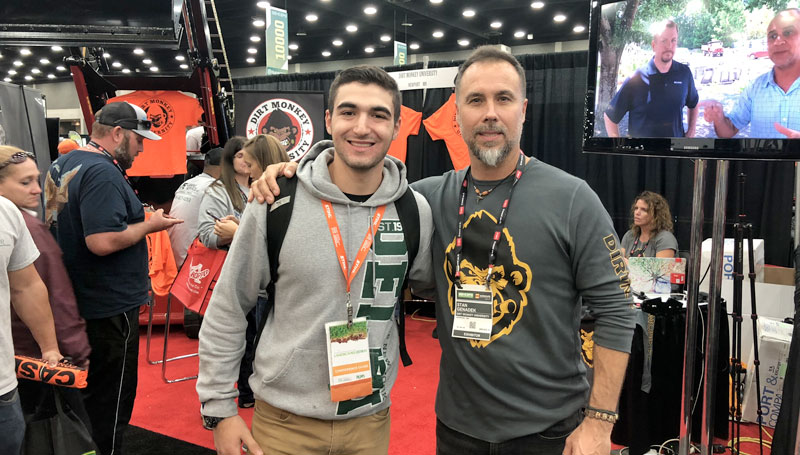 Read about Landscapes 2018
The teachers at Delhi are so involved in our success. They are so creative in coming up with experiences and projects to give us access to hands-on work so we are ready for the real world

Mario Malagisi '20
What Can You Do With This Degree?
Landscape designer, architect, or contractor

Agricultural inspector

Horticulturalist

Nursery/greenhouse owner

Plant weed & pest specialist

Estate/public garden/arboretum head gardener

Vineyard specialist

Landscape and lawncare manager

Retail, wholesale, or estimating specialist for plant and greenscape companies.
Alumni Highlights
Garrett Yuhas

'

17

–

currently enrolled in Horticulture B.S. program at Colorado State University.

AJ Davis

'

11

–

Owner, Davis Outdoor Jobs, Apalachin, NY

Melissa Warner Dunk

'

06

–

Area Manager, Ruppert Landscape, Leytonsville, MD

Darren Damone

'

99

–

Associate Principal Architect, Adropogon Associates, Philadelphia, PA