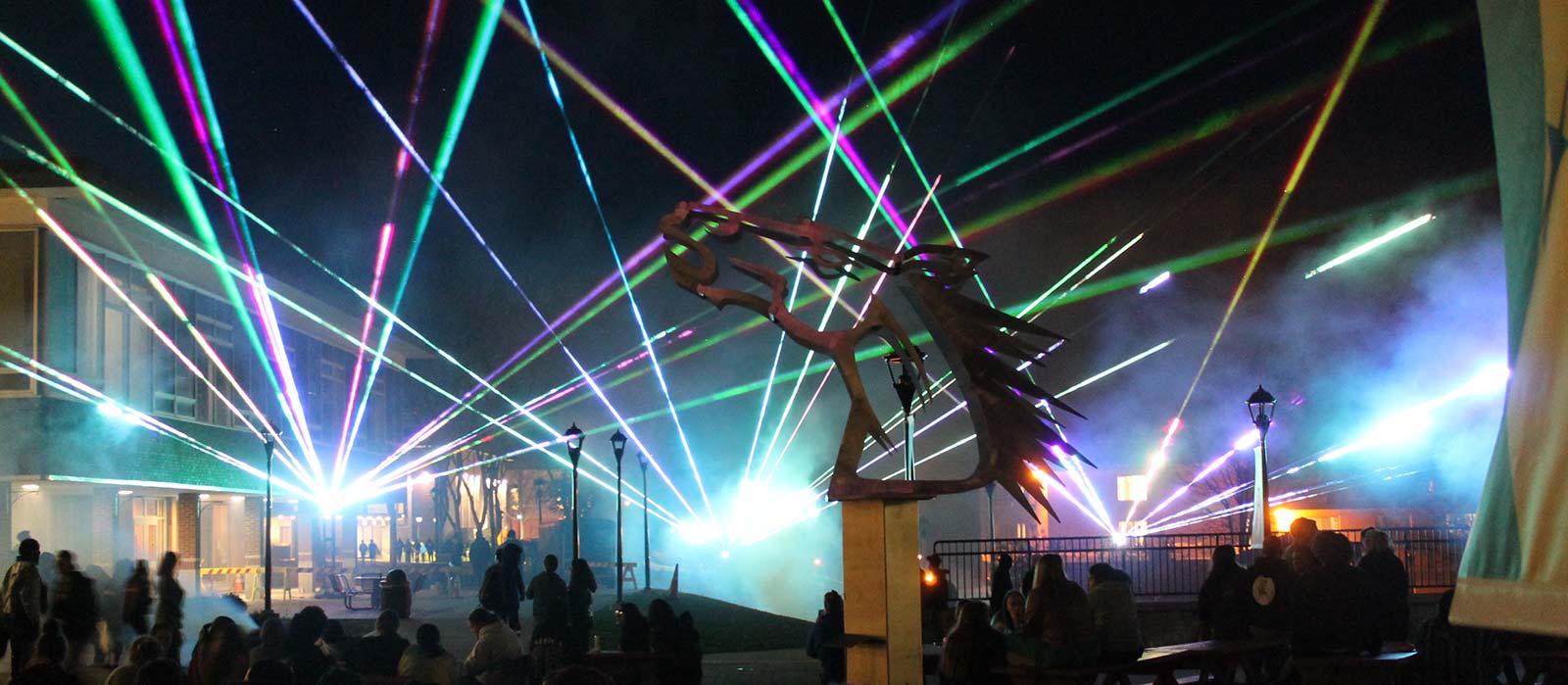 Center for Student Leadership & Engagement
The Mission of the Center for Student Leadership & Engagement (CSLE) is to prepare students for lifelong success, active engagement in a diverse world, and socially responsible citizenship through co-curricular engagement and leadership development.
CSLE contains the following functional units: Student Activities, Fraternity & Sorority Life, Orientation, Farrell Student and Community Center, MOSAIC Multicultural Center, O'Connor Center for Community Engagement, International Student Services, Veteran and Military Affiliated Student Services, Aquatics, and the Student Mail Center.
There is never a reason to be bored on the SUNY Delhi campus! With over 30 clubs and organizations, including 17 recognized fraternities and sororities, top-notch entertainment, and first-run movies, it is always easy to find something to do. Get involved in student government, keep track of all of your co-curricular activities, and come along on our regular trips off campus to go bowling, roller-skating, shopping, and to attend sporting events and amusement park trips. Taking part in campus life is a great way to meet new people and make new friends, develop leadership skills, and have experiences and opportunities to enhance your total college experience!
How Do I Start A Student Organization?
Student Organizations are recognized by the Student Senate of the State University of New York College of Technology at Delhi. CSLE assists Student Senate in supporting students who would like to start a new student organization. In addition, CSLE provides information in new student orientation sessions about this topic, as well as works to assist with identifying members of the faculty and staff who are interested in becoming an advisor to a student organization. The simple steps are as follows:
1. A roster of a minimum of five students and one faculty/staff advisor in a Microsoft Word Document.
2. Students indicated on the roster willing to fulfill the traditional officer roles of President, Vice President, Treasurer, Secretary and Senator.
3. A written Constitution for your organization in a Microsoft Word document that includes the name, mission, purpose, and structure of your organization, officer positions, membership requirements, election of officers, and how to amend the constitution.
4. Students involved in the formation of the new organization should come to a Student Senate meeting, held on Wednesdays at 5:15 p.m. in Farrell 211 A/B, and ask to be recognized in the New Business portion of the meeting.
5. The organization's documents will be presented to the Student Senate Constitution Committee for deliberation and a subsequent recommendation on recognition to Student Senate at a future meeting.
6. Should the Constitution Committee recommend that the application is in good order, Student Senate will entertain a motion for recognition and a subsequent vote will occur.
7. After groups are granted recognition, they will receive guidance from Student Senate and CSLE on how to operate and how to apply for and access funding for operations, as per Student Senate guidelines.
Information and assistance is in place for any student interested in forming a new student organization by stopping by the CSLE offices in 222 Farrell. Any professional staff person in the department can answer basic question on the formation of a new student organization. Specifically, the main staff point of contact is Larry Mannolini, Director of CSLE at mannollp@delhi.edu or 607-746-4565, or Student Senate at studentsenate@live.delhi.edu
Business Hours
Office Hours Hours: Monday to Friday, 9 a.m. to 5 p.m.
222 Farrell Student and Community Center
To Talk or Send a Message:
The Center for Student Leadership & Engagement at SUNY Delhi and/or The SUNY Delhi Student Senate may host artists/comedians/performers or other third party entertainers on campus who are not affiliated with SUNY Delhi. The views and opinions expressed by these hired personnel are those of the individuals and do not necessarily reflect the official policy or position of any agency of SUNY Delhi, the SUNY Delhi Student Senate, or the Center for Student Leadership & Engagement.