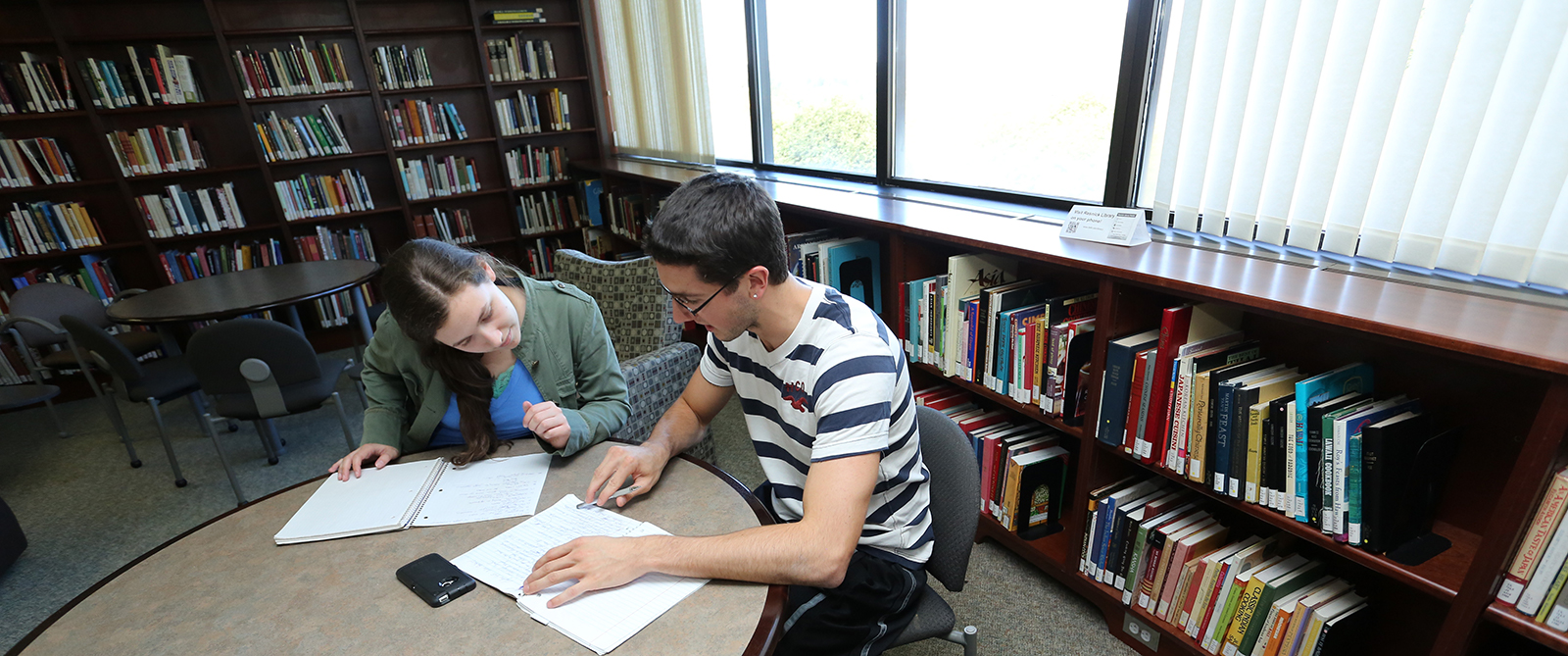 Mildred & Louis Resnick Library
Mildred & Louis Resnick Library
Fall 2020 Hours
Monday/Tuesday: 8 a.m. to 10 p.m.
Wednesday/Thursday: 8 a.m. to 8 p.m.
Friday: 8 a.m. to 5 p.m.
Saturday/Sunday: Closed
Ask Us 24/7 is available for reference when staff are not available online.
Check out this library guide for Banned Books Week! (September 27 - October 3)
---
Resnick Library: Summary of Fall 2020 Operations
As of 10/9/2020
Books/Movies: The library building is open to current students/faculty/staff. We ask that you please be conscious of what items you touch, and try to touch only those items you plan on checking out. All items returned to the library must be placed in a 96-hour quarantine before being allowed back into circulation.
Book/Movie Returns: All items must be returned using the book drops (located outside the main door of the library or in front of the circulation desk). All returned items will be placed in a mandatory 96-hour quarantine before re-entering circulation.
Print Serials: Print serials (newspapers and magazines) that are normally available on the second floor will now be located behind the circulation desk. Please ask for the title you wish to check out.
Common Areas: The common areas of the library, including seating and computer work stations, are open with reduced capacity. Signage, floor markers, stanchions and other equipment will be utilized to manage traffic flow and density within the library. Hand sanitizer stations, sanitizing wipes, sneeze guards, and other equipment will be used to support clean and safe spaces. Masks are required to be worn at all times while in the library. Seating is limited to 2 persons per table, and physical distancing must be maintained.
Food/Drink: There is no food allowed in the library this semester. You may bring in a beverage, however it must have a lid or closed top.
Course Reserves: Scanning of limited portions of print materials that are currently owned by the library will be available upon request. Librarians will work with instructors to identify alternate online resources to support their teaching whenever possible. Print reserves will be available on a limited availability for the fall semester.
Instruction: Library instruction remains available, but will be provided in a virtual-only format. To request, please complete this form: Library Instruction Request Form
Study Rooms: Study rooms are available on a limited basis by appointment only to small groups. All rooms will be locked, and access will be achieved via room key checkout from the library desk. If items from these specialized collections are needed, they can be requested from the library desk.
Archives: Access to the archives will be by appointment only.
Laptops and Other Equipment: Laptops will be checked out for semester long periods by request. All other reserve equipment (headphones, phone chargers, scissors, whiteboards, etc.) will be off-loan for this semester.
Interlibrary Loan (ILL): ILL services have continued with electronic materials all summer. Physical item loan/borrowing will resume at the start of the semester; however, increased turnaround times are likely due to quarantine periods, limited on-site staffing, and reduced delivery schedules.
Reference Services: Library reference and research support services are available via online chat on the library's web page, via email at library@delhi.edu , or by appointment for Zoom consultations.
Additional Information
---
Library Quick Links