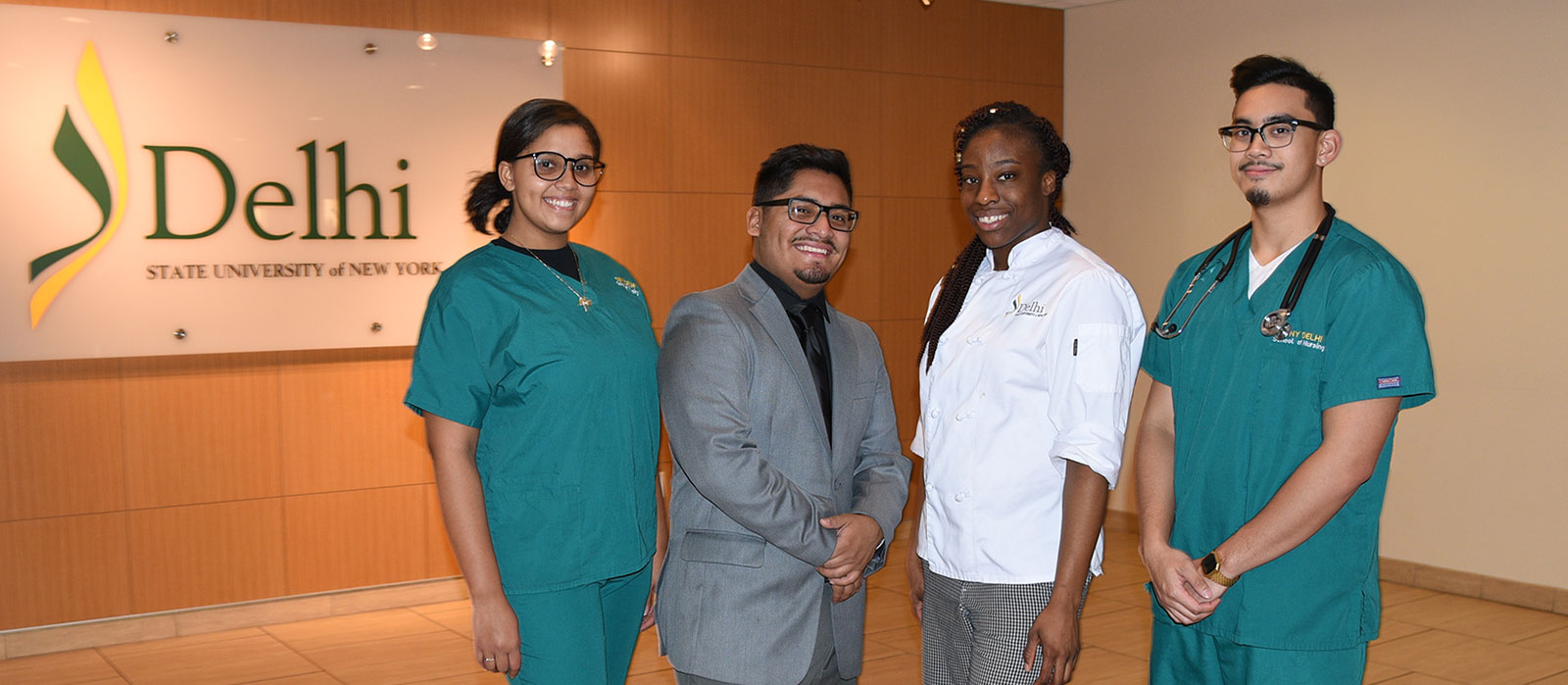 Diversity, Equity & Inclusion
SUNY Delhi's Diversity Statement
The State University of New York is committed to being the most inclusive state system in the country. As a proud member of this dynamic university system, SUNY Delhi is energized to lead the charge in developing a welcoming and intellectually diverse environment for all, a place where diversity, equity and success guide our achievement, scholarship, character and global citizenship. This means modeling inclusive excellence by enhancing our campus climate where students, faculty, staff and community feel valued, supported, and thrive. Our college must be a place where we rise above biases, stereotypes and inequity, a place where diversity and inclusiveness are central components of the SUNY Delhi experience.
Diversity, Equity and Inclusion Goals
Create and sustain a safe and welcoming campus climate that promotes and respects each individual regardless of race, ethnicity, sexual orientation, age, socioeconomic status, disability, religion, gender identity and expression, and national origin.
Foster an environment that is conducive for all within the SUNY Delhi campus and community.
Prepare all students to successfully enter a diverse and global society.
Develop opportunities and initiatives that facilitate conversation and interaction among diverse groups on campus.
Affirm a commitment to diversity and inclusive excellence and allocate the appropriate resources for implementing the SUNY Delhi Strategic Plan.
Services and Programs

Services and Programs that can be coordinated through this office include:
Faculty and Staff Mentoring
A confidential and safe place to share ideas, issues and concerns
New Employee Orientation activities
Multicultural speakers and programs
Resource materials related to work on Diversity, Equity and Inclusion issues
Awareness and training for students, faculty and staff regarding diversity issues
Bias-Related Harassment
(Section XII of the Student Code of Conduct)

SUNY Delhi does not tolerate harassment based on an individual's race, color, age, religion, national origin, disability, sexual orientation, gender identity or other protected characteristics. The college treats bias-related incidents very seriously and any student found responsible for a bias-related incident can expect severe disciplinary action (see Appendix 8). Any bias actions, verbal or physical, that a reasonable person would find intimidating, hostile or offensive or actions that may lead to personal injury are prohibited.
If you are the victim of a bias-related incident, please fill out the secure online incident report.