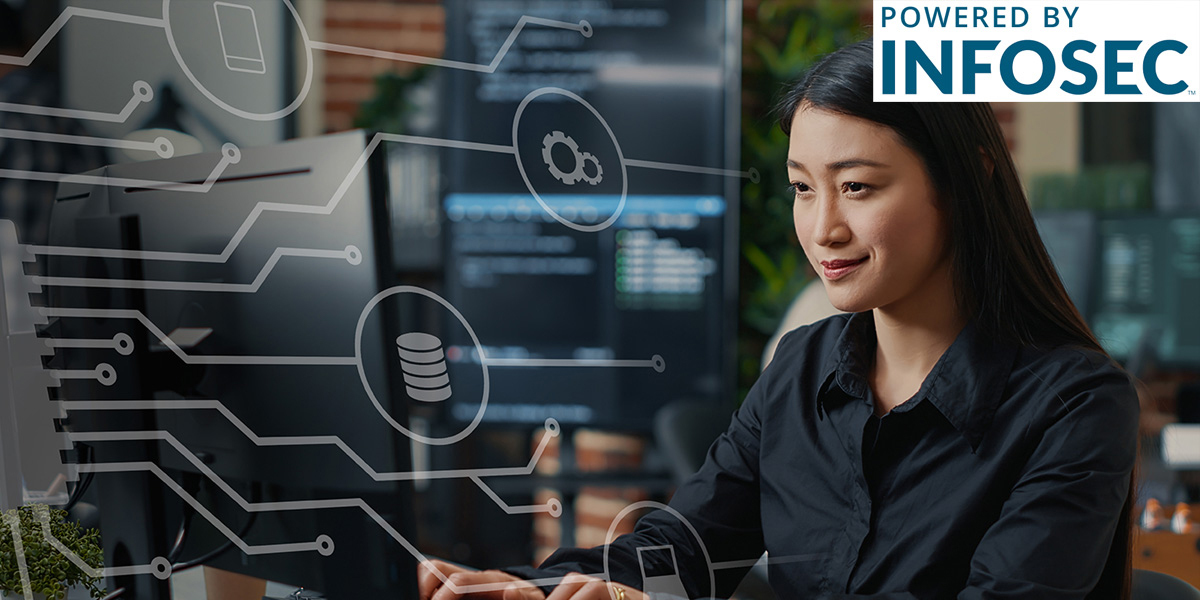 CompTIA Network+ Certification Training
GES903
Become CompTIA Network+ Certified Online
IT networks seamlessly connect devices to the data and tools that provide users with the information they need. This 100% online course will teach you to configure, manage and troubleshoot hard-wired and wireless IT networks. Key topics include network design, security, routing and switching, cloud computing, IPv6 and forensics. Upon successful completion, you will be prepared for the CompTIA Network+ certification exam (N10-007).
Job Outlook for CompTIA Network+ Professionals
CompTIA Network+ Certification is widely considered the industry standard for initiating a career supporting IT network infrastructure. Skills such as configuring, deploying and troubleshooting networks are highly valued by premier employers in the business, non-profit and government sectors.
At the entry-level, CompTIA Network+ Certification holders often work in data centers, user support departments and network troubleshooting shops. With experience, many CompTIA Network+ professionals advance to become systems administrators, network engineers and IT managers.
According to the US Bureau of Labor Statistics (BLS), network administrators earn $83,510 per year on average.
CompTIA Network+ Certification Training FAQs
WHAT IS COVERED IN THE COMPTIA NETWORK+ CERTIFICATION PROCESS?
A thorough CompTIA Network+ Certification training course will prepare you to take the CompTIA Network+ certification exam. The exam is a comprehensive validation of the knowledge and skills required to set up, deploy and manage a hard-wired or wireless IT network.
It tests for professional-level competency in the following areas:
Designing and implementing IT networks
Configuring, managing, and maintaining network devices
Using devices such as switches and routers to segment network traffic in order to create resilient networks
Reviewing existing network configurations for their strengths and weaknesses
Implementing and managing network security standards and protocols
Troubleshooting problems with hard-wired and wireless networks
Since the CompTIA Network+ Certification is considered a leading-edge credential, the exam covers cloud and virtualization technologies
WHAT JOBS CAN I GET WITH A COMPTIA NETWORK+ CERTIFICATION?
According to CompTIA, the Network+ certification is ideal for establishing a career deploying and supporting network infrastructure. Professionals who hold the Network+ certification commonly hold positions that include:
Junior Network Administrator
Computer Technician
Network Field Technician
Help Desk Technician
Junior System Engineer
System Engineer
IS Consultant
Network Support Specialist
Network Field Engineer
Network Analyst
HOW SOON MUST THE COMPTIA NETWORK+ CERTIFICATION BE RENEWED?
Because the IT industry is subject to constant and rapid change, CompTIA encourages its certificate holders to pursue an aggressive schedule of continuing education (CE) once they achieve Network+ certification. The Network+ certification is valid for three years after the date of your exam. After expiration, CompTIA certifications can be renewed through CE for additional three-year intervals.
IS THE CompTIA NETWORK+ CERTIFICATION GOOD FOR A REMOTE CAREER?
Although many IT network support positions involve hands-on work with networks, devices, network software and troubleshooting, CompTIA notes that many companies are opening user and customer support jobs to work from home (WFH) status.
Course Objectives
How to install, configure, and differentiate between common network devices
Routing protocols, computer forensic practices, and addressing and cloud computing technologies
All about WAN/LAN technology, addressing services like DHCP, the OSI model and the TCP/IP model, and Domain Name Services (DNS)
How to implement a basic wireless network and wireless security
How to conduct network monitoring and perform network performance optimization
Be prepared to take and pass the CompTIA Network+ certification exam (N10-007)
Prerequisites and Requirements
There are no prerequisites to take the course. However, CompTIA recommends having up to 12 months of hands-on experience before taking the Network+ certification exam.
Curriculum
NETWORK ARCHITECTURE
Network infrastructure implementation, routing concepts and protocols, cloud and virtualization
NETWORK OPERATIONS
Monitoring tools, network segmentation, configuration management
NETWORK SECURITY
Network vulnerabilities and threats, risk management, network access control models
TROUBLESHOOTING
Network and security troubleshooting, common issues with fiber cables, copper cables and WAN
INDUSTRY STANDARDS, PRACTICES AND NETWORK THEORY
OSI model, wired connectivity, network policies and procedures
Instructor
David Grimes
David Grimes has more than 10 years of management and leadership experience in the private and non-profit sectors. Grimes is passionate about technology and education, having worked as academic dean, student services director, technology coordinator, teacher, consultant, and technology columnist. He holds a Master of Education and a Bachelor of Science from Ohio State University, both in Technology Education.
Registration and Enrollment
This course is 100% online. Start anytime.
To enroll via Project Excite please fill out the H-1B Grant Form and email continuinged@delhi.edu with your course selection.