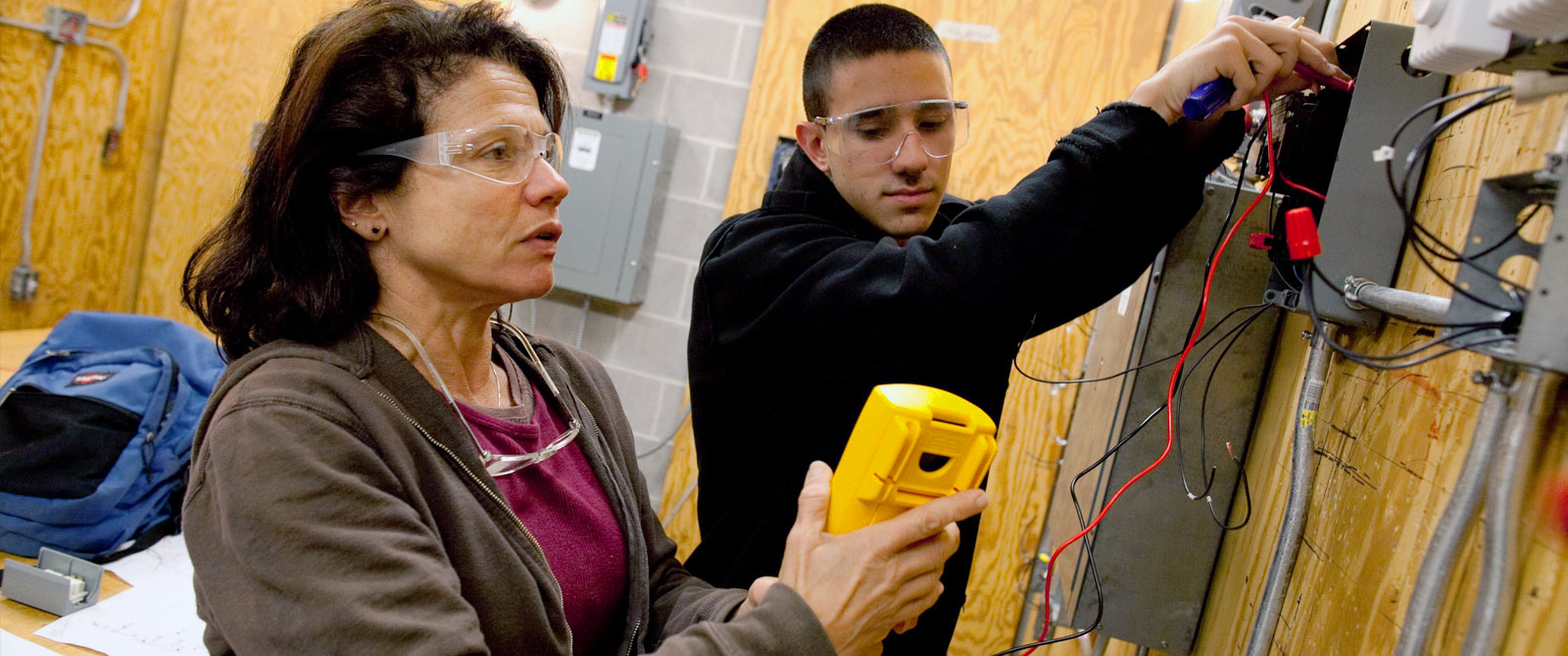 Plumbing and Electrical Instrumentation
Tool List
Plumbing, Heating & Pipefitting Tool List
Following are the tools required for those students entering the Plumbing, Heating, Pipefitting program for an associate's degree or a certificate. The cost of the tools will be about $750. In addition there will be the cost of textbooks of approximately $700.
Purchase only professional quality tools.
This list uses Rigid and other manufacturers' names and numbers only as a source of reference for students' use in selecting tools for type, size, and quality. With tools the old adage applies "you get what you pay for." Past students have purchased tools at places such as Sears, Home Depot, Lowe's, and specialty stores. You must permanently identify each of your tools in some fashion because your classmates will all have the same or similar looking tools.

Preferred Vendor:
Tom Ballard Jr.
Pickett Building Materials
6459 State Highway 23
Oneonta, NY 13820
607-432-8391
tballard@pickettbuildingmaterials.com

*Tools can be delivered to campus, or picked up in person at the store. Please order early to allow reorder time for out-of-stock items.
Tools Include:
Roll of electrical tape
PEX tubing cutter
12" straight pipe wrench
14" straight pipe wrench
Cordless drill
1 each for cordless drill;

¼" hex drive bit
Flat head screw bit
#2 Phillips screw bit

Set of combination wrenches ⅜" through ¾"
Basin wrench
6" adjustable wrench
12" adjustable wrench
Rigid #15 tubing cutter 3/16" to 1 ⅛" capacity
Rigid #20 tubing cutter ⅝" to 2 ⅛" capacity
Stubby flat blade screwdriver
Stubby phillips screwdriver
Flat blade regular screwdriver
Phillips regular screwdriver
5/16" nut driver
¼" nut driver
Hacksaw
16' tape measure with ¾" or 1" wide blade
Torpedo level
Claw hammer
Wood chisel
12" adjustable pliers
Cold chisel
Combination square
Metal or plastic tool box that can be locked with a padlock
Pocket knife
Side cut pliers
Needle nose pliers
Left cut tin snips
Right cut tin snips
Multi-meter electrical tester
Roll of plumber's emery cloth
One pound roll of lead-free solder
6 oz. or larger soldering paste (flux)
Wire strippers
Set of allen wrenches
2 carpenter's pencils
Sharpie-type marker
Hard hat
Pair of clear lens safety glasses
Roll of Teflon tape
4 oz. or larger pipe dope
Awl
Turbo tip soldering torch
14 oz. Propane or MAPP gas cylinder
Package of shop rags
Box of adhesive bandages


The approximate cost of these tools is $750.
Please note: Students will not be allowed to participate in lab without hard hat, safety glasses, leather work shoes, and work clothes. Students are expected to have tools and safety equipment with them the first day of classes.
Electrical Instrumentation & Controls Tool List
One pair of OSHA approved, clear lensed safety glasses. If the student wears prescription glasses they must be approved safety lenses or use stick on bifocal lenses
One padlock to secure tools
Tool pouch, bag or box (lockers provide area = 23" deep x 13" high x 12" wide)
Professional grade digital meter , clamp type meter strongly suggested

(i.e. Ideal 61-746 or Fluke 323)

Wire Numbers ***Typical Brands: Brady, 3M, Ideal, Panduit

Must minimally include numbers 0 – 9. Using two single digits will allow student to create numbers above 9.

Electrical Tape

(1) roll – Black Electrical tape

1/4" x 1 1/4" glass Fuses: (available through automationdirect.com)

10 amp – minimum 10 (automation direct part# AGC 10)
5 amp – minimum 15 (automation direct part# AGC 5)
2 amp – minimum 15 (automation direct part# AGC 2)
1/2 amp – minimum 15 (automation direct part# AGC - 5)

Wire nuts:

Box of red
Box of yellow
Box of orange

Screws:

#10 x 3/4" pan head screws
#8 x 3/4" pan head screws
10-32 x 3/4" pan head screws
8-32 x 3/4" pan head screws
Green Equipment Ground Screws

Set of quality drill bits up to half inch
Fine tip permanent marker (Sharpie)
Pencil (#2 at least 4)
16" Hacksaw

32T hacksaw blades of professional quality (i.e. Lennox, Klein, Ideal, etc.)

Five (5) slotted-head screwdrivers:

3/32"
1/8" (at least 6" shank)
3/16" (at least 6" shank)
1/4" (at least 6" shank)
1/8" (2" shank)

Three (3) Phillips head screwdrivers:

#2 tip (at least 4" shank)
#1 tip (at least 3 1/8" shank)
#0 tip (2" shank)

Insulated side-cutting pliers, also referred to as lineman's pliers (8" or 9")
Insulated diagonal-cutting pliers (6" or 7")
Insulated needle-nose pliers (6" or 8")
16 oz. straight claw hammer
Scratch awl
9" magnetic torpedo level
Combination tool: Wire stripper, crimping tool, bolt cutter (i.e. Klein 1010)

Professional grade required and must strip wire from front of tool

Tape measure (12' minimum)
Fuse puller (automationdirect.com #FP-2)
Utility Knife with retractable blade
Jack Knife with 2 3/4" Blade
Small wire ties (zip ties) – minimum 100 count


OPTIONAL:
18T and 24T hacksaw blades
Professional grade screw holding screw driver (i.e. Klein sk234)
Professional grade arc-joint or pump pliers (10")
Romex Strippers
Professional grade step drill
Center Punch
Legend

" = inches
' = feet
T = tooth
# = number
AWG = American Wire Gauge