Mechatronics Technology
Four-Year Bachelor of Technology (BT) Degree
Be a leader in automation and manufacturing industries!
Mechatronics gives you the skills to design, build, and troubleshoot smart industrial systems. Our cutting-edge program equips you with an incredible breadth of skills in the high-demand fields of innovative automation and manufacturing, preparing you to step directly into high-paying jobs in a variety of industries. As the first Mechatronics bachelor's degree in the nation, we truly set you up for success.
If you love figuring out how things work and pushing innovation to the next level, this program is for you! Instead of just focusing on one area of competency, our comprehensive approach to automation teaches you a valuable skill set from electronics, machining, pneumatics and hydraulics, advanced design, welding, and much more.
100% of our graduates secure jobs in the industry. Many graduate with multiple job offers on the table and quickly move into lucrative management positions. According to the U.S. Department of Labor Statistics, mechatronics engineers earn a median wage of $99,000.
As the nation's first bachelor's program in Mechatronics, we are the frontrunners of mechatronics instruction.
We offer a 3:1 ratio of hands-on lab instruction to lecture hours to ensure you get the experience you need.
Our enthusiastic, award-winning faculty are experts in engineering, welding, electrical generation, machining, and facilities systems.
Our labs have the latest industry-standard design software (such as Siemens Solid Edge PLM and Autodesk AutoCAD) and automation technology (such as Rockwell Automation's Allen-Bradley systems and the Siemens S7 processors with TIAPortal software).
Enjoy opportunities to work on extensive projects spanning mechanical design, electrical controls and programming, and fabrication/production.
Our industry connections introduce you to recruiters and companies who are eager to hire Delhi graduates.
A semester-long paid internship allows you to gain experience and make an impression in the industry, which often leads to job offers.
If you are interested in pursuing a master's degree, our curriculum prepares you to transfer into programs such as Engineering Management (MS) at Clarkson University.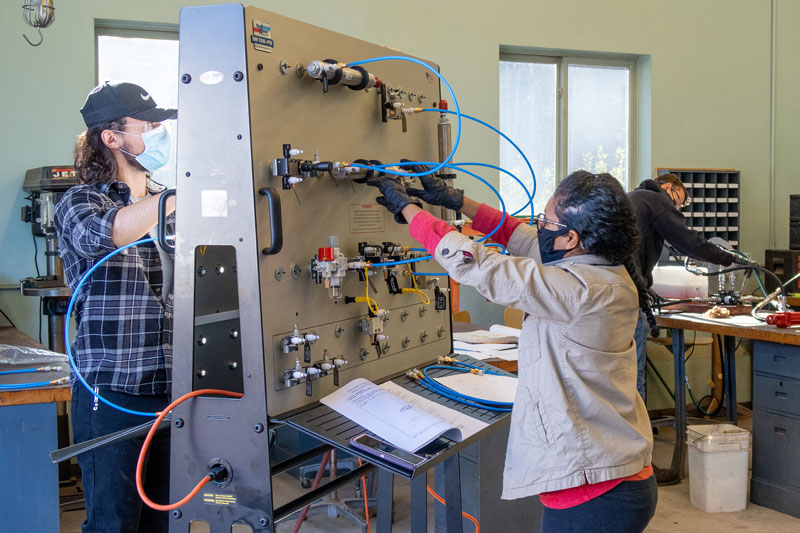 Pneumatics in Action
We teach a combination of engineering and technical skills that makes our students highly employable. When a piece of equipment malfunctions, a company loses a lot of money. Our students are trained for a wide skill set and know how to fix problems.

Professor Mike Miller
What Can You Do With This Degree?
Automation technologist/technician
Field service technologist/technician
Production mechanic
Industrial engineer
Production engineer
Mechatronics engineer
Plant operator, lead operator, technical operator
Alumni Highlights
Stephen Jastrow '17 – Lead Operator, PSEG Power Bergen Generating Station, Ridgefield, NJ
Andrew Fuller '16 – Automation Engineer, Schneider Packaging, Brewerton, NY
John Nolis '16 – Mechatronics Engineer, JBT Wolf Tec, Kingston, NY
Mechatronics touches on so many new technologies that are relevant in the industry today, from designing and drafting to coding and electrical assemblies. Companies are looking for people who are knowledgeable in many different areas instead of specializing in a narrow area. This is why we all graduate with great job offers straight out of college. I got a very nice job offer from Tesla and will be relocating to Houston, TX, after graduation. I'm really excited for the future. Delhi has given me such a great foundation with hands-on learning, small class sizes, and extremely supportive and helpful professors.

Anderson Fiorella '22