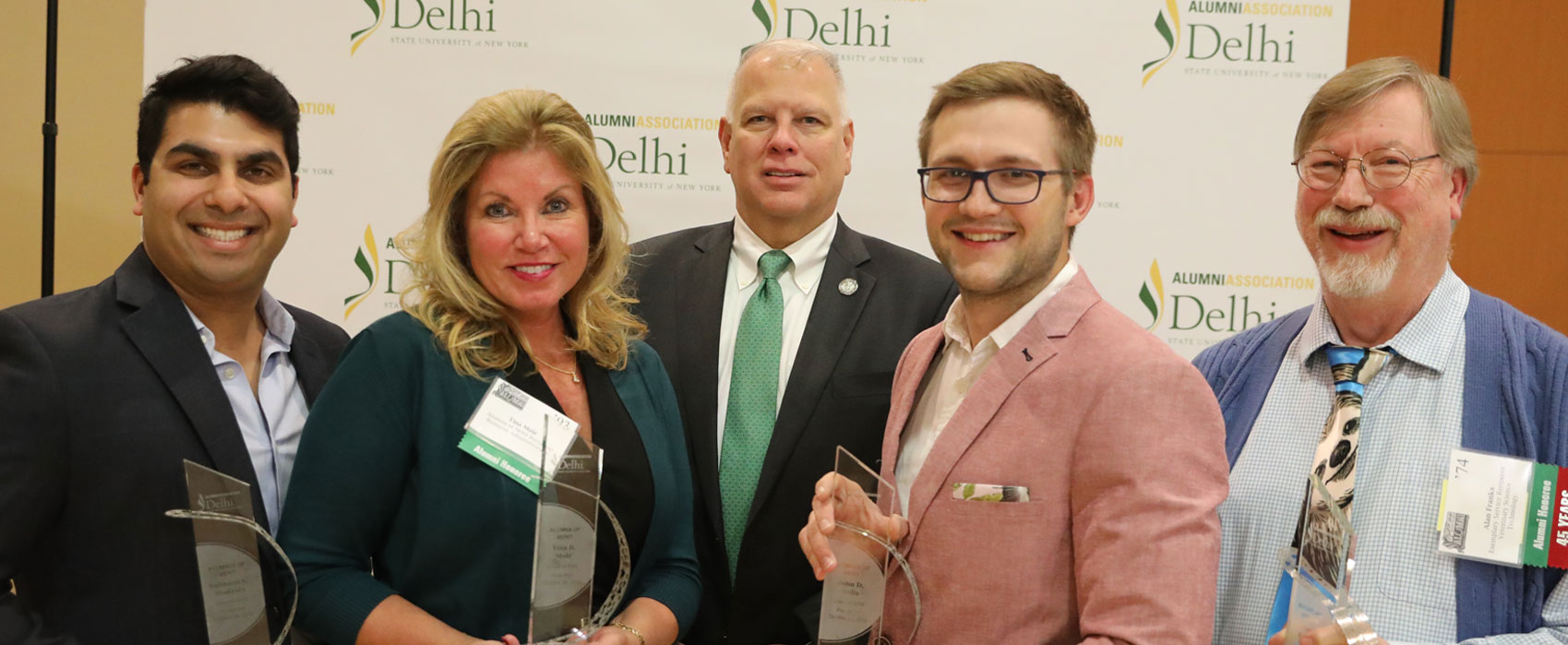 Alumni Awards
Alumni Awards
Alumni Awards are given annually, generally during Reunion & Homecoming Weekend. Below are the award categories, along with the criteria and forms for nominations. Nominate an exceptional SUNY Delhi alum, faculty or staff person today!
2020 SUNY Delhi Alumni Association Awards




Pictured above from left to right: Peter Gioffe 1994, Distinguished Alumnus, Sandra Brown Wiltshire 1972, Distinguished Alumna, Rohan Johnson 2017, Alumnus of Merit, and Lori Barnes, Exemplary Service Award.
2020 Honorees:
Sandra Brown Wiltshire 1972, Veterinary Science Technology- Distinguished Alumna
Peter Gioffe 1994, Business Administration & Accounting - Distinguished Alumnus
Rohan Johnson 2017, Liberal Arts - Alumnus of Merit
Lori Barnes, (retired) Associate Dean of Students/Director of Health & Counseling - Exemplary Service
Honored in 2019, pictured above with SUNY Delhi President Michael Laliberte:
Subhash (Subbie) Modasra 2013, Hotel and Resort Management
Tina Molé 1993, Business Management - Alumna of Merit
John Nolis 2016, Bachelor of Technology, Mechatronics - Alumnus of Merit
Alan Franks 1974 - Professor of Veterinary Science Technology - Exemplary Service
Award Criteria & Nomination Forms
Each award has a set criteria and nomination process. Learn more about each award below. If you would like help completing a form or need additional information, please contact the Alumni Office at alumni@delhi.edu.