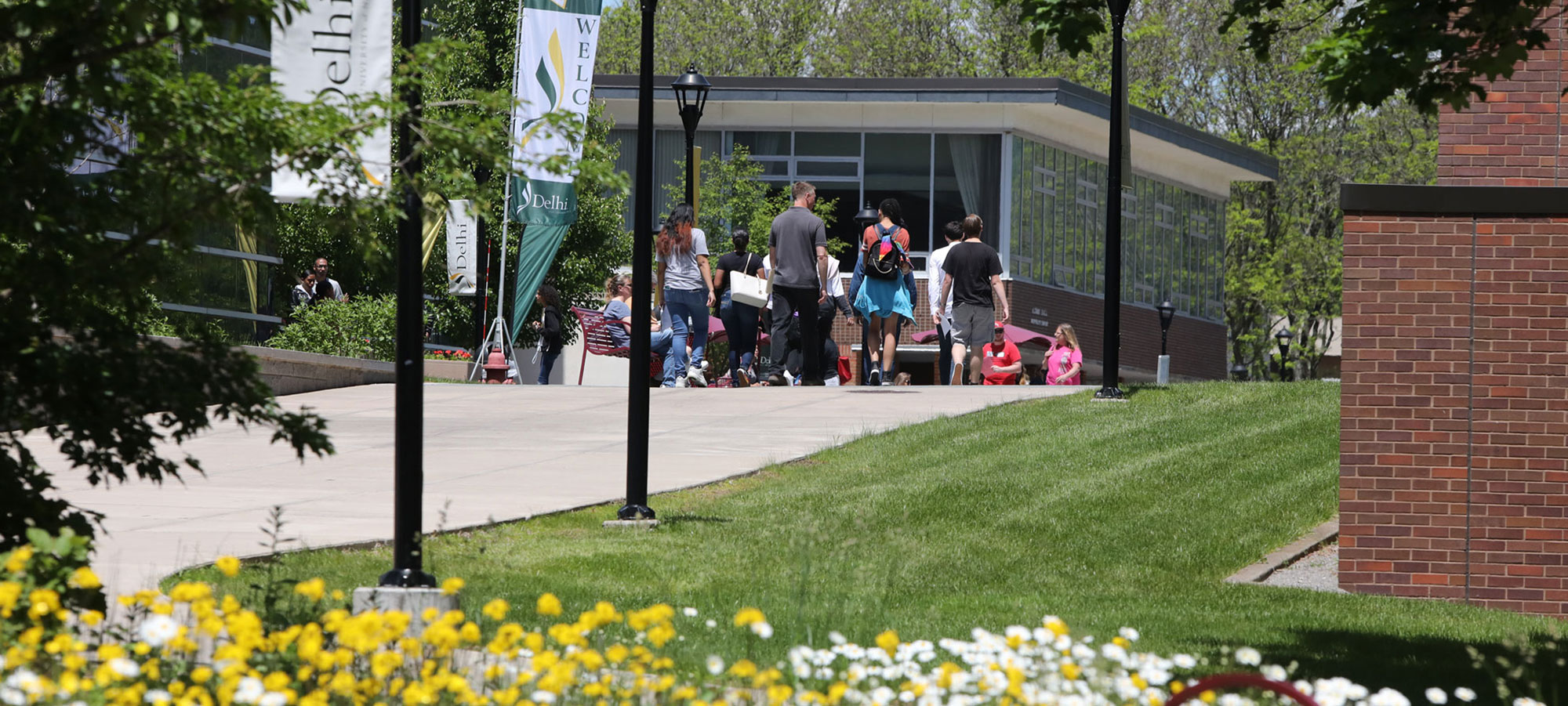 Reopening SUNY Delhi Fall 2020
Reopening SUNY Delhi Fall 2020
This page is outdated and no longer valid. It is for historical reference only.
Overview

The Reopening SUNY Delhi Plan was based on the following key principles:

Prioritizing the health and safety of students, faculty, and staff in all of our decision making.
Providing high academic standards for all of our academic courses, regardless of the modes of teaching and learning, and considering the unique needs and circumstances of academic programs, including lab requirements, clinical assignments, and practicums.
Reopening in a phased and gradual manner, being committed to following the overall guidance of New York State (NYS), SUNY, Centers for Disease Control and Prevention (CDC), the New York State Governor's Office, and the individual campus recommendations.
Following a fair and transparent process with detailed and timely communication to all campus constituents.

The success of the Reopening SUNY Delhi Plan depends on the support of our outstanding campus community. Everyone has a personal responsibility to follow the public health protocols at all times to keep our community safe.

SUNY Delhi is part of the Southern Tier Region of New York State's Reopening Plan. Due to our location and our strong relationship and regular contact with the Delaware County Department of Health and our local health organizations, we will be inviting students back to campus this fall, in person and online.

Enhanced public health measures are being taken across campus and include the required use of face coverings in all campus facilities (including classrooms, residence halls, and public spaces where six-feet social distancing cannot occur), required daily health screening for all campus community members, and increased cleaning and sanitization protocols across campus.

Our reopening plan is subject to change based on new standards and evolving situations. Any modifications will be based on our commitment to the health and safety of our community members, and will be communicated as quickly as possible. We appreciate everyone's flexibility and understanding should plans be adjusted. Your campus email, the Delhi Today daily email newsletter, and our website will provide the most up-to-date information. Please check your email and our website frequently.

Reopening Campus Planning Task Force

Reopening SUNY Delhi has been a team effort and included creating a Campus Planning Task Force and a number of functional task forces that consisted of faculty and staff members representing diverse areas of the campus community. These task forces addressed reopening concerns such as communications, academic program planning, non-academic campus services, and campus operations. Together, we have developed best practices across the campus for a safe, well-coordinated plan for instruction and campus operations, while also mitigating the risk of spreading illnesses. Please refer to the task force web page for more information.

Below are highlights of the complete Reopening SUNY Delhi Plan that was approved by SUNY Central, the Southern Tier Regional Representative and Governor Cuomo.
Repopulation
Academic Calendar

The Fall 2020 semester will begin with classes starting on Monday, August 31 and classes ending on Friday, December 18. Classes may be in person, online, or hybrid through Friday, November 20. Starting on Monday, November 23, there will be no in-person instruction. From Monday, November 23 through Friday, December 18 (including finals week), classes and instruction will be online only.

Although all classes begin on Monday, August 31, in order to reduce density, not all students will be returning to campus at that time for in-person instruction.Students will be notified via email by the academic deans regarding academic schedules and start dates for in-person classes.

To assist with density reduction, students residing in the residence halls (residential students) will also be returning to campus at different times over the course of several weeks. Information regarding the dates for move-in to the residence halls will be sent to the students via email.

Modifications to the academic calendar include eliminating the break for Labor Day (Monday, September 7) and the Fall Break (Monday, October 12 & Tuesday, October 13), and having students leave campus after classes end on Friday, November 20 for the remainder of the semester. Students will finish their semester coursework online through December 18. These modifications reduce migration and allow students to receive the full 12 weeks of on-campus instruction required for practicums, labs, and clinical rotations before all classes go online on Monday, November 23.

Students required to complete lab requirements for the Spring 2020 semester prior to starting their Fall 2020 coursework will be notified by their academic deans regarding the specific date they need to return to campus via their SUNY Delhi email. Students will be returning to campus for Fall 2020 at different times, depending on their academic major and class year. Details regarding the specific date students must return to campus will be communicated by the academic deans via email.

Academic Program Planning

The college has a comprehensive plan for academic teaching and instruction, ensuring academic continuity throughout the semester. This plan is subject to change, should conditions warrant. All students will be invited to return to campus for modified in person, online, and/or hybrid instruction. Specific academic plans include:

Classes being offered in multiple formats which may include in person, online, or hybrid

. Hybrid courses will use a "flipped" approach that moves some activities outside of the classroom, such as viewing lectures and completing assignments, while utilizing classroom time for discussions, small group activities, or individualized learning. Due to limited classroom capacity, hybrid courses may involve rotating cohorts of students throughout the week. Details regarding the class formats will be communicated to students via the academic deans and/or faculty.

Academic experiences that typically require in-person or hands-on work such as labs, clinical assignments, practicums, internships, and other activities that are required for certain programs will be given priority for in-person instruction. Each school and program may require a different approach in terms of classroom delivery based on curriculum, accreditation, and practicum/lab/clinical requirements. Details regarding labs, clinicals, practicums, and internships will be communicated to students via the academic departments.

Faculty have been strongly encouraged to develop fall semester courses as "remote-ready" should public health conditions worsen. Should instruction need to move to fully remote/online at any point, an official announcement will be made to students and the campus community via email.

Faculty will offer increased online office hours at staggered times to accommodate the needs and availability of the students.

Student support services will be offered to assist students in all learning formats.

Classroom and Lab Capacity and Protocols

The college will follow public health guidelines for sanitization and hygiene in classroom and labs. These include:

Face coverings will be required in all instructional spaces.

Classrooms and labs will be cleaned and sanitized regularly based on CDC recommendations.

Most large classes have moved online to meet physical-distancing guidelines, and smaller classrooms will use a variety of modes of instruction to reduce density.

All members of the campus community will adopt social-distancing protocols in labs, classrooms, and workspaces.

Sanitization supplies (e.g. disinfectant spray and paper towels, disinfectant wipes, or hand sanitizer stations) will be available. Where feasible, additional protective measures (signage, plexiglass shields, etc.) will be taken.

Cleaning supplies will be made readily available and robust sanitizing schedules will be followed for all classroom, work, and lab spaces.

Residence Life

Students will be returning to campus on different dates based on their academic major and class year. Therefore, students will also be moving into the residence halls on different dates.

Please log in to the Residence Life Student Housing Management Access System located on the Residence Life web page for your specific move in date and time.

Additional health and safety protocols have been established for the residence halls, which include:

Limiting residence hall rooms to single or double-person occupancy.

Providing social-distancing education about, and reinforcement of, expectations regarding healthy practices, hygiene and sanitation, face covering and PPE usage, and personal and civic responsibility for on-campus residents.

Requiring residents to read, understand, and sign an agreement that states they will adhere to the policies, procedures, guidelines, which include such things as limiting travel, allowing no guests on campus, and adhering to best practices for personal hygiene and prevention strategies. Details of the agreement will be forthcoming.

Signing the agreement also acknowledges and agrees to disciplinary actions for violating the policies

Posting of social distancing and prevention strategies in common areas.

Requiring face coverings in common areas in residence halls and other campus buildings.

Furniture will be reduced in common areas to reduce social gatherings.

Offering virtual programs and small-scale programming for students.

Increased cleaning of residence halls will occur using enhanced cleaning protocols based on CDC and NYSDOH guidelines.

Offering single occupancy rooms to students with approved medical requests, including priority being given to those who are most vulnerable to infection due to existing medical conditions, when possible.

Having staggered move-in and move-out schedules and process to allow for social distancing, reducing exposure, and improve safety.

Following established protocols for arrangements for students who must be isolated or quarantined.

Dining Services

Dining service operations have been modified to follow compliance standards on room capacity, physical distancing, and sanitization. Some of the modifications include:

Requiring face coverings for entry into dining facilities and at all times until seated to eat.

Offering pre-order, take-out, and possibly delivery options for meals.

Dine-in seating will be limited to two-person tables with a 50% reduction in overall venue capacity.

POS (point of sale) locations will be increased to avoid lines.

The Campus Convenience Store will be relocated to Farrell Commons.

Dining hours will be monitored and may be adjusted to allow for social distancing and density reduction in the dining halls.

Personal Protection Equipment – PPE

SUNY Delhi will follow guidelines for public health, sanitation, and hygiene as recommended by the CDC, NYSDOH and Delaware County public health officials. PPE will be purchased and managed centrally, then distributed to supervisors/departments as needed.

Face coverings will be required of all campus community members (faculty, staff, and students) in public locations where six feet of social distancing cannot be maintained, in all instructional spaces including classrooms, labs, and in all common areas in buildings, including residence halls. One face covering will be provided to faculty, staff, and current students who prefer or are not able to supply their own. Face coverings must fully cover the nose and mouth. These are essential for helping to reduce the spread of COVID-19. Face coverings will also be available for sale in the bookstore.

All vendors and contractors entering campus must supply their own face coverings and follow guidelines for public spaces.

Vulnerable Populations

SUNY Delhi enrolls students and employs faculty and staff with underlying health conditions. These conditions may put them at increased risk and accommodations will be made, to the greatest extent possible, to meet their needs and keep them safe.

Staff and faculty who are asked to return to work on campus and who fall into a high-risk category will be advised to contact Human Resources to discuss options for the possibility of a remote work assignment and/or accommodation. In general, these options will be approved when requested, unless the employee's job requires in-person work. Alternative work assignments will be developed for these employees so they may stay at home or work in a remote area. Staff and faculty who may not fall into a high-risk category themselves, yet have other health concerns, are advised to discuss the situation and options with their dean or supervisor.

Students who fall into a high-risk category have the option of participating in classes online when possible. However, there are courses and labs that require in-person instruction (e.g., welding, veterinary science technology, nursing, etc.) for which online alternatives are not available. Vulnerable students will have the option to attend the in-person class/lab wearing a face covering or opt to wait to take the course/lab at a later time. Students with underlying health concerns and risk factors will be advised to contact the Office of Access & Equity Services and work with them to secure reasonable accommodations as appropriate. Any student who has a disability or risk factor that does not fall under the Office of Access and Equity Services will be advised to contact the dean of their school and discuss other reasonable accommodations that may be available.

In addition, priority for single occupancy rooms will be given to students with approved medical requests, including those who are most vulnerable to infection due to existing medical conditions. The campus will utilize the current request process, which includes an application which is reviewed by a committee made up of health, counseling, residence life, and access and equity staff. Health Services will utilize current medical record information to contact students who have self-reported immune-compromised conditions or comorbidities, and will offer consultations regarding their options and needed accommodations.

Communication

Information regarding reopening decisions will be disseminated via the appropriate communication channel(s) by the Office of Marketing and Communications, according to the communication flow chart developed by the Communication Task Force. Emails to the students and notices in the Delhi Today email newsletter are the primary communication tools used by SUNY Delhi to communicate. If appropriate, specific information will be sent via the parent email listserv, shared on the SUNY Delhi web page, sent in a Delhi Today Extra, and discussed in the President's weekly video. Additional communication will be coordinated with other SUNY Delhi offices (i.e. the admissions office, alumni office, etc.), media releases, and social media posts as appropriate.
Monitoring
Screening and Testing

The college will follow CDC guidance and local health department guidance. Student Health Services will test eligible symptomatic students and direct eligible student contacts. Employees will need to work with their primary care providers for testing.

Students:

All students who will be returning to SUNY Delhi this fall are required to complete a health pre-screening document 10 to 14 days

prior

to the day they return. Details regarding this requirement has been emailed to students and parents/guardians from the Health and Counseling Center. Directions to complete the pre-screening can be found on the

Health and Counseling Services webpage

.

Screening of students will be accomplished via the portal in the electronic medical record (EMR) system currently utilized by Health Services. All screening forms will be reviewed by college medical staff. Students who answer 'yes' to any of the screening questions will undergo a follow-up telephone screening with health staff to determine efficacy to return to campus, as well as necessary testing or quarantine follow up. Unless cleared, students will not be allowed to return.

Residential students and students taking in person classes or labs will be required to participate in the mandatory surveillance testing. Detailed instructions will be emailed to students.

Employees:

Employees will need to work with their primary care physician or local health facility to secure COVID-19 testing.

Employees who report symptoms will be sent home immediately and referred to Human Resources. If HR is notified that an employee tests positive, the campus will cooperate with Delaware County Public Health for contact tracing purposes.

Visitors:

No outside visitors or guests will be permitted on campus or in the residence halls. To aid in identification, all SUNY Delhi students, faculty, and staff should visibly wear their valid SUNY Delhi ID while on campus.

Vendors and contractors are required to file a work plan that addresses COVID-related concerns including health screenings and campus notification of anyone who is symptomatic while on campus.

Out of State Travel and International Students:



Please be advised that anyone who travels to one of the currently restricted states or who is arriving from a foreign country will be required to self-quarantine for 14 days before arriving on campus and must complete the NYS Traveler Health Form (PDF). After completing the form, students must take a screen shot of the last page and email the form to Karen Gabriel, Director of Health services, at gabriekl@delhi.edu as soon as possible.

NY State has the most up-to-date list of currently restricted states which should be checked before traveling to, or returning from, another state. Any International student arriving to the United States and coming to campus must also complete this form.

Tracing and Monitoring After Restart

All Health Services medical staff, office staff, and several counseling staff have completed tracer training. Health Services will collaborate with Delaware County Public Health on contact tracing and follow up.
Containment
Isolation and Quarantine

Residential students who are required to isolate or quarantine will be provided assistance from the Health Services staff with placement in isolation/quarantine housing. Off-campus students who are required to isolate or quarantine will be advised to do so at home, or may be advised to utilize space made available through the county health department.

Health and Counseling staff will assist with and ensure psychological support, support for basic needs, and ongoing monitoring while isolated. Food delivery options through Campus Dining Services would be implemented.

30 beds in two closed wings of Murphy Hall will be set aside for isolation/quarantine space for students living on campus. In accordance with recommendations from SUNY System, students who test positive for COVID-19 will be sent home via private transportation, unless they are not able to travel home (e.g., international students) or do not feel safe returning home. Students who must remain in Delhi will be assigned to the designated isolation/quarantine spaces in collaboration with Campus Health Services and the local Public Health department. Food delivery options through Campus Dining Services would be implemented.

Hygiene, Cleaning, and Disinfection

Cleaning staff will receive periodic training in proper cleaning protocols for daily cleaning and disinfecting, as well as disinfection of exposed areas. Protocols will follow all current SUNY, CDC and DOH issued guidelines, and campus-wide signage on prevention protocols will be posted.

HVAC Systems Notification:

SUNY Delhi is following all current and emerging guidelines regarding mechanical and ventilation systems to help reduce the potential spread of COVID-19. While ventilation is not capable of addressing all aspects of infection control, modifications to HVAC systems can help in some manner. Accordingly, we are in the process of reviewing ventilation systems on the campus and all feasible modifications will be made. It is important to recognize adding denser filtration is not always possible, as some systems will not operate effectively if the filters restrict too much air. Our typical buildings use MERV8 filters. The campus air handling systems will be operated with higher level filtration where possible.

We recognize there continues to be scientific debate as to the role of aerosols in transmission of the coronavirus. Regardless of the unknowns, it is clear that social distancing, hand washing, and the consistent use of face coverings absolutely decreases transmission of COVID-19 and is key to our campus and local community's mitigation of coronavirus transmission. We ask each individual member of our community to protect the whole community by carefully following the rules on face covering and social distancing, as well as other public health messaging. Our community is made stronger and safer by this shared responsibility.

Communication

SUNY Delhi has established a Communication Flow Chart that will be used to communicate the safety protocols and measures to be taken, as well as to update the campus community as needed. The Communication Task Force is working closely with the custodial staff to have ample signage across campus and to direct the flow of traffic to keep the community safe.
Return to Remote Operations
Move-Out Process

In the event the campus can no longer support in-person instruction, college residence halls will close for student occupancy. The Office of Residence Life will coordinate a scheduled move out of each residence hall and students will remove belongs from their assigned rooms. Limited storage for student belongings will be supplied for those who, due to transportation constraints, cannot remove all of their belongings. Students who cannot leave campus quickly (e.g., international, homeless, or housing insecure) will be provided on-campus accommodations and food service until they can provide safe transportation home or alternative housing.

Operational Activity

Academics:

All courses delivered remotely/online will continue to be delivered in that modality.

All nursing courses with clinical practicums will be delivered remotely immediately, if necessary, and will change to alternative clinical experiences.

Required lab intensive courses have been front-loaded in some schools, and therefore the last scheduled block of academic instruction was for elective courses. Students could take alternate courses as necessary. Academic advisement will be provided to students in this situation.

All courses with hands-on practicums will phase out to remote instruction based on the progress of the situation.

Faculty and staff who deliver 100% courses online/remote will not be on campus.

Faculty and staff who deliver hands-on practicum courses will phase out to remote instruction.

Additional Information:

All classes have an outline in the campus' Learning Management System (LMS) which all faculty are utilizing.

The campus currently owns enterprise licenses for both Zoom and Cisco WebEx which are fully integrated with the LMS.

All full-time faculty have laptop computers with web cameras and microphones and the college's VPN solution has been deployed across the organization allowing for remote access to campus resources by faculty and staff.

A softphone solution (Cisco Jabber) has been rolled out to all campus computer users allowing for utilization of the campus phone system from offsite.

Campus voicemail messages are forwarded to email allowing users to access from anywhere.

A small inventory of web cameras and headsets is being kept for users who may need them in case business offices are moved off campus.

The campus has instituted a user backup solution for faculty and staff which automatically saves a copy of locally stored files to the Cloud. This will assist with data loss as well as the ability to deploy new machines quickly if needed.

In the case of a full campus shutdown, non-essential employees will be sent home to work remotely. The majority of campus business operations should be able to be maintained remotely. Employees deemed essential will be required to report to campus to address critical health and safety concerns only.

Communication

Using the Communication Flow Chart developed by the task force, SUNY Delhi will communicate often and in a timely manner to all constituents in the event that our campus must return to remote operations. This will include updating our website, sending out daily emails through our Delhi Today system, sending out Delhi Today Extras as needed, and using other available channels of communication as deemed necessary.
Student specific information (such as student academic schedules, residential hall move-in dates, how to use the daily health screening app, etc.) will be sent to the students' SUNY Delhi email
. Please continue to frequently monitor your email and visit this web page for the most up-to-date information on our reopening. If you have other questions, please email the appropriate office below: