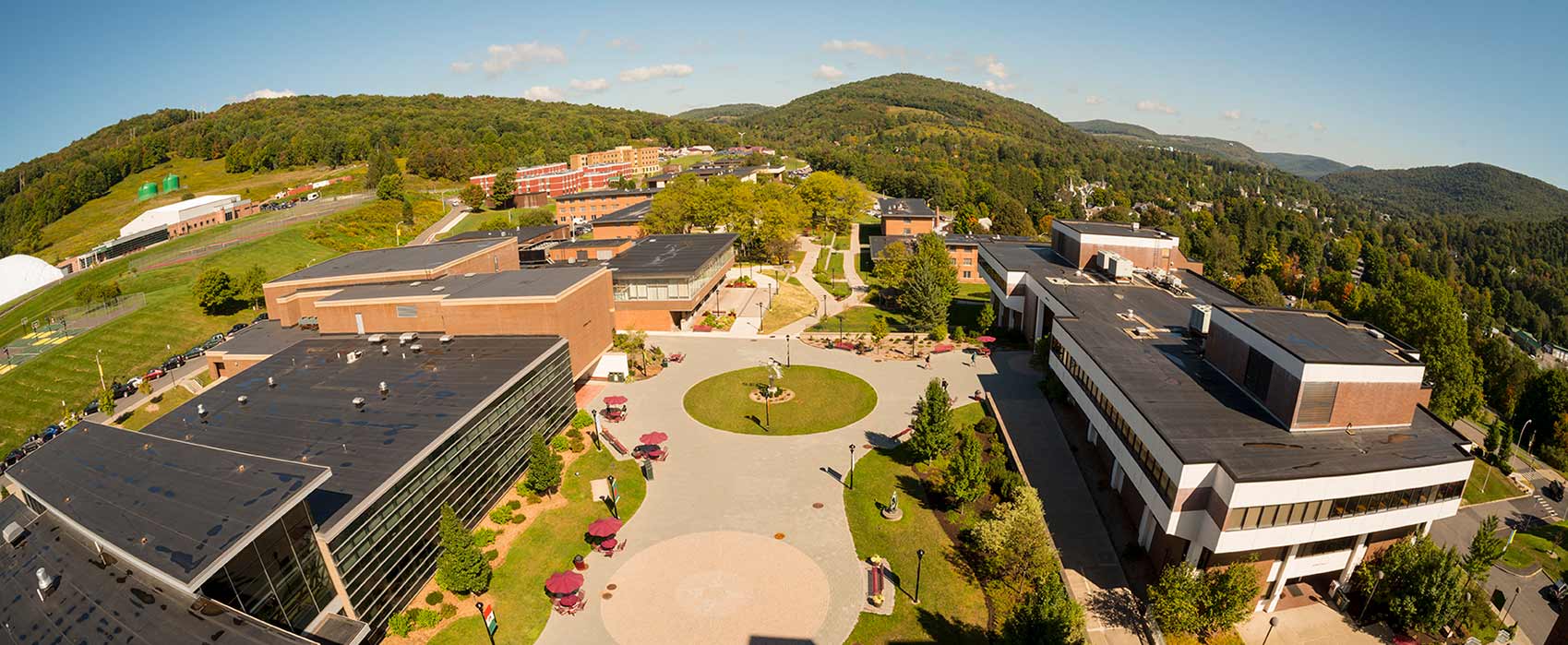 Traditions
Delhi's School Colors are green, white and gold. SUNY Delhi has always been symbolized by green and white. The color gold was introduced officially in 2007 to represent Delhi's commitment to fostering achievement and its standard of excellence.
The Bronco is the mascot for SUNY Delhi. Mascots are traditionally chosen as a symbolic figure to bring luck. One of the first references to "The Broncos" appeared in the 1935 yearbook, following the introduction of the college's first athletic teams, basketball and cross country. You will see The Bronco make an appearance at college sporting events and in local parades.
The Alma Mater, our college anthem, "Sheltered by the Catskill Mountains," was written by Richard Kirwan. He was one of 52 men who attended Delhi between 1918 and 1921 with the help of federal funds for disabled veterans from WWI. The Alma Mater was updated in 2009 to reflect the modern era. The Alma Mater is traditionally sung at special events such as Convocation, Commencement and Alumni Weekend. You can also hear the tune every day on campus at noon when it is played through the campus chimes.
Move-In Crew is one of SUNY Delhi's oldest and most appreciated traditions. After driving to campus, incoming freshmen and their families are greeted by an eager crew of students, faculty, and staff (including the President and members of the Leadership Team) who enthusiastically help carry their bags and belongings to their new residence hall rooms. This labor-intensive tradition is always greatly appreciated by incoming freshmen and their families, and serves as a very special welcome to our campus. Returning students volunteer for this assignment, and spend time telling new students about campus and upcoming Orientation activities.
Convocation takes place each fall and marks the official start of the academic year. It is held the first day of Orientation, and is attended by incoming students and their parents. Faculty and staff members wear their academic regalia; there is formal music, including a processional and recessional. Students are welcomed by the President, and are officially accepted into the college by the Provost. The faculty member who most recently received the Chancellor's Award for Excellence in Teaching has the honor of serving as the featured speaker each year.
Welcome Weekend was created in 1959 by the Senior Orientation Committee to greet first-year students. This orientation, which takes place before the fall and spring semesters, is a multi-day lineup of activities to provide important academic and campus life information to students, parents, and families from orientation leaders, staff, and faculty. It also features special events and meals that bring together the campus community to kick off each academic semester.
Campus & Community BBQ is an annual event held in September in the Village of Delhi on Courthouse Square. It provides an opportunity for students living locally off campus to meet and mingle with local residents and local business owners. The BBQ encourages building positive relationships by getting to know your neighbors.
Family Weekend is an annual event that takes place in late September. Family Welcome gives students and their families a chance to spend the day together on campus, and in the local community. Parents can see how their students are adjusting, and students can reassure their families that they have made a successful assimilation to college life. The local Delhi Chamber of Commerce collaborates by scheduling their annual Harvest Fest for the same time. Local businesses and vendors set up booths and tents to showcase their talents. Various events take place throughout Saturday including student and professional entertainment, athletic competitions, family pictures, and a giant family-style barbeque. The festivities wrap up with brunch on Sunday.
Community Service Weekend is coordinated by the O'Connor Center for Community Engagement. Around 300 students, faculty and staff members work in teams serving various local agencies throughout the county. This event takes place in September or October and serves as a valuable introduction to what the O'Connor Center for Community Engagement has to offer.
Winterfest is an annual week-long series of events held in memory of former SUNY Delhi student Marcus Somerstein. A schedule of competitions and events takes place, with winter-themed events designed to show students how to have fun in the cold on campus. Some events require a lot of skill, and others just require a willingness to get a little silly. The Cardboard Classic, where students race down the college hill on sleighs made of cardboard, is the highlight, featuring great prizes and a high rate of student participation.
The Champagne Reception Baccalaureate Graduates is a special celebration and tradition reserved for those students who have completed their bachelor's degrees. Hosted by the President and Provost, the special accomplishments of four-year students are recognized and saluted with a toast to their future success. Graduates have the special honor of inviting a faculty or staff member who have supported them through their time at Delhi to share in the celebration.
The Commencement Dinner is sponsored by the President and the Alumni Association. Graduating students are invited to attend a formal dinner prior to graduation where they enjoy an upscale meal served by members of the President's Leadership Team, Academic Deans, faculty, and staff members.
Commencement is the annual graduation ceremony to celebrate degree completion. Delhi's first commencement was in 1918 when 19 diplomas were awarded. The ceremony is held in May outside on the College Track with the Catskill Mountains framing the view as graduates walk across the stage.