Criminal Justice Studies
Two-Year Associate in Arts (AA) Degree
Serve and protect your community!
Our exciting two-year program in Criminal Justice Studies gives you an inside view of how the law works in our society. After successfully completing the program and passing a Civil Service exam, you can work for a local police department, sheriff's department or the NYS police, or pursue a bachelor's degree with our Criminal Justice (BS) program.
If you're interested in pursuing work in law enforcement, corrections, security, and other social services, our program is perfect for you! Our curriculum offers a special combination of courses in liberal arts, social sciences, and criminal justice, along with practical experience through trainings and internships.
The Delhi Difference
Learn from dedicated faculty who have direct, real-life work experience as police officers, corrections officers, researchers, and lawyers. You'll gain a balanced, well-rounded understanding of the criminal justice system.
Enjoy frequent guest speakers and training exercises with evidence technicians, NYS Police Bureau of Criminal Investigations detectives, and K-9 units.
As the seat of Delaware County, Delhi has easy access to local, county, and state police and court proceedings.
Work on special projects or complete an internship with local law enforcement agencies like the Village of Delhi Police, Delaware County Sheriff, SUNY Delhi University Police, and the State Police.
Begin coursework for our exclusive 3+3 articulation agreement with Albany Law School and Western New England School of Law. The agreement allows you to earn a bachelor's and juris doctor law degree in six years, resulting in significant savings on one year of costs and fees.
Participate in student clubs such as the Criminal Justice Club, History Club, and the student government to complement classroom learning.
Transfer seamlessly into our bachelor's program in Criminal Justice (BS) to continue your education and qualify for advanced positions.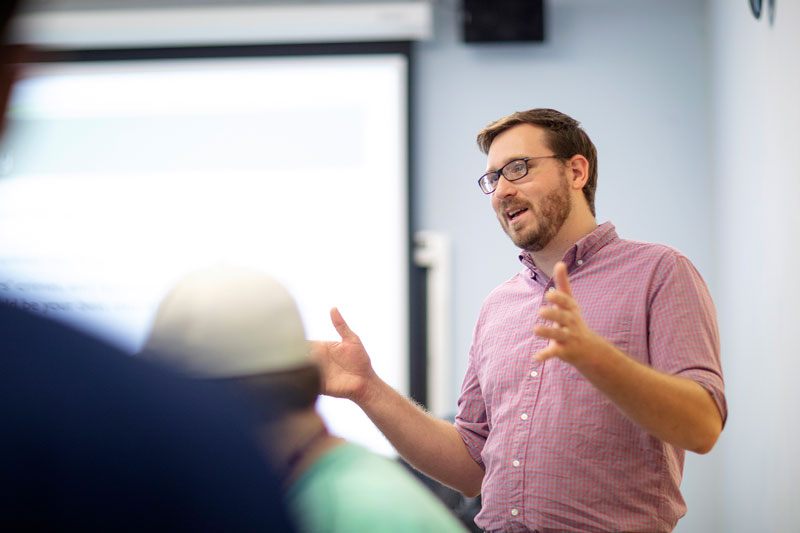 Read about our Faculty Spotlight: Simon Purdy
Criminal justice is a field where something is always going on, and we bring contemporary issues right into the classroom. We give you the practical skills to be able to find success

Scott Swayze, Professor of Criminal Justice
What Can You Do With This Degree?
Officer at town/village/county/state level law enforcement agency
College/university/school security officer
Corrections officer
Court officer
Probation officer
Parole officer
Child protective services
Social work
Private security officer
Alumni Highlights
Kevin Doig '17 – U.S. Army Veteran & Officer, Walton Police Department, Walton, NY

Bert Bouchey '15 – Senior Training Technician, New York State Division of Criminal Justice Services, Albany, NY

Alex Lubbers '10 – Trooper, Virginia State Police