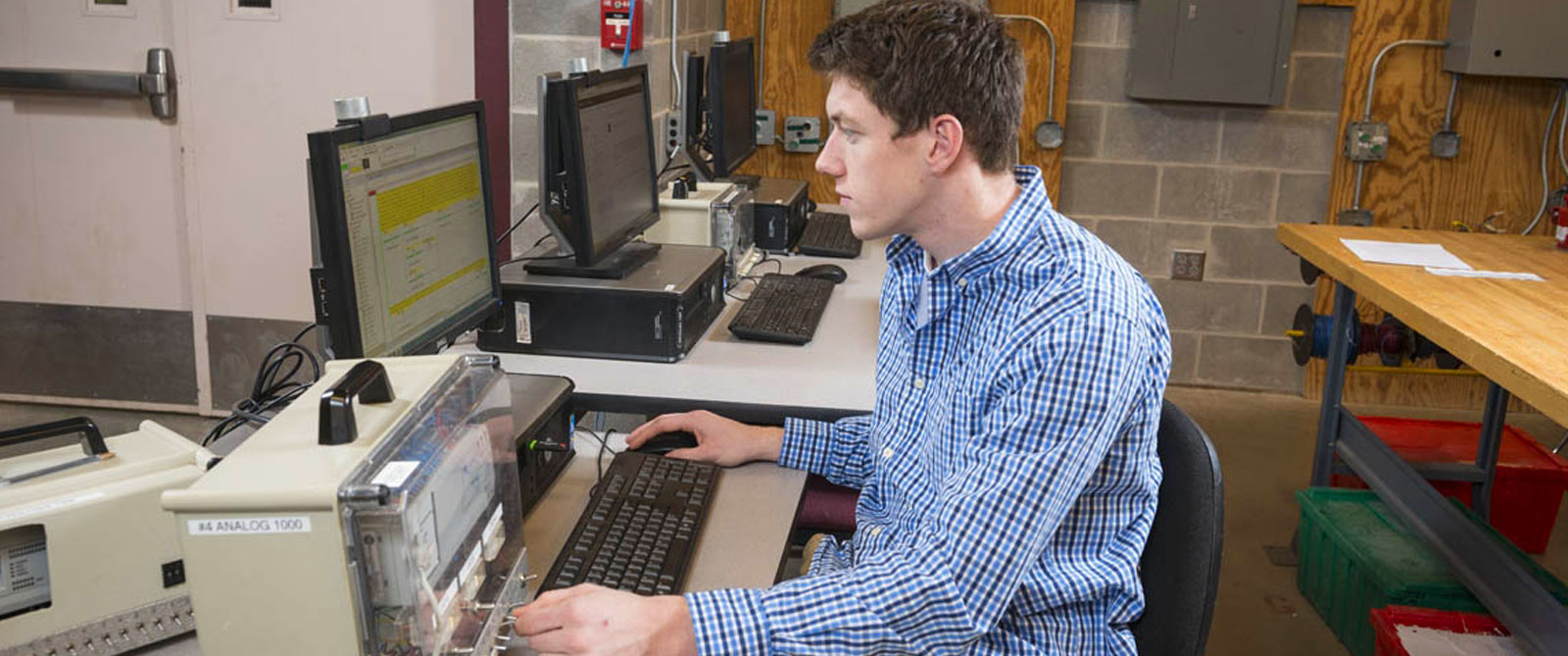 Mechatronics Design
Mechatronics Design Alumni Testimonials
Trisha Stoneburg ('11)
"Coming into an Industrial Designer program after completing the Mechatronics Design program at Delhi, I am a step ahead of many students. The program gave me the ability to break the language barrier between designers and drafters in any company setting. At SUNY Delhi, I was able to use and learn up-to-date software, which allowed me to stay current with industry. Another major benefit was being able to have one-on-one time with the professors. The Mechatronics Design program allowed me to become a well-rounded drafter with experience with different techniques and software."
Antoine (AJ) Johnson
Layout Design Engineer, Braun

"With all the hard work and effort, I am a Layout Design Engineer and I am doing what I love best. I never forgot what I learned both in and out of the classroom at SUNY Delhi, and I cannot thank the faculty enough for all the dedication and hard work they provided me. They even stayed in touch with me after I left Delhi. There are truly no other teachers I could think of who are better and more passionate about their students than the Mechatronics Design faculty."
Christopher Pohlman ('07)

"The Mechatronics Design program at SUNY Delhi prepared me for the perfect transition to a professional working atmosphere. Not just a career, but beyond. Only one month after graduating from SUNY Delhi with an AAS Degree in Mechatronics Design, I landed an unbelievable job. Later I decided to transfer over to a 4-year college, to further pursue my desire to teach technology. I've had discussions with other alumni in the program, and we agree that our first 2 years at SUNY Delhi were irreplaceable for the real world. It is a program and decision that I cannot be more thankful for."
Paul Pompilio ('01)
CAD/BIM Manager, Northup Grumman,
Contracted by West Point Military Academy

"Learning Production and Industrial Drawings gave me the understanding on how many products and concepts are incorporated into everyday architectural, electrical, mechanical, HVAC and civil technologies. Some of these products, generators, control panels, and excavation machines are used in these technologies. For one thing, it proved that I was trainable in any aspect of an engineering services industry. Being trainable gave me the ability to figure out certain specialties through the years. SUNY Delhi's Mechatronics Design program gave me essential skills to use, translate and understand the basic building blocks of drafting and some design for any of the manufacturing or construction technologies."
Stefanie (White) Way ('01)
Mechanical Engineer & Stay-at-Home Mom



"Attending SUNY Delhi's Mechatronics Design program was instrumental in preparing me for my career as a Mechanical Engineer. Having the background in drafting gave me skills to visualize and capture new designs in my professional field. My Mechatronics Design degree was also an asset when applying for jobs; it was the extra "something special" that employers appreciated and noticed. I honestly don't think I would have landed both my engineering jobs if I didn't have my Mechatronics Design degree."
Dale Le Bar ('08)
Business Improvement Engineer, APPH Wichita

"The AAS in Mechatronics Design degree at SUNY Delhi is at such a high caliber that I obtained a full time draftsman job two months prior to my graduation at ASM Engineering Consultants LLC in Benton, KS. From there, I moved onwards and upwards, working at Goodrich Interiors and the Cessna Aircraft Company. I have also pursued my bachelor's degree in Industrial Engineering at Wichita State University. As the Business Improvement Engineer at APPH Wichita in Wichita, KS, my projects vary from generating company-wide video training programs to redesigning and optimizing floor layouts, as well as designing test stands utilizing 3D parametric modeling. At each of my jobs I have had in my professional career, I have started at an above average pay and privilege level thanks to my knowledge and experience from SUNY Delhi.

The leadership and teamwork skills, along with the sense of dependability obtained through SUNY Delhi, have greatly improved my academic and professional careers, as well as my personal life. Delhi has given me a higher sense of self-confidence, allowing me to take on and conquer new challenges in life. When asked about my careers, I always make it a point to mention SUNY Delhi, and the impact that the individual attention and small class sizes made on me. SUNY Delhi truly is a major factor in how I got to where I am today."
Michael Rack ('98)



"Mr. Greenfield and Mr. Miller support you through those two years and beyond, not only developing skills that can put you into a myriad of industries, but also helping you to land jobs, and develop your career. Fifteen years later, I'm now a valued part of a team of experts designing sophisticated specialty rubber products for use in a wide spectrum of applications, from actuators in a developing lunar rover to nozzle dams which keep people working in nuclear reactors safe.
The Mechatronics Design professors at Delhi were always there for me. They have the knowledge of trade and dedication to students that give you more than a diploma... they give you a future. Under their guidance, I became a straight-A student, and gained the confidence to enter the real world with valued skills which have allowed me to live the American Dream as a productive asset to the community.
In today's competitive workplace, it's good to have options. Drafting translates to so many different industries, giving you a large pool of opportunities to explore - Architecture, Engineering, Manufacturing, Electrical, Automotive, PCBs, HVAC, Civil Engineering and more. I even know some who have translated a drafting degree into a career in video games! Drafting gives you valued skills that can put you down many different roads. What you do and how far you go is up to you. You can do it. They can show you how."
Timothy Downey ('08)
TransTech



"With the education you will receive in two years at SUNY Delhi, you will surpass your peers and colleagues who may have been in their respective field all their adult life. This is because Delhi teaches you not only the knowledge, but how to digest that information, how to process and harness it. It will teach you about all the issues you never thought you would encounter, and it teaches you to not take even one step back. After leaving Delhi, you will find nowhere else in the world that holds the standards as precise and to such a high degree. Delhi has fully prepared me for not only where I am today, but wherever I plan to go."
Steve Dow ('08)
Design Engineer, Genpak LLC

"The Mechatronics Design program at SUNY Delhi jump-started my engineering career at Genpak LLC with knowledge in part design, assemblies, detailed drawings, rapid prototyping and manufacturing processes. All of this and more from the program are essential to my everyday duties as a design engineer."
Stosh Zamonsky ('98)

"The SUNY Delhi Mechatronics Design program helped me secure a job immediately upon graduating. The program trained me with the skill set I needed to be hired directly into the workforce. The 2-year program was a good balance of technical knowledge and practical lab experience. From the Drafting base, I learned at Delhi I was able to move fluidly from mechanical/electrical drafting to the architecture field where I now work. The diversity of classes taught within the program transferred easily and enabled me to continue my education in the Architecture field."