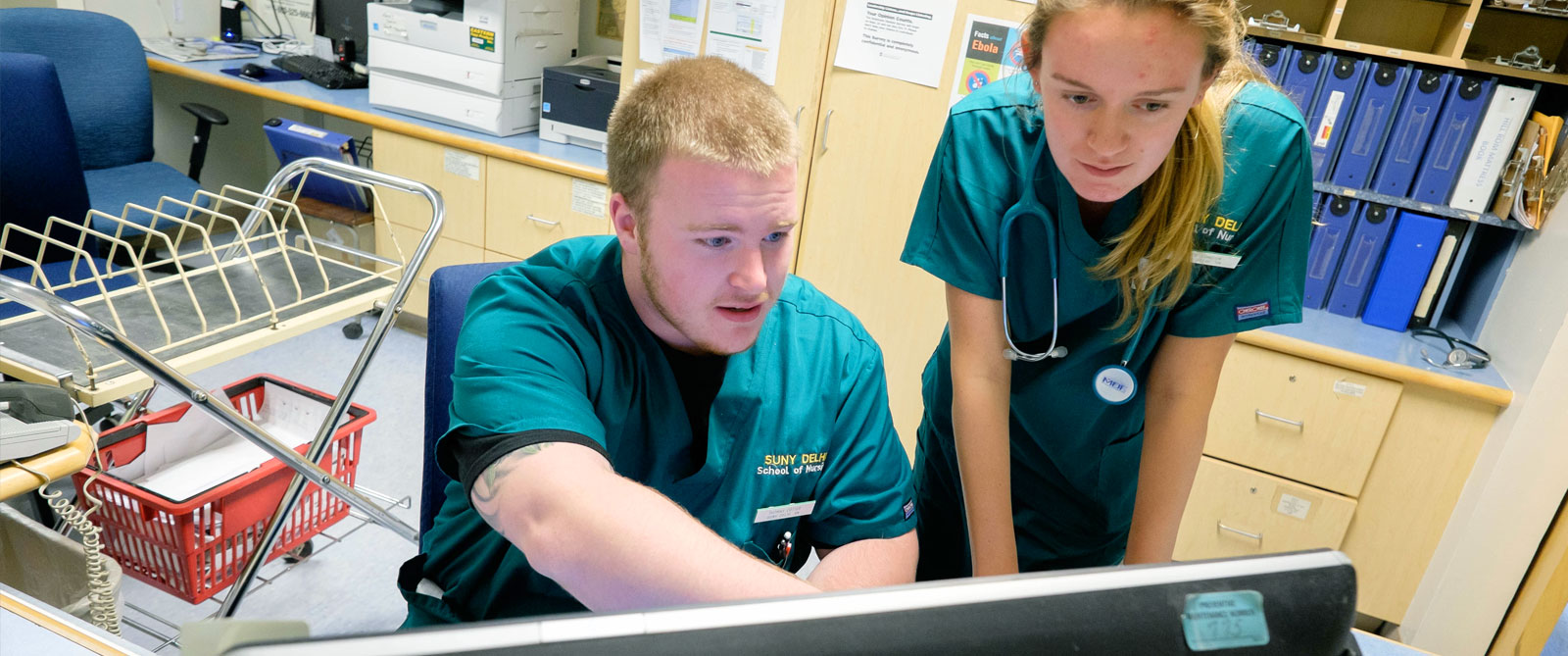 Nursing
Technical Standards
2019-2020 Technical Standards
The list of technical standards is for you to use to become aware and informed of the skills required in the performance of duties of a registered nurse and to assess your ability to complete such duties. These technical standards reflect the physical, psychological, and emotional performance abilities and characteristics that are necessary to successfully complete the classroom and clinical (including attendance) requirements of the associate and the dual degree programs at SUNY Delhi. These standards are conditions of admission, progression, and graduation of the program. Persons interested in applying for admission to the program must review this list to develop a better understanding of the skills, abilities, and behavioral expectations necessary to successfully complete the program. The college complies with the requirements and spirit of Section 504 of the Rehabilitation Act and the Americans with Disabilities Act of 1990; therefore, the college will endeavor to make reasonable accommodations for participants with disabilities who are otherwise qualified.

Graduates are expected to have a broad competence in the basic skills underlying the general practice of nursing. All graduates must be able to conduct an assessment and synthesize the findings into a plan of care including intervention and evaluation. This must be accomplished independently.

Nursing students must possess the capabilities to accomplish these requirements in a reliable manner and become competent and safe practitioners for diverse clients. Thus, our students must have the capability to undertake all our curricular requirements to the satisfaction of our supervising faculty.
Guidelines
Nursing education requires the acquisition of skills, professional attitudes and behavior as well as the accumulation of scientific knowledge. The complete process involves an intense professional education leading to an Associate in Applied Science (AAS) degree and the Dual Degree in nursing. In order to graduate the best possible nurses, school standards must be rigorous and exacting, and admission must be extended only to those who are best qualified to meet the performance standards of the profession. Graduates must have the knowledge and skills to function in a broad variety of clinical situations, and to render a wide spectrum of patient care to diverse clients.

Candidates must have abilities and skills in five areas: 1) observation; 2) communication; 3) motor, touch, and tactile abilities; 4) intellectual-conceptual, integrative and quantitative; and 5) behavioral, emotional, and interpersonal abilities. Since the care of patients is an essential part of the educational program, schools must at all costs act to protect the health, safety, and privacy of patients.
Observation
The candidate must be able to observe demonstrations and experiments in the basic sciences, including but not limited to physiologic and pharmacologic demonstrations in animals, microbiologic cultures, and microscopic studies of microorganisms and tissues in normal and pathologic states. A candidate must be able to observe a patient accurately at a distance and close at hand, and to communicate with accuracy, clarity and efficiency with patients, their families and other members of the health care team (including spoken and non-verbal communications, such as interpretation of facial expressions, affect and body language).

Examples of relevant activities:
Draw up the correct quantity of medication in a syringe or detect changes in skin color or condition.
Detect sounds related to bodily functions using a stethoscope or to detect audible alarms generated by mechanical systems used to monitor patient physiological status.
Communication
Communication Ability: The student must communicate effectively both verbally and non-verbally to elicit information and to translate that information to others. Each student must have the ability to read, write, comprehend, and speak the English language to facilitate communication with patients, their family members, and other professionals in health care settings. In addition, the student must be able to maintain accurate patient records (paper and electronic), present information in a professional, logical manner and provide patient counseling and instruction to effectively care for patients and their families. The student must possess verbal and written communication skills that permit effective communication with instructors and students in both the classroom and clinical settings.
Examples of relevant activities:
Abilities sufficient to give directions to or follow directions from other members of the health care team and to participate in health care team discussions of patient care.
Ability sufficient to elicit and record information about health history, current health state or responses to treatment from patients or family members.
Ability sufficient to convey information to patients and others as necessary to teach, direct and counsel individuals.
Motor, Touch, and Tactile Abilities
The candidate must be able to provide general care and emergency interventions to patients in all health care settings. Required functions include carrying out nursing procedures, performing basic laboratory tests and providing routine and emergency care and treatment to patients according to the standard of care.

Examples of relevant activities:
Performing care to patients that include touch, inspection, procedures, and interventions.
Obtain assessment information by palpation, auscultation, percussion and other diagnostic maneuvers.
Complete assigned periods of clinical practice.
Carry out patient care procedures, such as tracheostomy care or performing emergency airway suctioning.
Carry out patient care procedures, such as turning and lifting of patients.
Detect unsafe temperature levels in heat-producing devices used in patient care or detect anatomical abnormalities, such as edema or small nodules.
Intellectual-Conceptual, Integrative and Quantitative Abilities
These abilities include measurement, calculation, reasoning, analysis, and synthesis. Problem solving, a critical skill, requires all of these intellectual abilities. Candidates must have the ability to gather data, develop a plan of action, establish priorities and monitor treatment plans and modalities, and have the ability to comprehend three-dimensional and spatial relationships.

Examples of relevant activities:
Calculate appropriate medication dosage given specific patient parameters.
Analyze and synthesize data and develop an appropriate plan of care.
Collect data, prioritize needs and anticipate reactions.
Properly administer IM injections or assess wounds of varying depths.
Behavioral, Emotional, and Interpersonal Abilities
A candidate must possess the emotional health required for full utilization of his/her intellectual abilities, the exercise of good judgment, the prompt completion of all responsibilities attendant to the diagnosis and care of patients, and the development of mature, sensitive and effective relationships with patients. Candidates must possess the ability to relate to colleagues, staff and patients with honesty, integrity and non-discrimination, and demonstrate the capacity for the development of a mature, sensitive and effective therapeutic relationship with patients.

A candidate must be able to tolerate taxing workloads and to function effectively under stress. They must be able to adapt to changing environments, to display flexibility, to learn to function in the face of uncertainties inherent in the clinical problems of many patients, modify behavior in response to constructive criticism, and the capacity to demonstrate ethical behavior, including adherence to the professional nursing and student honor codes.

Compassion, integrity, concern for others, interpersonal skills, interest and motivation are all personal qualities that shall be assessed during the admissions and education processes.

Examples of relevant activities:
Remain calm in an emergency situation.
Communicate and provide direct care effectively with patients and families of diverse religious, cultural, gender, or social backgrounds.
Demonstrate the exercise of good judgment and prompt completion of all responsibilities attendant to the diagnosis and care of patients.