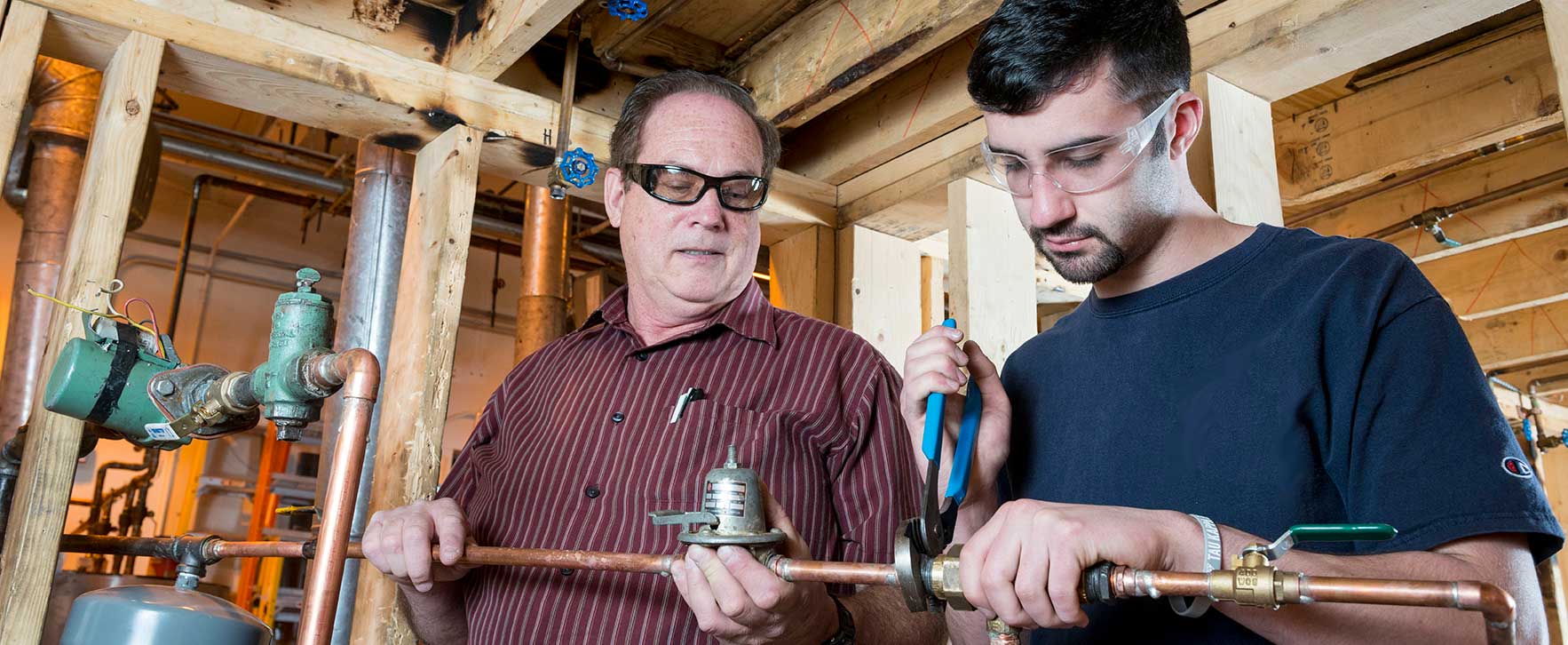 Plumbing and Refrigeration
Technical Standards
Refrigeration, Air Conditioning, Plumbing and Heating Programs:
Technical Standards for admission, progression, and graduation
The following technical standards describe the non-academic qualifications required for entrance to, continuation in, and graduation with a Plumbing, Heating and Pipefitting or Refrigeration and Air Conditioning certificate, or an Associate in Applied Science (AAS) degree in Heating, Ventilating and Air Conditioning, or an Associate in Occupational Studies (AOS) degree in Plumbing and Refrigeration from SUNY Delhi. Candidates must be able to meet these minimum standards, with or without reasonable accommodation, for successful completion of certificate/degree requirements.
Thinking Skills
General: Apply theories and principles for proper installation, maintenance, troubleshooting, and repair of cooling components and systems.
Specific:
Understand textbooks, handouts, diagrams, and charts.
Visualize three-dimensional objects.
Take measurements and do conversions.
Interpret read-outs on meters, gauges, scales, and other measurement devices.
Identify names and functions of cooling components.
Explain operating characteristics of cooling systems.
Relate concepts of physics, chemistry, and electricity to operations of cooling systems.
Identify tools and materials.
Follow safety procedures.
Inspect and test cooling components and systems.
Recognize indicators of malfunctions.
Draw conclusions based on a review of findings.
Formulate service or repair plan.
Perform procedures according to proper specifications.
Sensory/Observation Skills
General: Use sensory cues to conduct inspections and tests to determine causes of failures, and respond properly.
Specific:
Interpret read-outs on meters, gauges, and other measuring devices.
Distinguish identifying colors of wires, knobs, and other objects.
Recognize and compare shapes and forms of objects.
Detect and respond to indicators of malfunctions.
Select appropriate materials, tools, and equipment for maintenance and repairs.
Motor Skills
General: Possess sufficient physical strength, flexibility, and dexterity to safely handle electrical and mechanical parts.
Specific:
Operate necessary tools, equipment, and machinery.
Remove and replace failed components.
Position and maneuver in confined spaces to do repairs.
Work at varying heights.
Lift and transport equipment and materials as necessary.
Communication skills
General: Communicate effectively to gather and convey information.
Specific:
Obtain necessary information from oral and written sources.
Express information coherently.
Behavioral skills
General: Behave appropriately and safely in a cooperative learning environment.
Specific:
Fulfill personal and shared responsibilities.
Work cooperatively with partners and groups.
Exercise good judgment.
Follow safety procedures.
Environmental Tolerance
General: Function safely in a refrigeration and air-conditioning lab.
Specific:
Work for prolonged periods exposed to:
Extreme noise
Extreme heat
Sharp tools and materials
Electrical equipment
Chemicals and toxins
Dust and fumes
Machinery with moving parts
Slippery or uneven surfaces
Variations in lighting