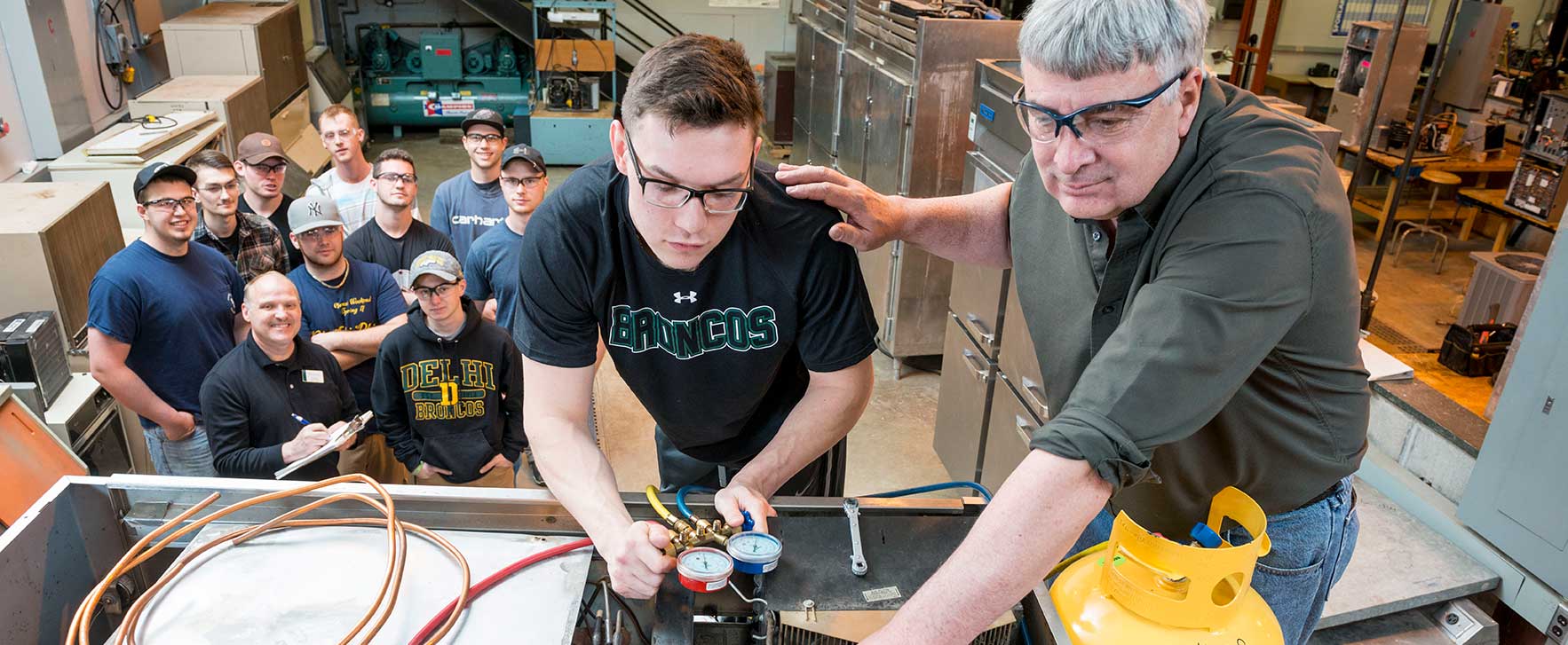 Refrigeration and Instrumentation (AOS)
Two-Year Associate in Occupational Studies Degree
Help every industry keep their cool!
Our Refrigeration and Instrumentation program prepares you for well-paying and in-demand jobs as refrigeration technicians with construction contractors, electronics manufacturers, and companies that manufacture cooling systems. You'll enter the industry with the skills to diagnose residential and commercial refrigeration and heating systems, observe the National Electric Code, use programmable logic controllers, and service, troubleshoot, install, and manufacture refrigeration systems. Careers in this field can take you anywhere from repairing supermarket refrigeration systems to maintaining refrigerated ocean containers carrying products around the globe.
If you like working with your hands in a variety of settings, this program could be for you! With plenty of hands-on learning in our labs, you'll study refrigeration and air conditioning principles, electrical theory, control systems, and more.
The Delhi Difference
Our apprenticeship approach allows plenty of time to practice your skills, take systems apart, and put them back together.
Learn from expert faculty with years of industry experience.
Small class sizes create a supportive learning environment.
Our refrigeration lab contains systems for practice with electrical control components as well as state-of-the-art cooling systems.
Work on real-world projects for both residential and industrial customers in the community.
Within five years of graduation, our alumni earn an average of $58,700 per year. As they gain experience, they can make six-figure salaries.
Enter directly into the workforce as a skilled technician, ready to use your skills in a variety of settings.
What Can You Do With This Degree?
Service contractor for residential heating and air-conditioning systems
Technician for commercial refrigeration systems
Designer and installer of air-conditioning and refrigeration systems
Heat pump technician
Energy systems manager