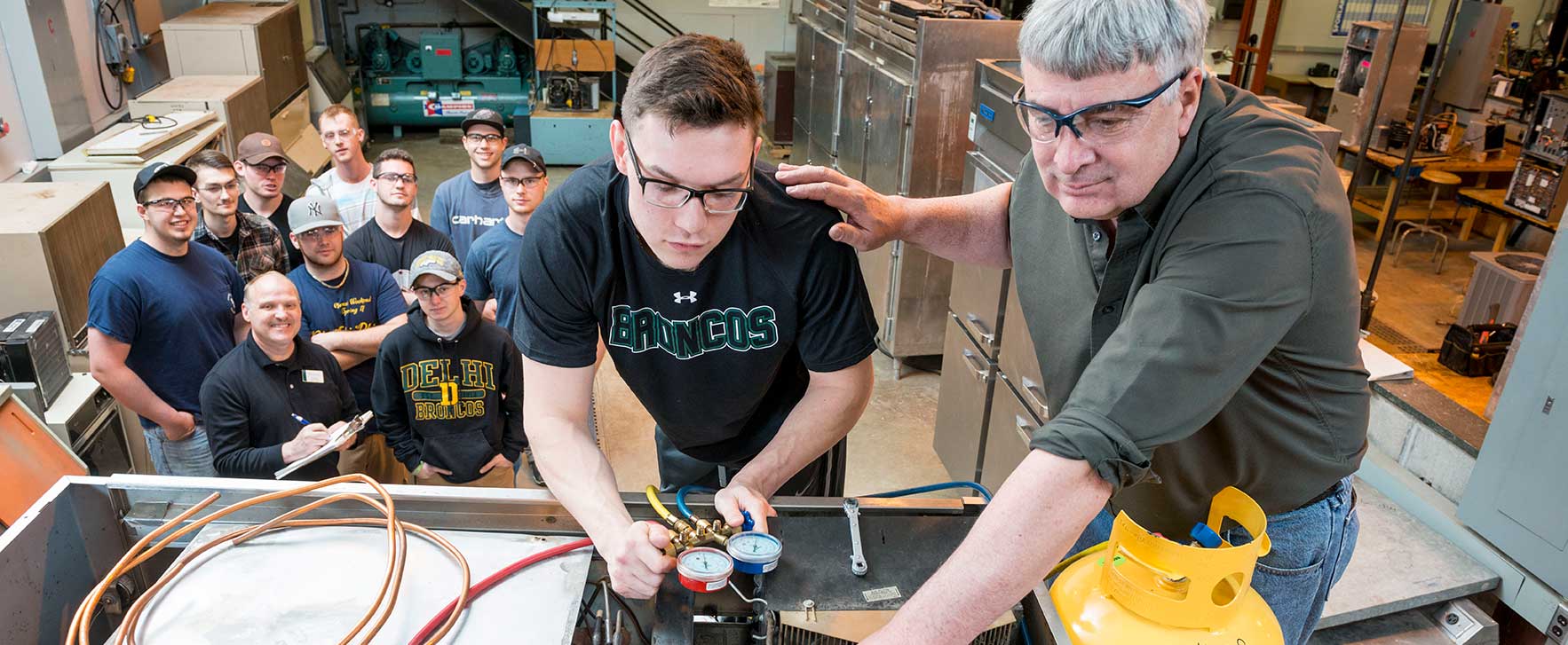 Refrigeration and Instrumentation
Tool List
Refrigeration and Air Conditioning Required Tools
The following tools are required for students entering the HVAC or the Refrigeration Air Conditioning associate's degree or certificate programs. The cost of the tools is approximately $675. The annual cost of textbooks is approximately $300.
The list includes some manufacturers' names and numbers only as a source of reference. With tools, the old adage applies "you get what you pay for." Past students have purchased tools at Sears, Home Depot, Lowe's, and specialty stores. Permanently identify each of your tools with your name or a symbol because your classmates will all have the same or similar looking tools.
There are three area vendors that sell discounted tools to students. Tools purchased from these vendors can be delivered to the student's home during the summer, or delivered to the HVAC/Refrigeration Laboratory at SUNY Delhi during the first week of fall classes. Ace Hardware is next to the campus and purchased tools can be picked up there.
Craftsman/Fastenal Tools
607-431-9050
www.tinkinc.net
Haggerty Ace Hardware
Price Chopper Plaza
Delhi, NY 13753
607-746-8810

Tom Ballard Jr.
Pickett Building Materials
6459 State Highway 23
Oneonta, NY 13820
607-432-8391
tballard@pickettbuildingmaterials.com

*Tools can be delivered to campus, or picked up in person at the store. Please order early to allow reorder time for out-of-stock items.
Some of the specialized HVAC trade tools may only be available from an HVAC distributor that supplies HVAC contractors. One of these dealers who works closely with the college is:
Meier Supply
3 Louisa St
Binghamton, NY 13904
607-724-2451

Meier Supply will also deliver student ordered tools to the college during the first week of classes.
Look in your Yellow Pages for other specialized HVAC or Refrigeration distributors.

Required General Tool List
Hammer (8 oz.) ball peen similar to Klein #803-8
Screwdriver, 4-way or equivalent, similar to Klein #19505
Wrench set, boxed and open, 1/4" through 1"
Allen wrenches(long version)) (hex key) 7 sizes, 5/64" through 1/4", 12" long
Socket set, 1/4" drive set
Hacksaw, 12" minimum, 32 teeth per inch
Adjustable wrenches, 6" and 12"
Pliers, lineman type 9"
Adjustable pliers, (groove joint or water pump) 10"
Pliers, needle nose 6"
Steel measuring tape - 8'
Two padlocks
One pair safety glasses
One pair leather palm gloves
One pocket thermometer - 30-120 degrees Fahrenheit
One hand held Propane Torch (or Torch Kit) with Propane Tank (for soldering up to 5/8 copper tubing)
Compressor service ratchet wrench (4" one) similar to Ritchie #60613
Tubing cutter, (Small Imp) for cutting copper tubing 1/4" to 7/8" diameter, similar to Ritchie #60121
Tubing cutter, full size, for cutting copper tubing 3/8" to 1&5/8" diameter, similar to Ritchie #60102
Flaring tool kit 1/4" to 5/8" similar to Imperial Eastman #697780
Swaging tool kit 1/4" to 5/8" similar to Imperial Eastman #193s
Ammeter similar to Amprobe Model #RS3
Copper fitting brushes 1/4" to 5/8"
Refrigeration dual gage manifold set with hoses.
Two access valve core removers (type that will physically remove core while system is under pressure similar to Ritchie #18990)
Volt ohm multi-meter with ohms times one scale
Tool box of adequate size to hold tools on this list


Total approximate cost of tools - $675
Electrical Instrumentation & Controls
Required Tools & Supplies
One pair of OSHA approved, clear lensed safety glasses. If the student wears prescription glasses they must be approved safety lenses or use stick on bi focal lenses
One padlock to secure tools
Tool pouch, bag or box (lockers provide area = 23" deep x 13" high x 12" wide)
Professional grade digital meter , clamp type meter strongly suggested

(i.e. Ideal 61-746 or Fluke 323)

Wire Numbers ***Typical Brands: Brady, 3M, Ideal, Panduit

Must minimally include numbers 0 – 9. Using two single digits will allow student to create numbers above 9.

Electrical Tape

(1) roll – Black Electrical tape

1/4" x 1 1/4" glass Fuses: (available through automationdirect.com)

10 amp – minimum 10 (automation direct part# AGC 10)
5 amp – minimum 15 (automation direct part# AGC 5)
2 amp – minimum 15 (automation direct part# AGC 2)
1/2 amp – minimum 15 (automation direct part# AGC - 5)

Wire nuts:

Box of red
Box of yellow
Box of orange

Screws:

#10 x 3/4" pan head screws
#8 x 3/4" pan head screws
10-32 x 3/4" pan head screws
8-32 x 3/4" pan head screws
Green Equipment Ground Screws

Set of quality drill bits up to half inch
Fine tip permanent marker (Sharpie)
Pencil (#2 at least 4)
16" Hacksaw

32T hacksaw blades of professional quality (i.e. Lennox, Klein, Ideal, etc.)

Five (5) slotted-head screwdrivers:

3/32"
1/8" (at least 6" shank)
3/16" (at least 6" shank)
1/4" (at least 6" shank)
1/8" (2" shank)

Three (3) Phillips head screwdrivers:

#2 tip (at least 4" shank)
#1 tip (at least 3 1/8" shank)
#0 tip (2" shank)

Insulated side-cutting pliers, also referred to as lineman's pliers (8" or 9")
Insulated diagonal-cutting pliers (6" or 7")
Insulated needle-nose pliers (6" or 8")
16 oz. straight claw hammer
Scratch awl
9" magnetic torpedo level
Combination tool: Wire stripper, crimping tool, bolt cutter (i.e. Klein 1010)

Professional grade required and must strip wire from front of tool

Tape measure (12' minimum)
Fuse puller (automationdirect.com #FP-2)
Utility Knife with retractable blade
Jackknife with 2 3/4" Blade
Small wire ties (zip ties) – minimum 100 count


OPTIONAL:
18T and 24T hacksaw blades
Professional grade screw holding screw driver (i.e. Klein sk234)
Professional grade arc-joint or pump pliers (10")
Romex Strippers
Professional grade step drill
Center Punch
Legend

" = inches
' = feet
T = tooth
# = number
AWG = American Wire Gauge