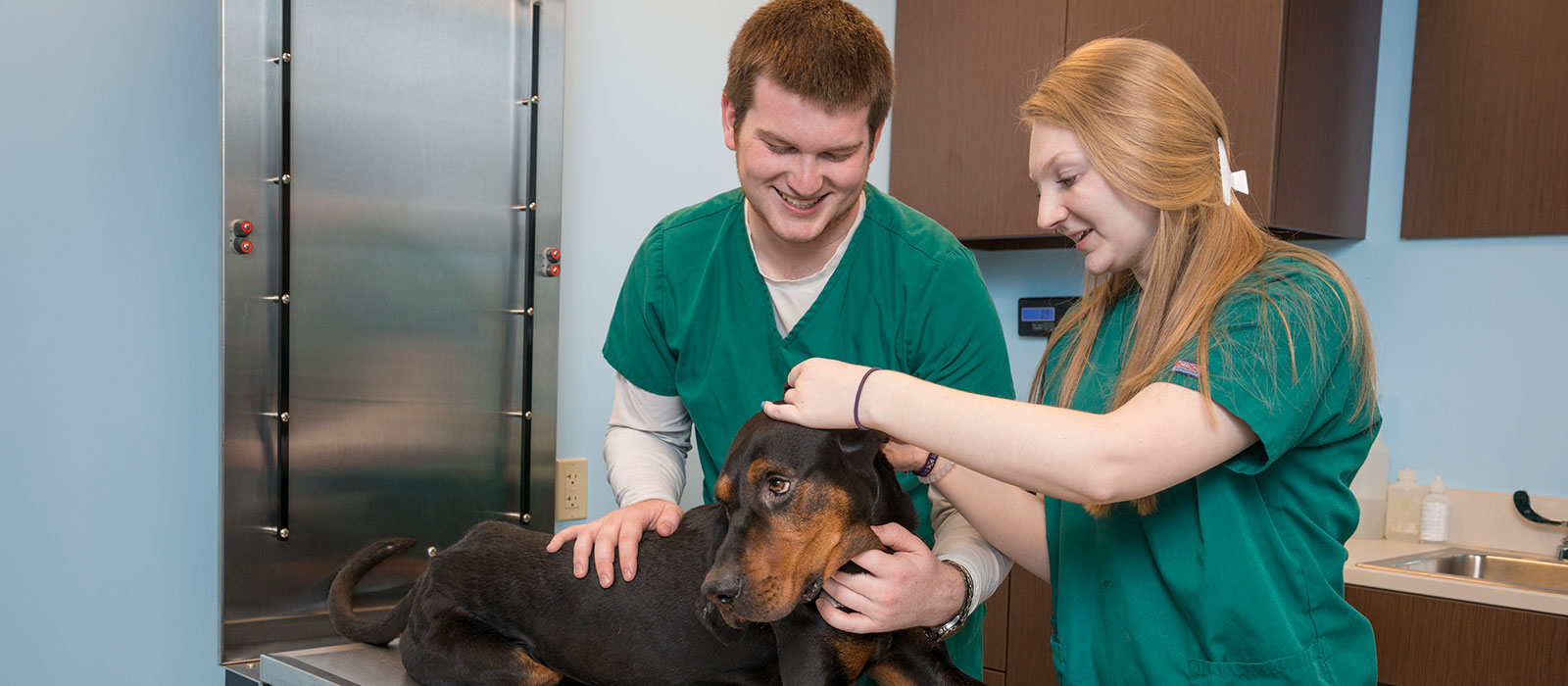 Veterinary Technology
Technical Standards
The list of technical standards is for you to use to become aware and informed of the skills required in the performance of duties of a veterinary technician and to assess your ability to complete such duties. These technical standards reflect performance abilities and characteristics that are necessary to successfully complete the requirements of the Veterinary Technology program at SUNY Delhi. These standards are not conditions of admission to the program. Persons interested in applying for admission to the program should review this form to develop a better understanding of the skills, abilities and behavioral expectations necessary to successfully complete the program. The college complies with the requirements and spirit of Section 504 of the Rehabilitation Act and the Americans with Disabilities Act of 1990. Therefore, the college will endeavor to make reasonable accommodations for participants with disabilities who are otherwise qualified.
Office and Hospital Procedures, Client Relations
The student must:
Communicate with clients and other veterinary professionals to disseminate information relevant to patient care including obtain an accurate patient history.
Participate in facility management utilizing traditional and electronic media to manage inventory, schedule appointments, admit and discharge patients
File medical records, radiographs and lab reports.
Demonstrate telephone etiquette.
Apply crisis intervention/grief management skills with clients.
Understand and observe legal boundaries of the veterinary health care team members.
Interact professionally with clients and fellow staff members.
Demonstrate a commitment to high quality patient care.
Respect and protect the confidentiality of client and patient information.
Demonstrate the ability to accurately record medical information.
Pharmacy and Pharmacology
The student must:
Interpret and follow veterinarian's pharmacy orders and accurately perform appropriate calculations to prepare medications including correctly labeling and dispensing drugs.
Monitor therapeutic responses to drugs and differentiate between abnormal and normal responses to medication.
Nursing Care
The student must:
Safely work with domestic farm animals, dogs, cats and laboratory animals.
Demonstrate safe, effective and appropriate restraint techniques while veterinary procedures are performed on an animal.
Demonstrate safe and effective use of restraint devices such as:

Muzzle
Elizabethan collar
Restraint pole
Halter
Twitch
Chutes

Transfer patients in and out of cages, kennels and stalls.
Safely administer medication to animal patients via:

Parenteral (subcutaneous, intramuscular, intravenous)
Enteral (balling gun, dose syringe, gastric intubation, hand pilling)
Topical routes (including eye meds)

Perform fluid therapy

Placement and care of intravenous catheters
Determine and maintain fluid infusion rate
Monitor patient hydration status

Perform patient assessment techniques that will allow for accurate evaluation of the patient's physical status with minimal stress and anxiety.

Obtain temperature, pulse respiration
Assess hydration status

Safely apply and remove bandages.
Recognize and respond appropriately to veterinary medical emergencies and apply established emergency protocols. Perform:

First aid
Cardiopulmonary resuscitation

Recognize common domestic animal species and breeds.
Demonstrate therapeutic bathing, basic grooming and dipping of small animals.
Implement appropriate husbandry techniques to enhance wellness and reduce risk of injury and stress.
Perform appropriate sanitation and nosocomial protocols for a veterinary facility.
Manipulate and operate equipment necessary for veterinary medical care.
Interpret expressions and signs of pain in the veterinary patient.
Identify and interpret changes in patient mucous membrane to evaluate for cyanosis, icterus, shock.
Collect diagnostic specimens such as blood, urine and feces.
Monitor and assess health status.

Auscultation of heart and lungs
Respond to equipment alarms and warning sounds from animals, humans and/or equipment of impending danger.
Anesthesia and Surgical Nursing
The student must:
Communicate in a surgery room while all occupants wear surgical masks.
Safely manipulate and move patients to a surgical table.
Accurately calculate and properly administer anesthetic drug dosages via injection, endotracheal tube or mask.
Safely perform endotracheal intubation.
Maintain and operate anesthetic delivery and monitoring equipment including;

Pulse oximeter
Capnograph
Esophageal stethoscope
Electrocardiograph
Resuscitation bag
Scavenging systems
Oxygen sources
Respiratory monitors
Blood pressure monitoring
Laryngoscopes
Thermometer
Laboratory Procedures
The student must:
Use a compound microscope to identify cells and organisms.
Able to accurately pipette specimens.
Accurately record the results of manual tests such as:

Packed cell volume
Total protein
Specific gravity
ELISA tests

Accurately record the physical properties of diagnostic specimens.
Prepare fecal specimens using floatation techniques.
Perform microbiological procedures to accurately identify microbes.

Use of Bunsen burner
Loop
Staining techniques
Culture media

Perform fine needle tissue aspirates and impression smear preparation.
Perform necropsy
Imaging
The student must:
Manipulate and operate radiographic equipment
Critique radiographs to determine if radiographic contrast and density are correct.
Properly measure anatomic area to be radiograph.
Accurately interpret technique charts and properly set the parameters in the console of the radiographic machine.
Properly record parameters in radiation log book.
Properly label film with patient information.
Manipulate patient for correct positioning to produce a diagnostic radiograph.
Perform proper maintenance of radiographic equipment.