Veterinary Technology
Four-Year Bachelor of Science (BS) Degree
Expand your career options and oversee animal care as a Vet Tech!
Our bachelor's program in veterinary technology offers advanced education with an emphasis on critical thinking and hands-on learning experiences with live animals. You'll be prepared to work as a veterinary technologist within the diverse field of veterinary medicine and take on management responsibilities, or pursue an advanced degree in veterinary medicine (DVM), public health, or animal science.
You can apply to this program after successfully completing the two-year Veterinary Science Technology (AAS) degree.
If you want to take your passion for animals to the next level and advance your veterinary skills, this program is for you! You will learn advanced veterinary technology practices and take applicable advanced science and management courses. You'll also take upper level courses in liberal arts.
Elective courses allow you to choose one of three areas of focus based on your interests and career goals: advanced clinical techniques, lab animal science, or public health.
To apply for this program, you must be license-eligible or a current LVT, RVT, or CVT with an unencumbered license and meet the following requirements:
Associate degree in Veterinary Technology from a program accredited by the AVMA-CVTEA

Cumulative GPA of 3.0 or higher

Minimum of 60 semester hours from an associate degree Veterinary Technology program with all coursework grades of "C" or better
The Delhi Difference
Our students enjoy unparalleled hands-on advanced clinical training with live animals.
We are fully accredited by the American Veterinary Medical Association (AVMA).
Our extensive, top-notch facilities include surgical and diagnostic imaging suites, a new clinical suite that mimics a veterinary hospital, extensive laboratory animal amenities, and a large animal teaching farm with alpacas, cows, sheep, and horses! Large animal farms are a rare feature, and we host visits from other colleges who don't have their own farms.
Learn from faculty who are all Doctors of Veterinary Medicine or Licensed Veterinary Technicians with years of industry experience.
With our small class sizes, you'll develop strong relationships with your peers and professors.
Our Vet Sci Living and Learning community allows you to live close to your classmates and share a study space in the residence hall.
Enjoy an unforgettable opportunity to study abroad in South Africa through our Wildlife Management Program, spending three weeks over winter break to learn about wildlife management, disease control, and animal rehabilitation.
Our students raise and train service dogs for "Guiding Eyes for the Blind" on campus.
Volunteer at community events such as our annual dog wash fundraisers and doggy dental clinics.
Gain valuable experience through a 15-week internship at an approved clinical site that matches your area of interest in your last year. Past internship locations include Cornell University Companion Animal Teaching Hospital, vet hospitals, and private animal clinics.
Graduate with a job! Our strong reputation in the field means veterinary clinics are eager to recruit our graduates.
Continue on to become a veterinarian! Our graduates enjoy a guaranteed direct transfer into Ross University's DVM program in St. Kitts through our articulation agreement.

According to the U.S. Bureau of Labor Statistics, job growth in the

veterinary industry is far above average.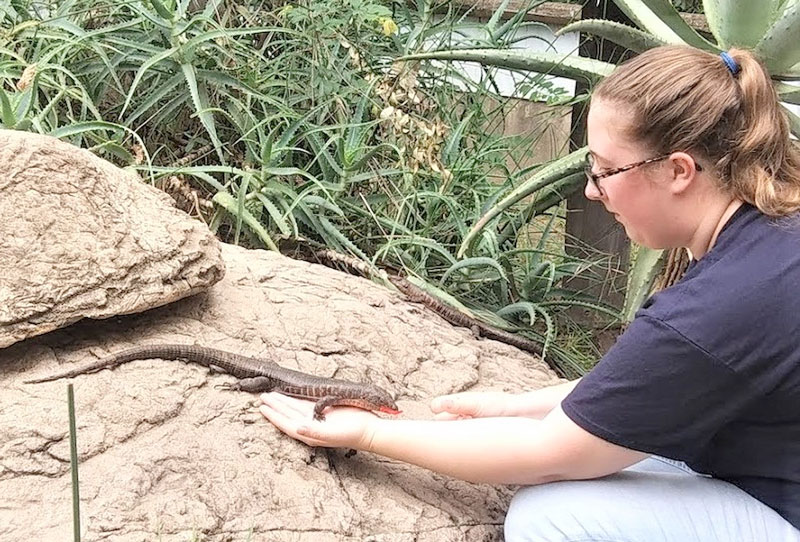 Read About Animal Care in South Africa
I absolutely loved the program in Delhi. It was excellent in preparing me for a career in research. The lab courses helped me become accustomed to working with rodents, an important aspect of disease research.

Alicia Quattropani '15
What Can You Do With This Degree?
Small and large animal hospitals

Zoos and humane societies

Government (USDA, Public Health, Fish and Game)

Lab animal Science

Research

Professional organizations ( NAVTA, AVMA)

Industry (veterinary diagnostics, pet products)

Advanced studies to become Doctor of Veterinary Medicine degree (with special faculty

advisement)