Criminal Justice
Four-Year Bachelor of Science (BS) Degree – Also available online
Our bachelor's program in Criminal Justice can lead to a variety of fulfilling careers in law enforcement, corrections, criminal investigation, social work, law, or research. With a perfect blend of theory and hands-on learning, you will be prepared for leadership roles in one of the many areas within the criminal justice field. Our online program option is perfect for busy professionals seeking career advancement.
If you want to deepen your understanding of the criminal justice system and widen your career options in the field, this program is perfect for you. You'll take classes in forensics, constitutional law, civil liberties, criminal codes, substance abuse, and research methods, among others. Real-life projects and internships add valuable practical experience to your education.
The Delhi Difference
Learn from dedicated faculty who have direct, real-life work experience as police officers, corrections officers, researchers, and lawyers. You'll gain a balanced, well-rounded understanding of the criminal justice system.
Enjoy frequent guest speakers and training exercises with evidence technicians, NYS Police Bureau of Criminal Investigations detectives, and K-9 units.
Customize your education to your career goals! Our broad curriculum allows for several electives in social sciences and humanities which can qualify you for advanced degrees in social work and counseling.
Work on special projects or complete an internship with local law enforcement agencies like the Village of Delhi Police, Delaware County Sheriff, SUNY Delhi University Police, and the State Police.
As the seat of Delaware County, Delhi has easy access to local, county, and state police and court proceedings.
Participate in student clubs such as the Criminal Justice Club, History Club, and the student government to complement classroom learning.
Our exclusive 3+3 articulation agreement with Albany Law School and Western New England School of Law allows you to earn a bachelor's and juris doctor law degree in six years, resulting in significant savings on one year of costs and fees.
Our partnership programs with SUNY Schenectady Community College and Columbia-Greene Community College allow you to earn your degree from SUNY Delhi while taking your classes on the SUNY Schenectady campus or online with courses taught by faculty from both institutions.
According to the U.S. Bureau of Labor Statistics, the job outlook for occupations within the criminal justice field is expected to grow faster than average through 2029.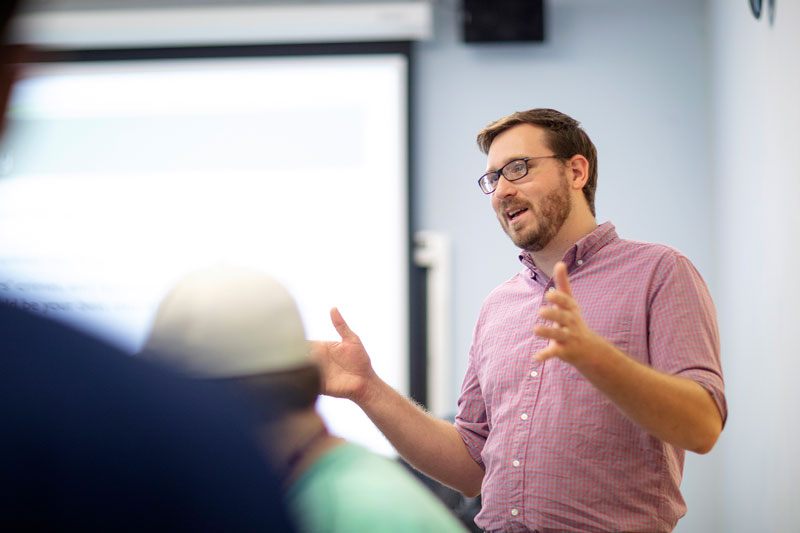 Read about our Faculty Spotlight: Simon Purdy
My experience has been nothing short of incredible since starting this program. My courses are easily accessible, and my professors have all been extremely accommodating and helpful, especially in the beginning when I was trying to navigate the site and all my coursework.

Alexis Cordle '21
Without a bachelor's degree, my career prospects were very limited. I couldn't compete or even interview for several positions I was interested in. That was enough motivation to go back to college, earn a bachelor's degree, and put myself in a competitive position in the future

John Amoroso '20 (online)
What Can You Do With This Degree?
Police administrator at local and state agencies
Corrections supervisor
Counselor for social services
Officer for U.S. Armed Forces
Officer for Department of Homeland Security
Paralegal/legal assistant
Alumni Highlights
Zack Jerard '18 - Trooper, New York State Police

Ashley Dunbar '16 - Albany Law School Graduate '19, Schenectady Assistant County Attorney, Schenectady, NY

Bert Bouchey '15 - Senior Training Technician, New York State Division of Criminal Services, Albany, NY