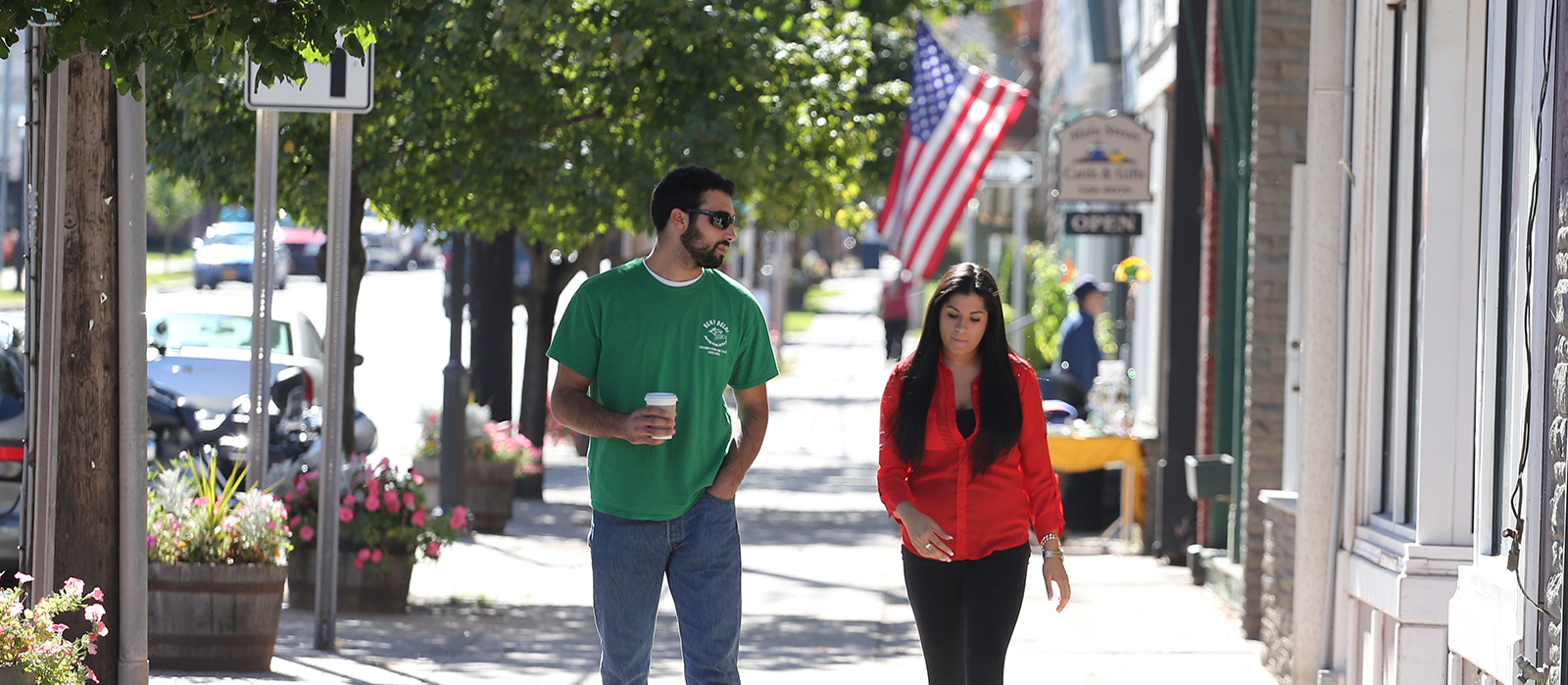 About the Delhi Area
Welcome to Delhi (pronounced, DELL-hi). As the county seat, the Village of Delhi is the political and cultural center of Delaware County. Approximately 2,800 students attend college on the SUNY Delhi campus. Nearly 1,750 students live on campus, with other upper division students renting apartments and houses nearby. Hundreds of other students commute to campus from their homes in the area.
With a population of approximately 3,000, the Village of Delhi nearly doubles in population size when students arrive each fall. The Village has a youthful edge, with many businesses catering to the needs of college students.
Delhi Eateries


Area News


Delhi Businesses

Local Banks


Delhi & Beyond: Recreational & Arts Links
What do SUNY Delhi students like most about Delhi?
"Delhi is quaint and colorful. You meet so many different types of people who really open your eyes to new things to do and places to go." - Protima, Community Assistant
"Delhi is a tightly knit town. You really get to know so many local people, community members and business owners." - Drew, Community Assistant
"My favorite thing about the local community is how friendly the neighborhoods are. I always feel comfortable going for a walk in town for dinner, or activities such as town parades and events on the lawn at Courthouse Square." - Trisha, Student Ambassador
"The business owners really do appreciate the college students and go out of their way to make each of us to feel at home." - Francesca, Senior Resident Assistant
Small Town Vibe. Big City Access.
Located at the junction of Routes 10 and 28 in the rolling foothills of the Catskill Mountains, Delhi is within relatively easy reach of the New York City metropolitan area. Only 150 miles away, many New Yorkers own second homes in the area. In fact, Delhi was featured in a story in the New York Times which emphasized the beauty and warmth of the village. Delhi is on the Trailways bus route to and from the Port Authority bus terminal at least twice a day. Once a day, the bus stops directly on the SUNY Delhi campus.
In the Village of Delhi, off-campus dining options are numerous. You can enjoy coffee, bagels, pizza, sushi, subs, or a great breakfast or lunch within a short walk of campus. You can also shop for handmade gifts, books by local authors, organic products, practical needs, groceries, or get a haircut or a manicure.
Where do SUNY Delhi students like to eat?
"The Shire! I suggest eating outside on the deck especially when they have live music." - Protima, Community Assistant
"My favorite place to eat is the Blue Bee Cafe. I love their fresh organic food. Not many people know it's there, it's a hidden gem in town." - Trisha, Student Ambassador
"For a quick delicious breakfast, I go to Bagels & Cream. I would consider myself good friends with the family who owns it, since I eat there so often." - Drew, Community Assistant
"Tuna III, the Japanese Restaurant, brings sushi that is worth the price. After a long week of work, it's a nice place to go out to eat." - Francesca, Senior Resident Assistant
"On certain Fridays, there is a little grill 'grab and go' type setup in the Tractor Supply lot, cheap chicken done right." - Michael, Student Assistant
"The Delhi Diner is the place to be for breakfast with friends." - Elizabeth, Sustainability Advocate
"There are tons of places to eat! Cross Roads Cafe has the best pancakes." - James, Orientation Leader
Stay Active in the Catskills
Recreational options abound in the area whether you like to walk, bike, golf, hike, cross country or downhill ski, fish, horseback ride, or just relax on the square, in a local park or at the college's Outdoor Education Center. Students love the scenic views from the athletic field house, or from the upper floors of Murphy and O'Connor Halls, especially in the fall.
Visit the Village of Delhi and the Delhi Area Chamber of Commerce websites for more information about upcoming events, area attractions, recreational activities and more!
Where do SUNY Delhi students like to go?
"We have the lovely Outdoor Education Center that lets students unwind and get away from all the business of campus." - Steve, Sustainability Advocate
"My favorite place to hang out is the green bridge on Delaware Ave. It's a beautiful scene and takes you away from the stress that college can bring to students." - Protima, Community Assistant
"Many people who travel from the city don't realize the beauty of Delhi's scenery, mountains, trees and various seasons. Spending time with friends downtown or at the river that runs behind the Riverview Townhouses is a good place to unwind and relax." - Trisha, Student Ambassador
"There are awesome trails, and if you have a 4WD vehicle, the backroads are perfect. So much to enjoy!" - Michael, Student Assistant
"The movie theatre and shopping centers are in Oneonta, which is not far and everything is affordable." - Elizabeth, Sustainability Advocate
Get to Know Oneonta
Heading west on Route 28 lies the city of Oneonta, NY with approximately 13,000 people. It is affectionately called "O-Town" or "O-Nee" by students. Oneonta is home to two college campuses: SUNY Oneonta and Hartwick College, which combine to bring over 7,000 students to the city.
SUNY Delhi students take advantage of Oneonta's amenities, which include the Southside Mall and Cinemas, the Holiday Lanes bowling alley, and a vibrant main street full of restaurants and shops. Students enjoy attending the OH-Fest in May each year which is sponsored by the students at SUNY Oneonta and Hartwick College. Delhi students can take the free Saturday campus-sponsored shuttle service from campus to Oneonta and can also choose to take the New York Trailways to Oneonta.