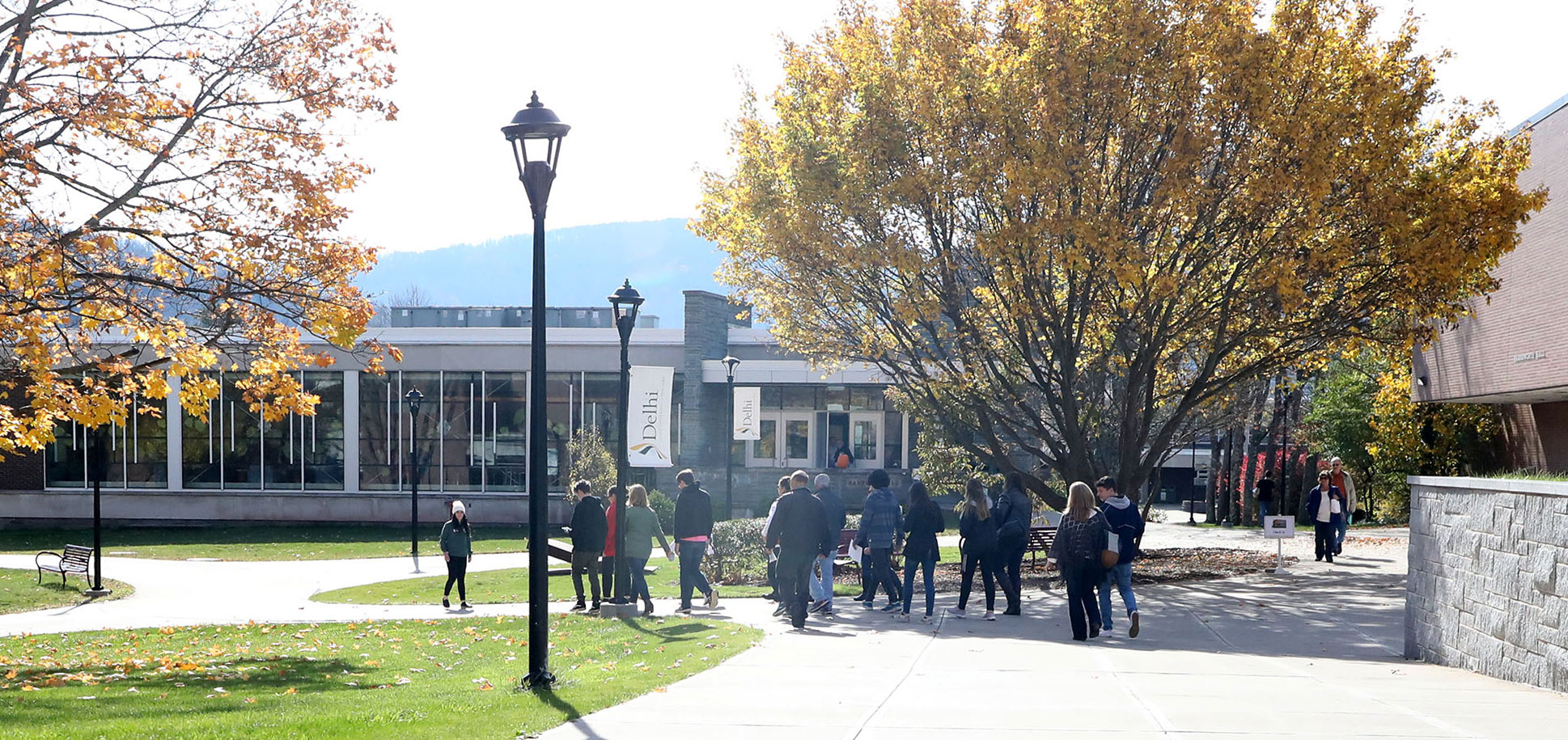 Group Visits
Group Visits
Due to unforeseen circumstances, the SUNY Delhi Office of Admissions has halted its admissions visits programs, effective March 12, 2020. We are in the process of moving group visits to online for viewing throughout the upcoming months.

We encourage students and families to view our upcoming Delhi From A Distance: Virtual Information Sessions and Events

. New sessions are added regularly, offering opportunities to connect with program faculty and members of the college community.



Guidelines for Group Visit Requests
Requests require two weeks' advance notice and are only received through the online visitation form.
You will receive a response (by email or phone) within two to three business days about availability to accommodate the request.
Due to budget restrictions, we are unable to provide refreshments for group visits. For a nominal $5-per-person charge, our Dining Services team can accommodate your group for lunch in MacDonald Hall, our main "All You Care to Eat" dining center.
It is required that one chaperone must be provided for every 10 students visiting.
All visiting students should have a genuine desire to tour SUNY Delhi.
Chaperones are required to review the Code of Conduct below, review this Code of Conduct with the students in attendance, and assist with the compliance of the Code of Conduct during the visit.
Our campus tours are approximately one hour long with a substantial amount of walking. Please notify us in advance if any member of your group requires a wheelchair or other special accommodation.
Please provide 48-hour notice should you need to reschedule or cancel your visit.
Code of Conduct for Student Visitors
During the campus tour and/or information session, please give your full respect to members of the SUNY Delhi campus; all electronics (cell phones, etc.) should be turned off or put away. Headphones should not be visible.
Visitors should be respectful to the campus staff, property, and abide by the visitor policy noted in the SUNY Delhi Student Handbook.
Visitors are required to stay together as a group with the tour guide(s).
Students should be prepared to do a substantial amount of walking, dress appropriately for the weather conditions, and wear appropriate shoes.
Unruly or disrespectful behavior will result in the termination of your visit. Please note that future visits from your school will then require special review.