Registration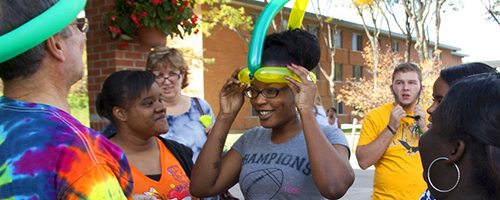 Family Weekend is September 20-22, 2019!
Purchase Family Day tickets and Golf Outing tickets below. Tickets will be available to be picked up starting at 10 a.m. on Saturday, September 21 at the registration table at Alumni Hall.
Questions?
Call the Family Weekend Help Line at 607-746-4840, or the Center for Student Leadership and Engagement at 607-746-4565.

Family Weekend Ticket Costs (Includes Family Feast and all Ticketed Events)
Family Weekend Tickets
Cost On/Before 9/13/19
Cost On/After 9/14/19
Adults
$40.00/each
$45.00/each
Children 12 and under
$12.50/each
$12.50/each
SUNY Delhi Student(s) with a:
19, 14, Mac Only or Mac Block 50 Plan
1 meal deduction
1 meal deduction
SUNY Delhi Student(s) with a:
$800, $500 or $200 Bronco Bucks Only Plan
$15.00/Charged to Bronco Bucks
$15.00/Charged to Bronco Bucks
SUNY Delhi Student(s) without a:
Meal Plan or Bronco Bucks
$15.00/each
$15.00/each
Family Weekend Golf Outing, Saturday, September 21
Entry includes: Nine Holes & Cart ($25.00 adults, SUNY Delhi students and members $10.00)
General Rules: Tee Times 11:00am-1:00pm. Golf staff will assign groups as needed. Interested parties can make arrangements at the course if they wish to play 18 holes instead of 9.
Golf Fees
$25.00 Adults; $10.00 SUNY Delhi Students and Members