Enrollment by Degree Type
Trends in Enrollment by Degree Type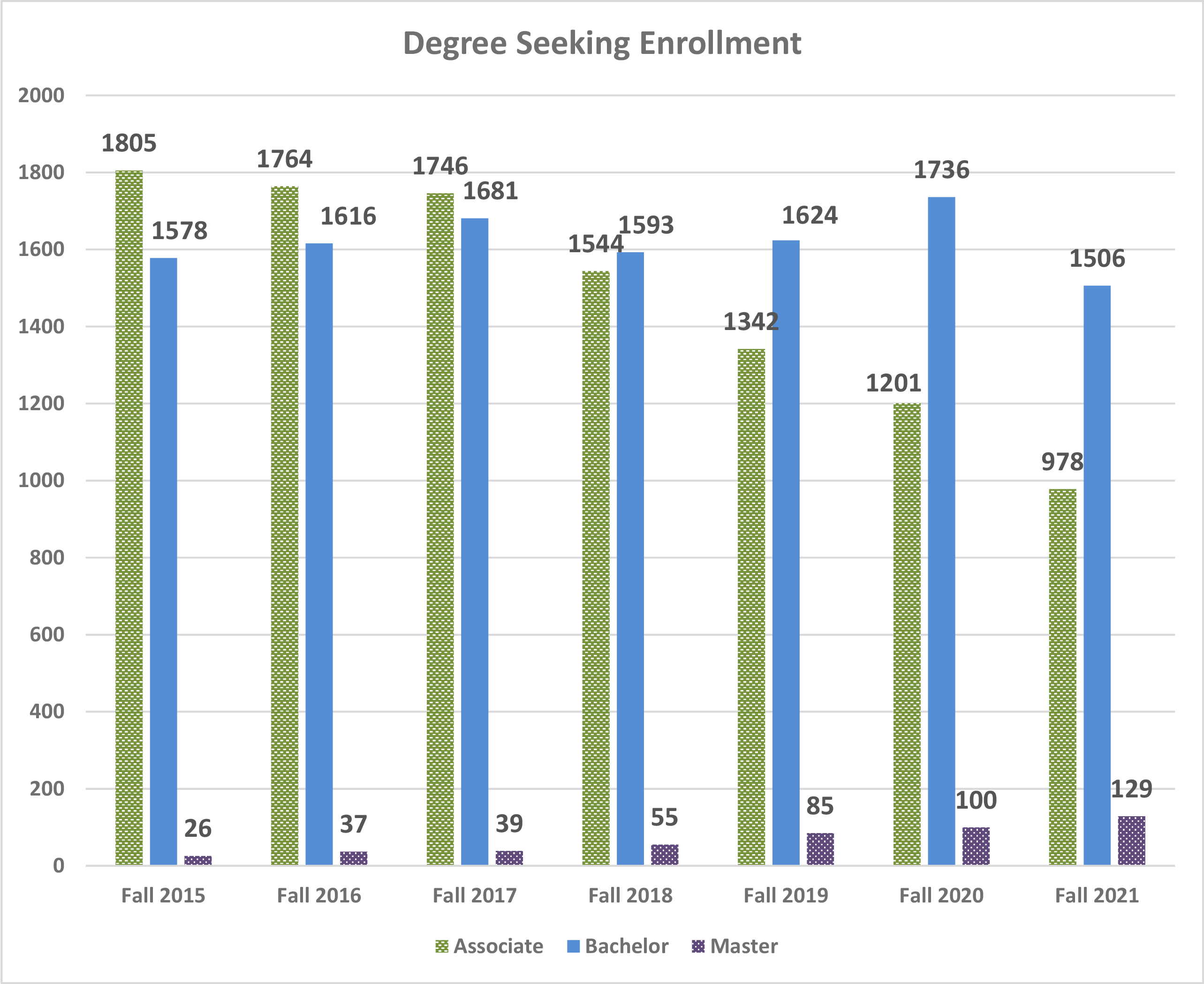 Summary of Trends
While associate degree enrollment continues to decline, baccalaureate enrollment has increased between Fall 2015 and Fall 2020.
There were 1,805 associate students in the Fall 2015 term, which is the highest enrollment for that group in the six-year timeframe; in Fall 2020, there were 978 associate students enrolled.
There were 1,578 baccalaureate students in the Fall 2015 term, with baccalaureate enrollment peaking in Fall 2020 at 1,736. The MSN program admitted students for the first time in the Fall 2014 semester, and has seen significant and continuous growth; there were two MSN students enrolled in Fall 2014, which has risen to 129 students in the Fall 2021 term.
Certificate students are included in the data table but not in the enrollment graph, because SUNY Delhi does not directly admit students into certificate programs; students are eligible to obtain certificates while completing degree requirements in certain associate programs.
*Excludes Non-Matriculated students
**The MSN program admitted students for the first time in the Fall 2014 term
Enrollment by Degree Type

| | Fall 2015 | Fall 2016 | Fall 2017 | Fall 2018 | Fall 2019 | Fall 2020 | Fall 2021 |
| --- | --- | --- | --- | --- | --- | --- | --- |
| Certificate | 8 | 11 | 8 | 5 | 1 | 1 | 2 |
| AA | 358 | 304 | 233 | 227 | 196 | 173 | 106 |
| AAS | 1031 | 1060 | 1000 | 836 | 749 | 685 | 571 |
| AOS | 250 | 244 | 245 | 239 | 214 | 194 | 187 |
| AS | 166 | 156 | 268 | 242 | 183 | 149 | 114 |
| Associate | 1805 | 1764 | 1746 | 1544 | 1342 | 1201 | 978 |
| BBA | 504 | 523 | 531 | 516 | 513 | 516 | 422 |
| BS | 89 | 128 | 159 | 159 | 170 | 227 | 228 |
| BSN | 792 | 753 | 753 | 702 | 696 | 712 | 616 |
| BT | 193 | 212 | 238 | 216 | 245 | 281 | 240 |
| Bachelor | 1578 | 1616 | 1681 | 1593 | 1624 | 1736 | 1506 |
| MSN | 26 | 37 | 39 | 55 | 85 | 100 | 129 |
| Master | 26 | 37 | 39 | 55 | 85 | 100 | 129 |
| Total* | 3417 | 3428 | 3474 | 3197 | 3052 | 3038 | 2615 |