Retention Rates
One-Year Retention Rates
The below graph and data table tracks Retention Rates for first-time, full-time undergraduate students entering during the indicated term who returned the subsequent fall semester.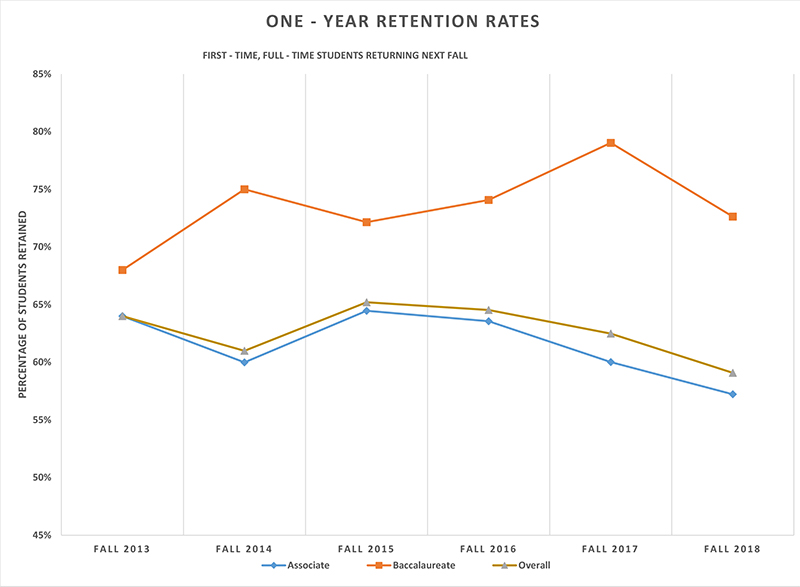 Summary of Trends
These data track fall-to-fall retention rates of first-time, full-time undergraduate students over a six-year span, ranging from Fall 2013 to Fall 2018.
Of the three categories (Associate, Baccalaureate, and Overall), the Associate and Overall are the most similar; the Associate rates are slightly lower than the Overall rates, and both have been trending down for the past two fall terms.
Compared to six years ago, the 2018 rates dropped by 7% (from 64% to 57%) for the Associate rates and 5% (from 64% to 59%) for the Overall rates.
The Baccalaureate rates peaked in the Fall 2017 term at 79%, which was the third year of increases, and has decreased by 6% for the Fall 2018 term, but is still up 5% compared to the rate six years ago.
One-Year Retention Rates Data Table

| | Fall 2013 | Fall 2014 | Fall 2015 | Fall 2016 | Fall 2017 | Fall 2018 |
| --- | --- | --- | --- | --- | --- | --- |
| Associate | 64% | 60% | 64% | 64% | 60% | 57% |
| Baccalaureate | 68% | 75% | 72% | 74% | 79% | 73% |
| Overall | 64% | 61% | 65% | 65% | 62% | 59% |