Assistive Technology
The Office of Access and Equity Services has cutting edge software and hardware which is designed to help students with various needs. Some of our assistive technology is available to all students, and some is available only to students with specific disability access plans.
As technology grows, SUNY Delhi is committed to investigating what is current in the field. Many products today have built-in accessible tools that will help you gain access and equity in your learning.
If you feel that a particular program would benefit you, we can help you understand how to use it. We are happy to assist and hope you will take advantage of our services and our technology!
Technology Available for Your PC or Mac
Premier Literacy
Adobe Acrobat Reader
Windows Speech Recognition
Word Talk
Built-in Accessibility Features (e.g., text-to-speech reader)
Premier Literacy
Premier Assistive Technology has created a wide assortment of tools that make your computer read to you. Have your computer read your favorite web page, email, homework, or even read a book. There is even a program that will let you convert your documents into audio files so you can listen to them on your IPod! These tools are also great for proofreading and editing your homework. Students can scan reading materials, using Premier's Scanning software. This material can be read using Premier's software on any college machine or using Premier's software at home.
Username: sunydelhi
Password: access

Log in to Premier Now >>
Adobe Acrobat Reader
Adobe Acrobat Reader is a free program that has some features that may help with reading. The toolbar has a Sticky Note feature which allows you to insert your notes within the reading. The highlighting tool allows you to highlight text in the document. Under the View Menu, there is an option to Read Out Loud. When this is activated, you can have the text read back to you. Additional information about Adobe Acrobat Reader and download.
Windows Speech Recognition
Windows Speech Recognition is available for all Operating systems; however, Windows 7 has a built-in speech recognition program. You will need a microphone to use this application. It is located in Ease of Access which is found in the Accessories folder under All Programs. Once you start the application, it will guide you through the steps to train your voice so you can use it in Microsoft Word. Macintosh has a speech recognition free download. Mac Speech Dictate International is a speech recognition solution with multi-language support. The Mac speech recognition will convert spoken words to written text.
Word Talk
Word Talk is a text-to-speech plug-in for Microsoft Word. This software will highlight and read back text that you have written in Microsoft Word, that you need read back to you. This software program is good for students who have reading and writing difficulties. Download Word Talk for free
Assistive Technology Available in the Academic Achievement Center
Livescribe

Smart Pen Training
Smartphone Applications
Voice Dream Reader
Dragon Naturally Speaking
Zoom Text
Livescribe Smart Pen

"Never Miss A Word with the Livescribe Smartpen." The Livescribe Smartpen is about the size and weight of a large pen and is equipped with a removable ball-point ink cartridge, a microphone to record audio, a speaker for playback, a small display, and internal flash memory that captures handwritten notes, audio and drawings. The user can record audio in addition to the handwritten text. Additional information about the Livescribe Smart Pen. Training is available in the Academic Exploration Center for students who would like to learn how to use the pen.
Voice Dream Reader
"Read with your ears." Voice Dream is a text to speech application available for both iOS and Android technology. With 61 free voices, 30 languages, and ability to use offline, this technology is top-of-the-line for reading on the go. Read anything from PDFs to web pages, to microsoft word files. This software allows continuous flowing audio for clear learning.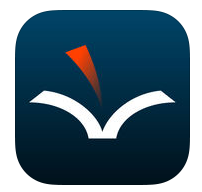 Dragon Naturally Speaking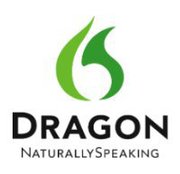 Dragon Naturally Speaking is a fast, easy and accurate way to turn speech into text. A student can dictate into most Windows-based programs at speeds up to 160 words per minute! The accuracy is really astounding! It seems like science fiction, but it's not! This technology exists and is waiting for you.
This program has many uses. Students use this program for brainstorming, when they can't get words on paper. When a student feels more comfortable expressing ideas out loud, this program turns thoughts into writing. It is also a great resource for students with writing disabilities. Professionals use it for dictation, home users to have fun with their PCs, people with disabilities use it as an aid in the writing process; the ideas are endless.
Check out the Dragon Naturally Speaking website for more details, or stop in and have an up close and personal look.

Zoom Text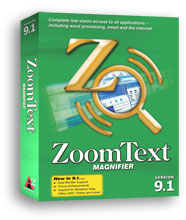 Zoom Text is a program which was designed to help vision-impaired people use computers. The Academic Exploration Center's current version of Zoom Text is an advanced screen magnification program which makes all Windows applications, documents, email, and the internet accessible to visually impaired students. Whether typing a paper, reading an online course, or filling out financial aid forms, this program will make things easier for the individual with a vision impairment.