Architectural Technology
Two-Year Associate in Applied Science (AAS) Degree
Build a strong foundation for an architecture career!
Our Architectural Technology program lays a solid foundation in architectural principles and practices. With our blended approach, we combine architecture with art, design, technology, and hands-on construction techniques for a comprehensive understanding of the craft. You'll be prepared for entry-level work in architecture or construction firms, or to pursue an advanced degree in our bachelor's program in Architectural Design and Building (BT).
If you like sketching and drawing and are also interested in the technical process of how buildings are made, this program is for you! You'll take courses in architectural design, computer-aided drawing, building materials and structures, residential and commercial construction, architectural history, and more, with plenty of hands-on learning opportunities.
The Delhi Difference
Enjoy 24/7 access to our state-of-the-art architecture labs with fully-equipped drafting studios in the newly-renovated South Hall building.
Learn from architects, engineers, and other professionals with extensive work experience who still practice in the industry.
Small class sizes allow you to develop strong relationships with your peers and professors.
Our competitive tuition rates combined with top quality instruction and facilities make our program an excellent value.
Take hands-on construction labs and become skilled in technologies such as Computer-Aided Drafting & Design (CADD) and Building Information Modeling (BIM), using the latest industry-standard software like AutoCAD, Revit, and Sketchup.
Enjoy co-curricular field trips and build friendships through the Architecture Club.
Our peer mentors are available to assist you with projects outside of the classroom.
Transfer seamlessly into our bachelor's degree in Architectural Design and Building (BT) for advanced studies. Our graduates have also successfully transferred to architecture programs at Cornell University, Rensselaer Polytechnic Institute, Syracuse University, Clemson University, and New York Institute of Technology.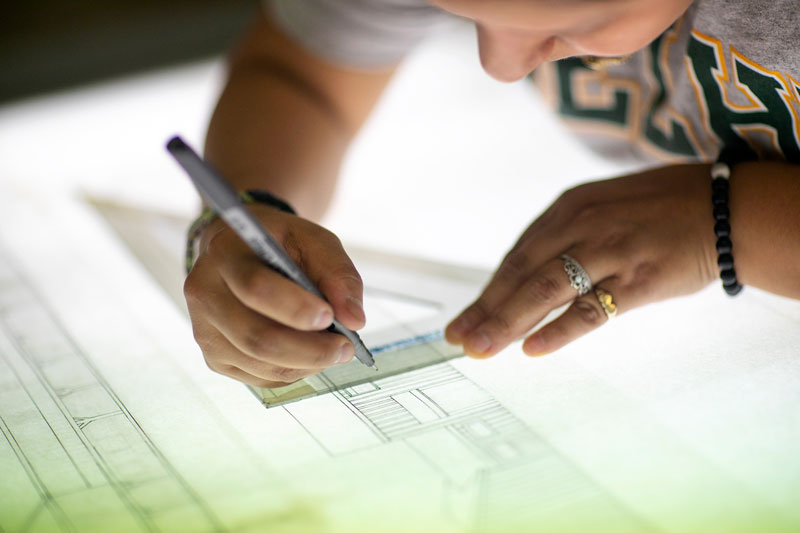 Read about Designing a Piece of History
This program gives you a great advantage in the job market where you are expected to understand both design and building. A lot of other schools don't have that hands-on aspect and focus more on theory. As hard as it was sometimes to get up early for the construction labs, I'm glad I learned how to swing a hammer and build prototypes. It gives you a sense of realism. Delhi's program also has a different design focus each year which allows you to hone in on many areas of architecture and explore what you like.

Justin Rabjohn '20 – Architectural Designer I, Passero Associates
What Can You Do With This Degree?
Work for various industries or organizations like construction companies, engineering firms, government agencies and manufacturers as a:
Draftsperson
Design coordinator
Building designer
Facilities expert
Alumni Highlights
Dana Farrell '04 – Owner, Bundle It Home & Real Estate Agent, Albany, NY
Dan Lennon '95 – Senior Project Manager, Trudeau Architects, Latham, NY
Dan Woodside '84 – President & AIA LEED AP Architect, CSArch, Albany, NY
Paul Bedford '79 – AIA Architectural Manager, Keystone Associates, Binghamton, NY
Daniel Barusch '10 – Planning & Zoning Director, Town & Village of Lake George, Lake George, NY
Andrew Hart '89 – Commercial Practice Leader, Bergmann, Rochester, NY