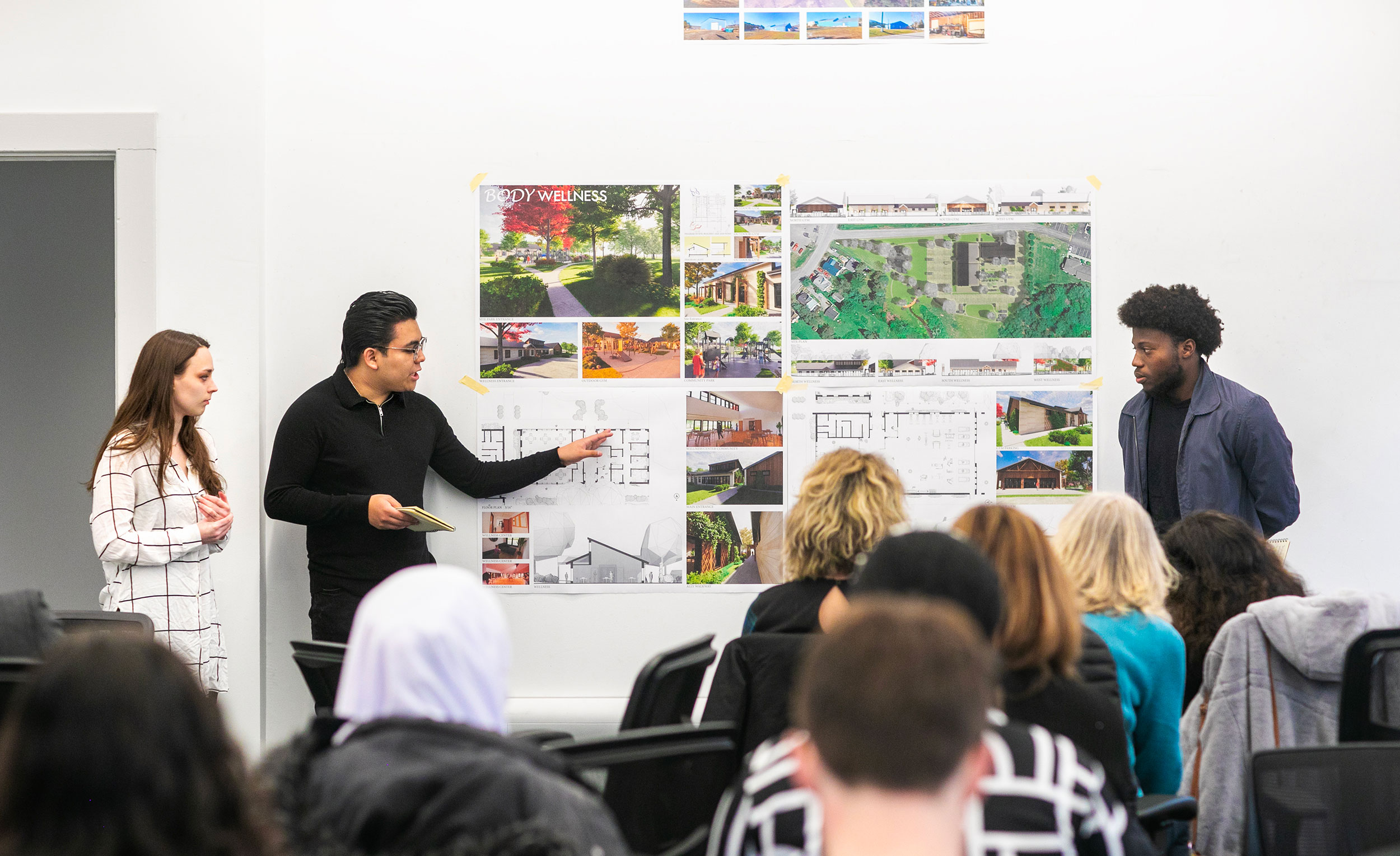 Architecture
Five-Year Bachelor of Architecture (BArch) Degree
Be on your way to becoming a licensed architect!
SUNY Delhi's rigorous 5-year architecture program takes a multidisciplinary approach to the trade, equipping you with the relevant knowledge and skills to successfully join an architectural office upon graduation. Utilizing modern tools and practices, our program emphasizes technical architectural development, structural application, and environmental impact. You'll learn from practicing professionals in small classes that foster your unique abilities through hands-on learning. Increasingly complex design projects challenge you to reach your full potential. You'll graduate with a deep understanding of both the creative and technical processes involved in architecture as well as a professional portfolio. Completing this degree also qualifies you to sit for the architecture licensure exam.
This program fulfills the educational requirements to pursue an architectural license.
You can enter this program as a first-year student or transfer from a two- or four-year architecture program. GPA requirements and portfolio review apply for transfers.
The Delhi Difference
Take advantage of our affordable public college tuition! Our tuition rates combined with top-quality instruction and facilities make our program an excellent value.
SUNY Delhi is one of only two SUNY schools offering a 5-year architecture degree. Our location is the closest to New York City.
Enjoy 24/7 access to our state-of-the-art architecture labs with fully equipped drafting studios in the newly renovated South Hall building.
Learn from architects, engineers, and other professionals with extensive work experience who still practice in the industry.
Small class sizes allow you to develop strong relationships with your peers and professors.
Take hands-on construction labs and become skilled in technologies such as Computer-Aided Drafting (CAD) and Building Information Modeling (BIM), using the latest industry-standard software like AutoCAD, Revit, and Sketchup.
Enjoy co-curricular field trips and build friendships through the Architecture Club.
Our peer mentors are available to assist you with projects outside of the classroom.
Senior portfolio projects and critical reviews prepare you to present your work in a professional setting.
What Can You Do with This Degree?
Licensed architect
Architectural designer
Architectural technologist
Interior Designer
Accreditation
We are currently in the process of applying for eligibility for NAAB accreditation.