Construction Technology
Two-Year Associate in Applied Science (AAS) Degree
Build a career in construction!
Join one of the top construction schools in the Northeast! Our hands-on Construction Technology program is your path to a successful career in the thriving construction industry. Our curriculum blends construction with architecture and business classes to prepare you for any sector of the industry, from residential and commercial to heavy construction.
If you love to work with your hands and are interested in the construction process behind big buildings like skyscrapers, warehouses and distribution centers, shopping centers, and apartment buildings, this is the program for you! You will learn best building practices along with surveying, mechanical and electrical work, plumbing, computer-aided drafting, and structural theory to give you a well-rounded education in the construction industry.
The Delhi Difference
Our students have 100% job placement within six months of graduation! Construction is one of the nation's largest industries, boasting more than 8.3 million jobs throughout the country each year.
SUNY Delhi ranks among the Top Associated Schools of Construction Management in the Northeast.
Our construction program is the nation's oldest post-secondary construction program, proudly educating some of the best construction workers in the industry since 1933.
Our faculty are leaders in their field with years of real-world experience in various areas of construction design, planning, materials, project management, and more.
Enjoy plenty of hands-on learning experiences in our dedicated construction labs, allowing you to practice your skills and deepen your knowledge.
Work on real-life construction projects on campus and in the community.
Participate in student chapters of the Associated General Contractors, the MOLES, and National Association of Home Builders for opportunities to attend conferences, compete in national competitions, visit active construction sites, and win scholarships.
Transfer seamlessly into our bachelor's program in Construction Management: Design and Building (BT).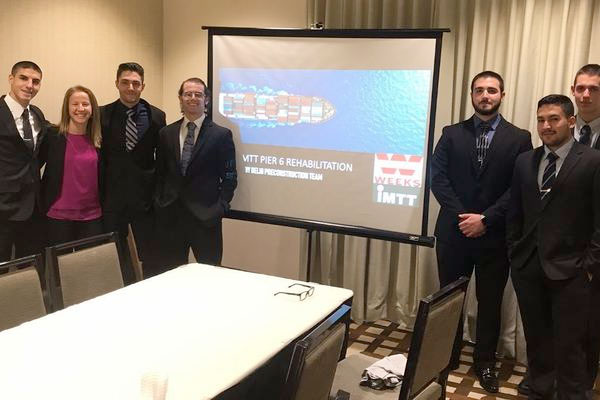 Construction Management & Technology Students Place 2nd in Regional Competition
What Can You Do With This Degree?
Field engineer
Forman
CAD Tech
Entrance Requirements / Recommendations
AAS: First Year

Regents/College Prep High School Diploma
Completion coursework in Algebra and Geometry. Completion of Algebra 2/Trig is recommended.
75 High School GPA

AAS: Transfer

2.0 Cumulative College GPA
Alumni Highlights
Austin Shirley '15 – Superintendent, C2C Construction Solutions, Utica, NY
See a list of companies where our students have gained employment after graduation.