Veterinary Science Technology
Two-Year Associate in Applied Science (AAS) Degree
Enroll in the first and the finest Vet Sci Technology degree in the nation!
Our program has the proud distinction of being the first Veterinary Science Technology program in the nation! We'll prepare you for a rewarding career in veterinary medicine in our state-of-the-art labs among a dedicated community of faculty and students. You'll gain experience working with animals of all sizes through extensive hands-on learning.
If you are passionate about animals and want to make sure they receive the highest level of care, this program is ideal for you!
You will learn the anatomy and physiology of animals, train to assist with veterinary dental and surgical procedures, and administer general anesthesia, medical care, and vaccines. As a graduate, you're eligible to take the Veterinary Technician National License Exam (VTNE) to become a Licensed Veterinary Technician (LVT). Our graduates perform well above the national average on the exam.
The Delhi Difference
Work with animals starting in your very first semester! Unlike many other schools, our students jump right in and take hands-on labs with live animals right away. You'll enjoy access to animals every single semester, unparalleled by any other program!
We are fully accredited by the American Veterinary Medical Association (AVMA).
Our extensive, top-notch facilities include surgical and diagnostic imaging suites, a new clinical suite that mimics a veterinary hospital, extensive laboratory animal amenities, and a large animal teaching farm with alpacas, cows, sheep, and horses! Large animal farms are a rare feature, and we host visits from other colleges who don't have their own farms.
Learn from faculty who are all Doctors of Veterinary Medicine or Licensed Veterinary Technicians with years of industry experience.
With our small class sizes, you'll develop strong relationships with your peers and professors.
Our Vet Sci Living and Learning community allows you to live close to your classmates and share a study space in the residence hall.
Enjoy an unforgettable opportunity to study abroad in South Africa through our Wildlife Management Program, spending three weeks over winter break to learn about wildlife management, disease control, and animal rehabilitation.
Our students raise and train service dogs for "Guiding Eyes for the Blind" on campus.
Volunteer and gain experience at community events such as our annual dog wash fundraisers and doggy dental clinics.
Graduate with a job! Our strong reputation in the field means veterinary clinics are eager to recruit our graduates.
If you're interested in a bachelor's degree, you can transfer seamlessly into our four-year program in Veterinary Technology (BS) which prepares you for higher-level jobs or graduate studies through advanced coursework and experience. Bachelor's program options in other colleges include animal science, biology, and microbiology.
According to the U.S. Bureau of Labor Statistics, job growth for veterinary technicians is far above average.
This program is also available fully online.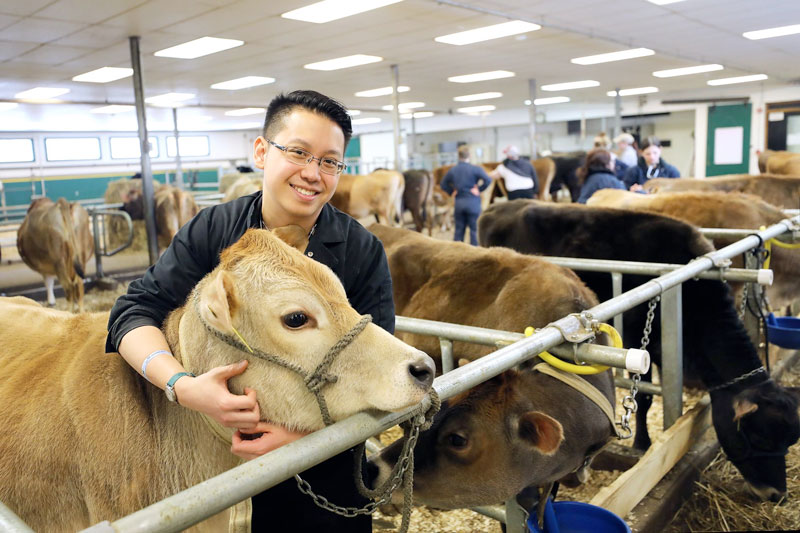 Student Spotlight: Ryan Yang '20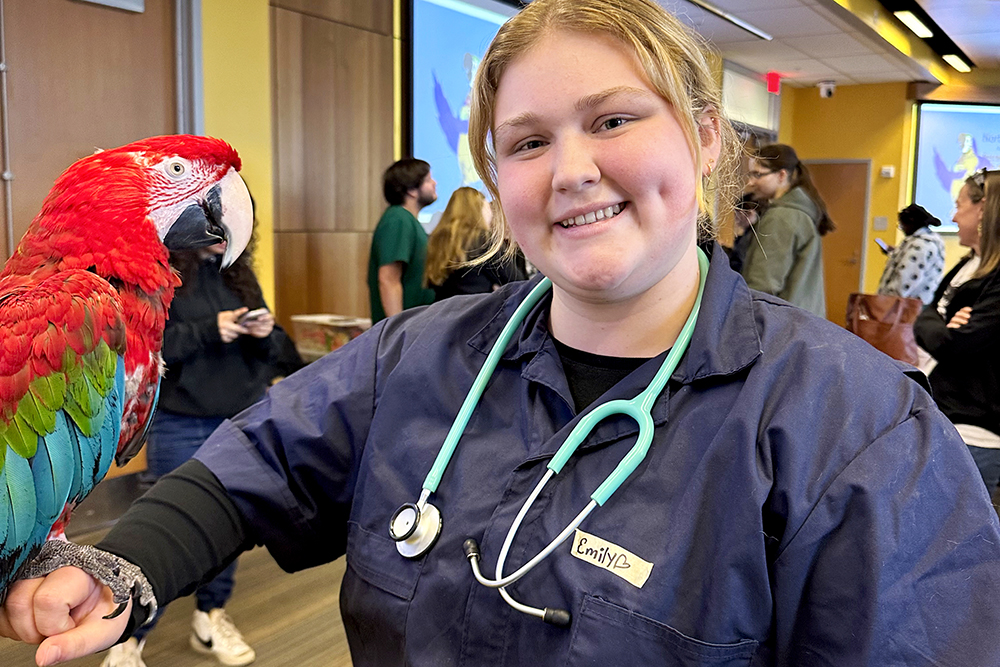 Caring for Pet Birds
SUNY Delhi's Veterinary Science Technology program is truly extraordinary. Because of Delhi, I'm able to excel in my current DVM program. I can go into my clinical rotations with experience in putting in a catheter, drawing blood, running lab work, performing anesthesia, and much more. Many others have not had these opportunities. Delhi provided me with the most valuable education I could have pursued."

Vanessa Brown '15
What Can You Do With This Degree?
Small and large veterinary clinics or animal hospitals
Pharmaceutical and university labs
Zoos and humane societies
Government (USDA, Public Health, Fish and Game)
Professional organizations (NAVTA, AVMA)
Industry (veterinary diagnostics, pet products)
Veterinary Science Technology Requirements:
85 + GPA
NY State Students must have a Regents Diploma
Transfer Students must have a 3.0 GPA
4 Years English
3 Years Math (

Algebra, Geometry, Algebra Trigonometry or Algebra II, or a college level Math

)
3 Years Science (Biology/living environment required, Chemistry strongly recommended)
Suggested (BOCES, Volunteer, work in the field)
Alumni Highlights
Alicia Quattropani '15 – Senior Laboratory Animal Technician, Syracuse University, Syracuse, NY
Vanessa Brown '15 – Doctor of Veterinary Medicine program, University of Missouri College of Veterinary Medicine
Jenny Marion '12, LVT – ICU/Exotics Service, Cornell University Hospital for Animals
Megan Stapleton '09, DVM – at the Atlanta Humane Society, Atlanta, GA
Garnetta Santiago '03, MA, LVT – Manager of Academic and Professional Affairs, Zoetis, Inc; President, NYS Association of Veterinary Technicians (NYSAVT)
Sandra Wiltshire '72 – LVT, Associate Professor of Biology at SUNY Ulster, and founder of Sundown Veterinary Management Consulting, Kingston, NY