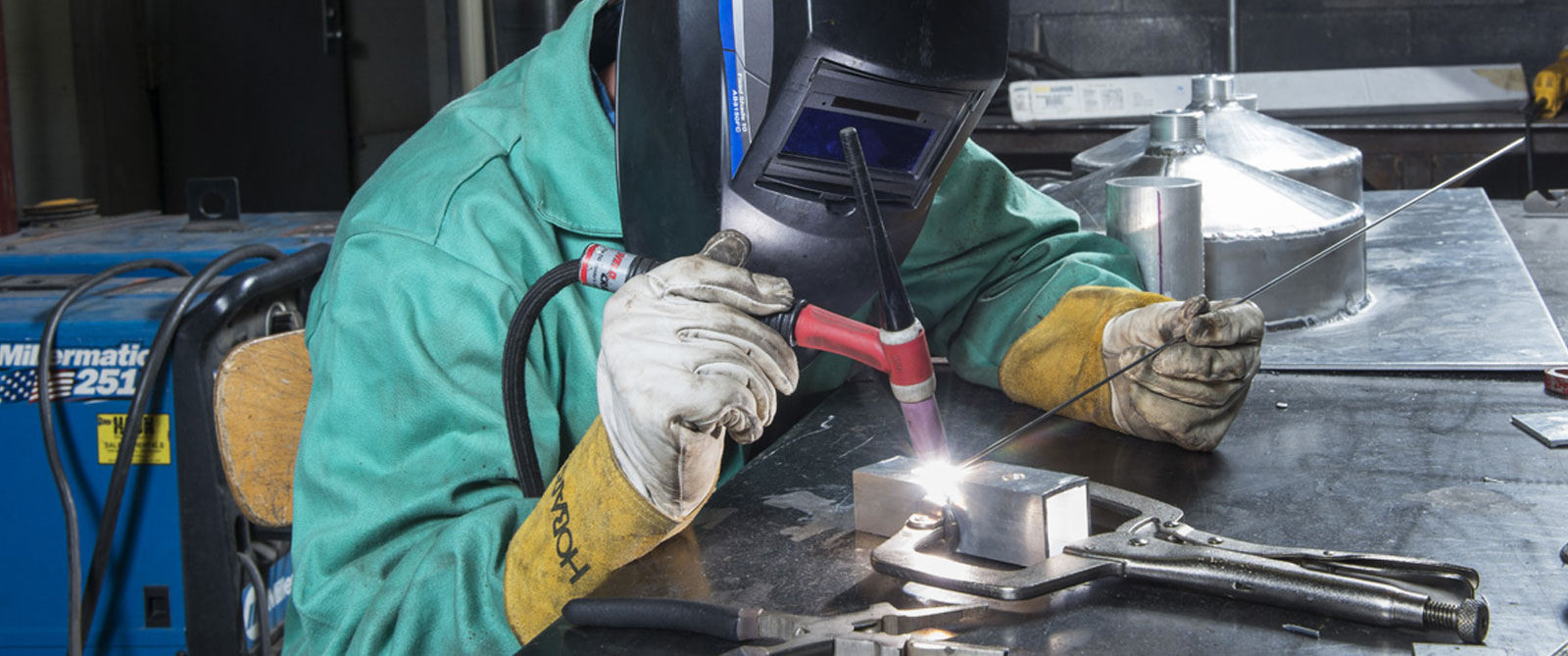 Welding Technology
Welding Technology (AAS, AOS)
Welders are in high demand today due to a critical shortage of workers. They're needed to fabricate metal parts for ships, cars, and critical components for the aerospace industry; buildings, bridges, pipes, power plants, and refineries are all assembled by welders.
In our Welding Technology program, you'll learn numerous welding processes using steel, stainless steel and aluminum. The basics of welding are the same across industries, so welders can easily shift from one to another.
The program offers two degree options: Associate in Applied Science (AAS) and Associate in Occupational Studies (AOS). Both degrees use lectures and extensive hands-on learning. Modern labs help you gain the experience necessary to enter the workplace confidently and prepared.
The AAS degree is useful for those students with a strong math and science background who may consider transferring to a four-year school at some point. The AAS degree has two options: Industrial and Sculpture. The traditional welding program is the Industrial Option. The Sculpture Option has been added recently for those who want to learn welding but want to apply it in artistic endeavors.
Program Highlights
Faculty with extensive experience and diverse backgrounds in the welding trade
SUNY Delhi's Welding Technology program is a New York State Department of Transportation testing facility so you can become certified to work for contractors on projects for New York State and New York City
Earn a Welding certificate after successfully completing your first year in the Welding program
Career Opportunities
Welding technician
Ironworker
Boilermaker
Steamfitter
Pipefitter
Sheet metal worker
Artistic welder
Teacher
Independent contractor
Welder fabricator
The U.S. is currently suffering a critical shortage of skilled welders. When you earn your Welding Technology degree from SUNY Delhi, you'll be in high demand. Graduates of our AOS and AAS programs enter the workforce making an average of $35,000 to $45,000 a year.
Popular Bachelor's Degree Opportunities at SUNY Delhi
Recommended Admissions Requirements
AAS
75 High School GPA with a Regents Diploma or 2.0 Cumulative Transfer GPA
Completed Coursework in Algebra and Geometry; Algebra 2/Trigonometry Recommended
AOS
Completed Coursework in Algebra and Geometry; Algebra 2/Trigonometry Recommended
Completed Coursework in Algebra
AOS Pipefitting
73 High School GPA with a Regents Diploma or 2.0 Cumulative Transfer GPA
Completed Coursework in Algebra
Curriculum
SUNY Curriculum Codes:
AAS Welding Technology: 1643
AOS Welding Technology: 0666