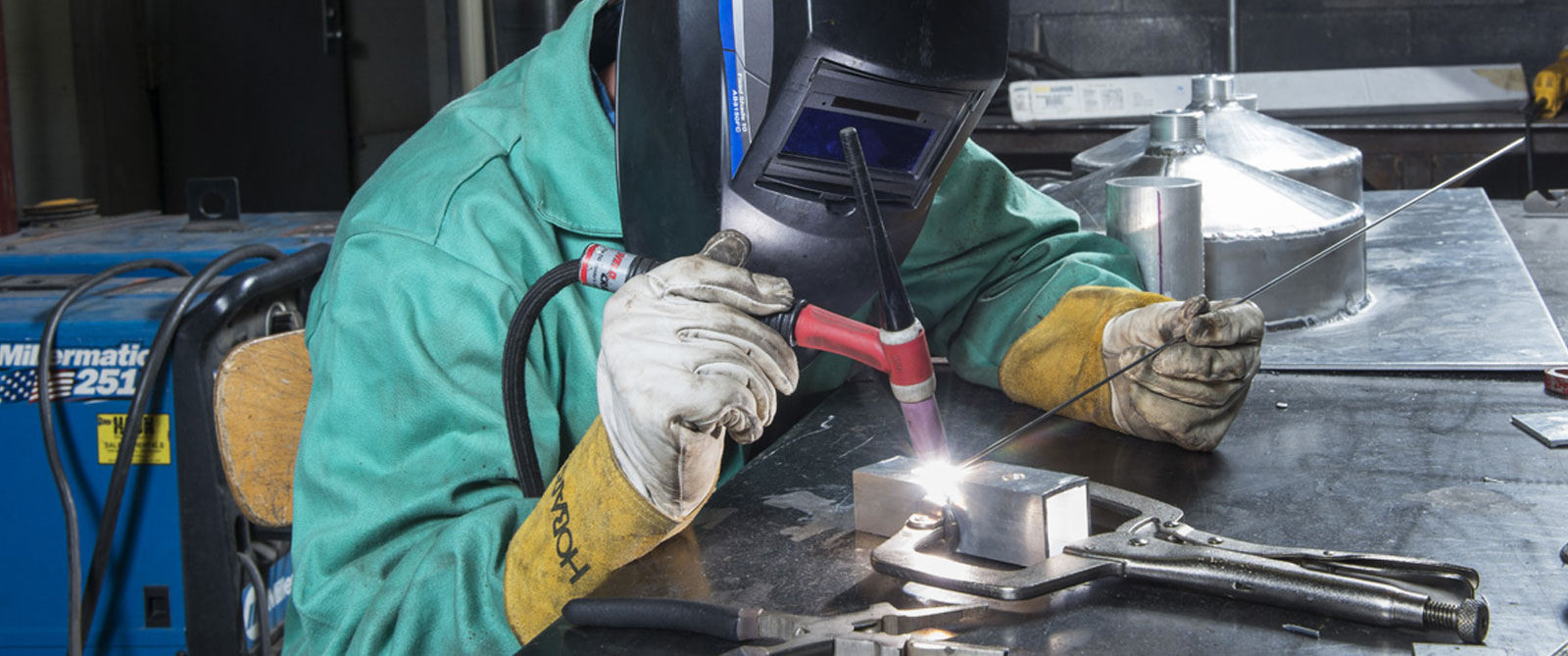 Welding Technology
Tool List
Following are the tools required for students entering the Welding Technology program for an associate degree or a certificate. The cost of the tools will be about $400. In addition, there will be the cost of textbooks of approximately $200. Tools are required for the first day of class.

Most tools listed can be purchased from local hardware stores. Some of the specialized welding tools may only be available from a welding distributor that supplies welding contractors. Locate local welding suppliers near your home town.

The welding supply local to SUNY Delhi is AirGas, located in Oneonta, 20 miles north of the town of Delhi. Delhi is home to several hardware stores, including Dubben Brothers, Ace Hardware, Curtis Lumber and Tractor Supply. If needed, students may call Fastenal Tools in Oneonta, and they will assemble a kit based on the tool list below. However, it is students' responsibility to understand and clarify what they are ordering when speaking with Fastenal representatives. Fastenal is a general supplier and is not expected to specialize in welding equipment. They can be reached at 607-431-9050.

Tools ordered from any supplier can be delivered to the student's home during the summer, or to the Welding Laboratory at SUNY Delhi during the first week of fall classes. If nobody is in the Welding Lab to receive student tools, shipments will default to the Receiving dock on campus. Therefore, it is the responsibility of any student shipping tools to campus to contact Receiving and notify them of potential incoming deliveries. The most straightforward and economical way to ensure that you are prepared is to purchase tools locally and bring them with you when you arrive on campus.

With tools the old adage applies: "You get what you pay for." You may want to identify each of your tools in some fashion because your classmates will all have the same or similar looking tools. Two pair of clear lens safety glasses with side shields are required or, should the student wear prescription glasses, they should be safety lenses with side shields suitable for shop work.

If you have any questions, please contact Derrick Stein at 607-746-4699 or steindj@delhi.edu.
1 Pair of oxyacetylene welding goggles/ glasses with #5 lens
2 Sets of ear plugs
1 Arc welding helmet (auto- darkening or passive)
1 Leather cape, sleeves with collar and bib or full leather jacket
1 Pair of high top leather work boots
1 Long-sleeved cotton shirt and pants without cuffs
3 Pairs of leather welder's gloves ( 2 stick/mig, 1 tig)
1 Chipping hammer (pick and chisel type)
2 Wire brushes, wood handle (steel and stainless steel)
1 Single flint torch lighter with 6 extra flints
1 Soapstone holder and 6 refills
GTAW Tungsten (type that work on AC or DC-)

One box of 1/16"
One box of 3/32"

TIG Torch parts for WP18 Torch to include:

Long back cap
1 Collet body and Collet 3/32"
1 Collet body and Collet 1/16"
2 Ceramic cups #5 and #6

1 Set of standard tip cleaners
1, 16 oz. ball peen hammer
1, 12' steel tape ruler
2 Pair C-clamp vise grips
1, 10" crescent wrench
1, 12" combination square
1 Center punch, 3/8" diameter
1 Scribe for metal
Files - 1 half round, single cut or double cut
1 Cold chisel, 3/4" wide
MIG pliers
1 pair of layout magnets (shaped like arrows)
1 pair of scissors (sheet metal class)
Flashlight
1, 4 1/2" right angle grinder of good quality
8, 4 1/2" x 1/4" grinding wheels for above grinder
4, 4 1/2" flap/blending discs for sanding
1, combination screwdriver
1 Tool box, approximately 20" x 7" x 8" with padlock
3 Combination padlocks
1 Clipboard


1 Drafting kit SD505 Alvin (available at the Campus Bookstore) or equivalent to consist of the following:

6" bow pencil compass and divider
18 x 24" drawing board with metal edges
24" transparent edge T-square
8" 45°/90°, 10" 30°/60° triangles
6" semicircular protractor
12½" irregular curve
Sandpaper pointer pad
2H and 4H pencils, sharpener
Soft pencil eraser, art gum eraser, erasing shield
3/4" x 10 yard roll of drafting tape or drafting dots