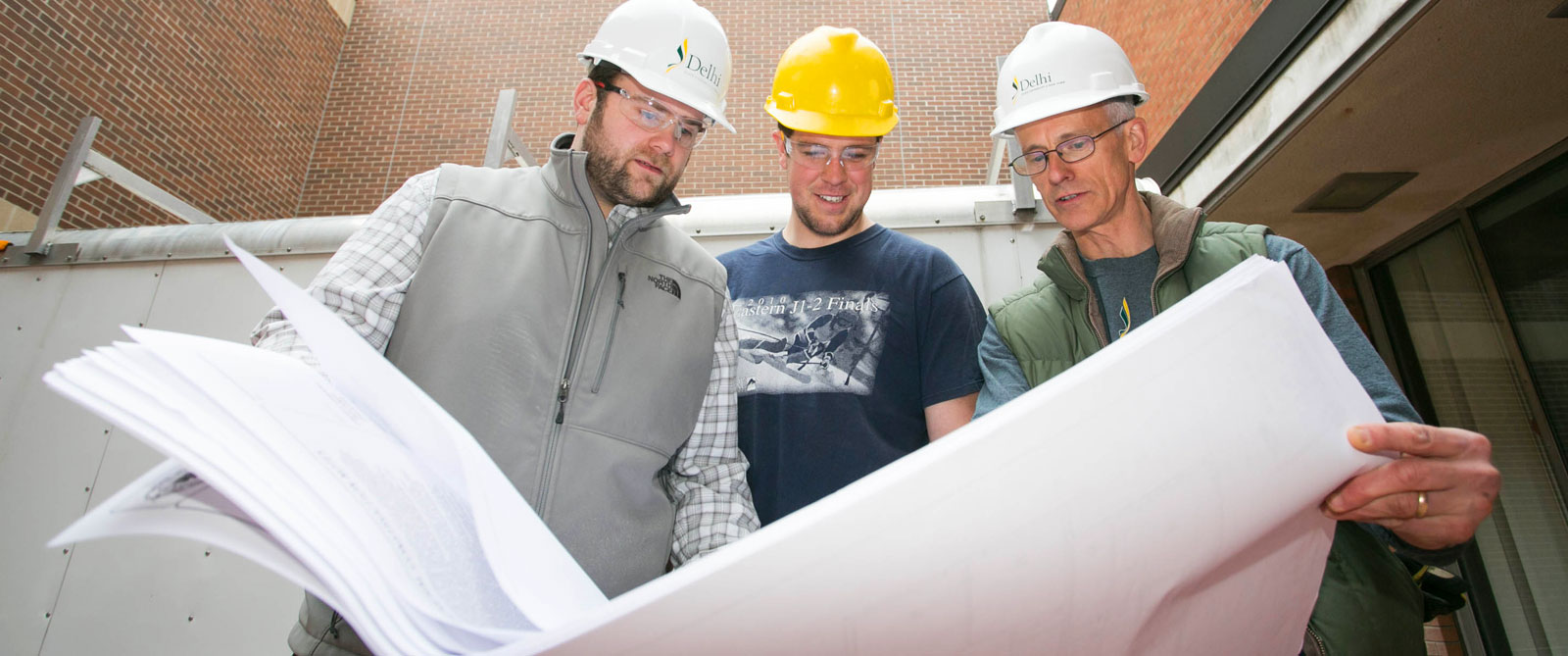 Construction Management: Design and Building
Internships
Setting SUNY Delhi's Construction Management program apart from many others is our required full semester internship. The Internship Program offers high quality preparation and practical education to students preparing for the challenging careers of tomorrow's highly technical society.
Title: Construction Management (CM) Internship I & II
Course Number: AECT 390 & 395
Credit Hours: Full Semester (12) & Summer Session (3) = 15 Total Credit Hours
Length of Internship: 20 Weeks OR 800 Hours *(CM Internship I = 560 Hours & CM Internship II = 240 Hours)
Semester(s) Offered: Spring & Fall Sessions

Students receive on-the-job construction experience in many facets of the workplace. Each student's comprehension of how actual building projects are effectively developed will be significantly enhanced. In addition, interns will be introduced to numerous construction practices and methods that are commonplace within the industry.
While enrolled in the internship's prerequisite course (AECT 380 - Career Seminar), each student will develop professional resumes, improve interview skills, learn effective means of researching prospective employers within the industry, and develop their personal communication (written and oral) skills relative to pursuing employment opportunities. With this knowledge the students will pursue there own internship for the following semester.
In order to ensure that students are offered a true learning experience during their internships, students must encounter at least one hundred hours of duties/responsibilities within four of the below CM Silos.
Field Supervision
Estimating & Cost Control
Scheduling & Planning
Surveying / Site Layout
Hands-On Building Experience
Project Engineering (Project Or Plan Review/Analysis)
Documentation (Field Reports, Submittals, Drawings, Specifications, Etc.)
Procurement Of Materials, Subcontractors, And/Or Labor
Tuition and Fees: While on internships, students are required to pay tuition and fees for the credits they will receive. Financial aid may be available to eligible students. Consult with SUNY Delhi's financial aid office for further details.
Students of the SUNY Delhi Construction Management Program have acquired internships with many companies throughout the Northeast and the entire country. Please see below a list companies where our students have interned. Click the company name to find more information.
Adirondack Classic Design, Inc.
Arris Contracting Company, Inc.
Barnard Construction Company, Inc.
Charles A. Gaetano Construction Corporation
Dutch Valley General Contracting, Inc.
Grunley Construction Company, Inc.
Hayward Baker Geotechnical Construction
Hudson Meridian Construction Group
Iannelli Construction Company, Inc.
Kirchhoff-Consigli Construction Management
MLB Construction Services, LLC
Purcell Construction Corporation
School Construction Consultants, Inc.
Stephen Miller General Contractor
Stonebridge Iron & Steel, Inc.
USDA Natural Resources Conservation Service
U.W. Marx Construction Company