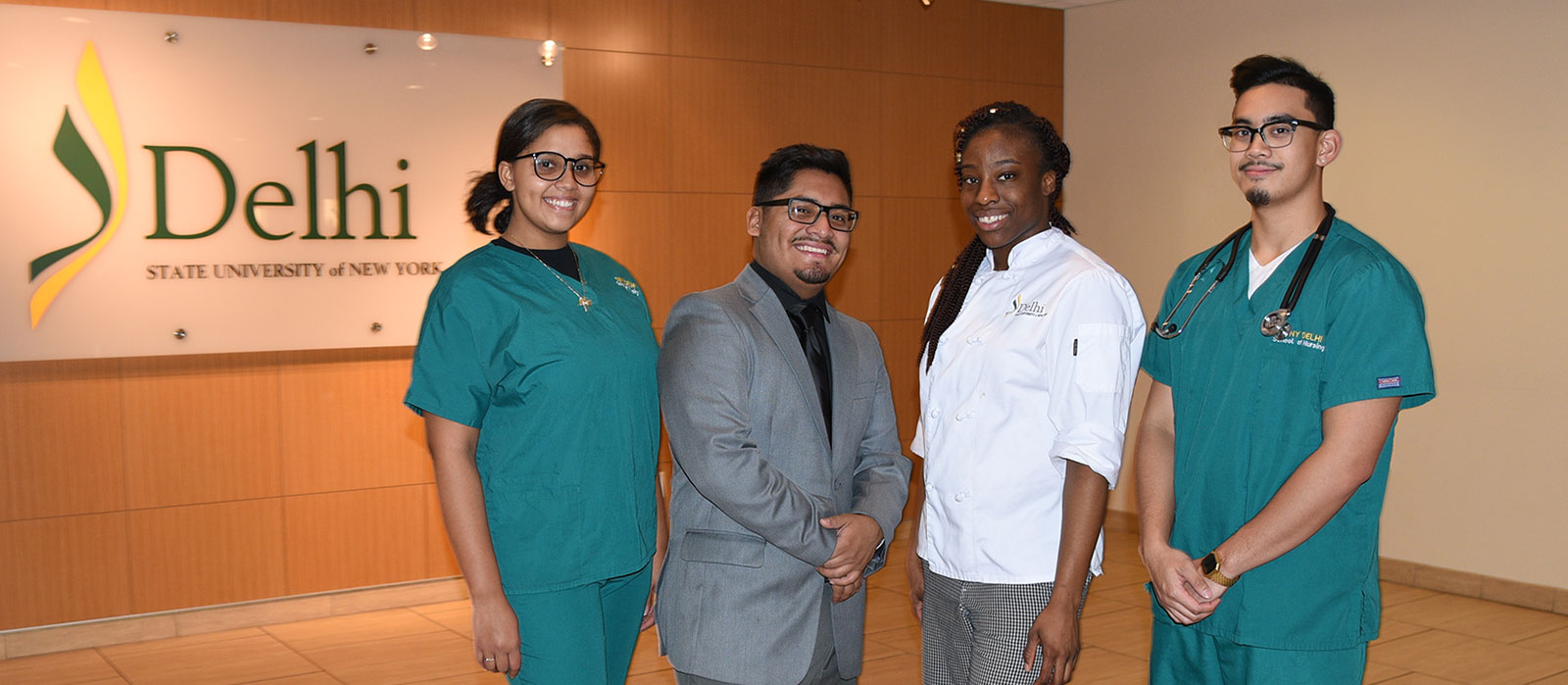 President's Awards for Diversity and Inclusion Excellence
The President's Annual Diversity and Inclusion Awards
Faculty and Staff nomination dates TBA Spring 2018

Join President Laliberte in nominating a person or organization that embodies the commitment of inclusive excellence!
Overview
The President's Award for Diversity and Inclusion Excellence recognizes outstanding faculty, staff, students, student organizations and local residents who have made exceptional efforts and contributions in the areas of equity, diversity, and inclusion. These individuals and organizations are leaders who focus on making our college and/or the local community more inclusive by creating an environment where all individuals are respected and valued. SUNY Delhi is proud to recognize these diversity champions so others may be inspired by them. Please email all nominations to Lawrence Mannolini at mannollp@delhi.edu.
Eligibility and Nominating Process
All students, faculty and staff, community members, and organizations that embody a commitment to diversity and to constructing an inclusive campus or community environment are eligible.
Nominations are welcome from students, faculty, and staff of the college community. Multiple awards may be given.
Individuals, schools/divisions and student organizations may self-nominate.
Nominations to include
Nominee's category (student, staff, faculty, CSEA, CADI, college school/division, alumni, community)
How the nominee embraces the goals of diversity, equity and inclusion
No longer than three pages, and
Name and email address of nominee and nominator. Additional supporting materials may be included as appendices.
Criteria for Selection
Nominees must embody the following qualities:
Works consistently to promote an inclusive campus and/or community
Demonstrates an ongoing commitment to diversity & inclusion
Understands that diversity is an integral part of the college's mission
Goes beyond their job description or student responsibilities to accomplish these objectives


Nominees will also be evaluated based on their demonstrated commitment to the principles and ideals of diversity and inclusion, as evidenced by efforts to:
Advance diversity awareness, knowledge and skills within the Delhi community
Promote institutional policies and practices that invite and reinforce inclusiveness
Serve as an advocate for the interests of under-represented populations
Champion recruitment and retention efforts aimed at improving diversity representation on campus
Develop or lead diversity programming and other diversity and intercultural engagement efforts
Faculty and Staff nomination dates TBA Spring 2018
The Delhi Diversity and Inclusion Advisory Council will conduct the nomination screening process and will recommend annual recipients for the award to the college president.
Please email all nominations to Lawrence Mannolini at mannollp@delhi.edu.