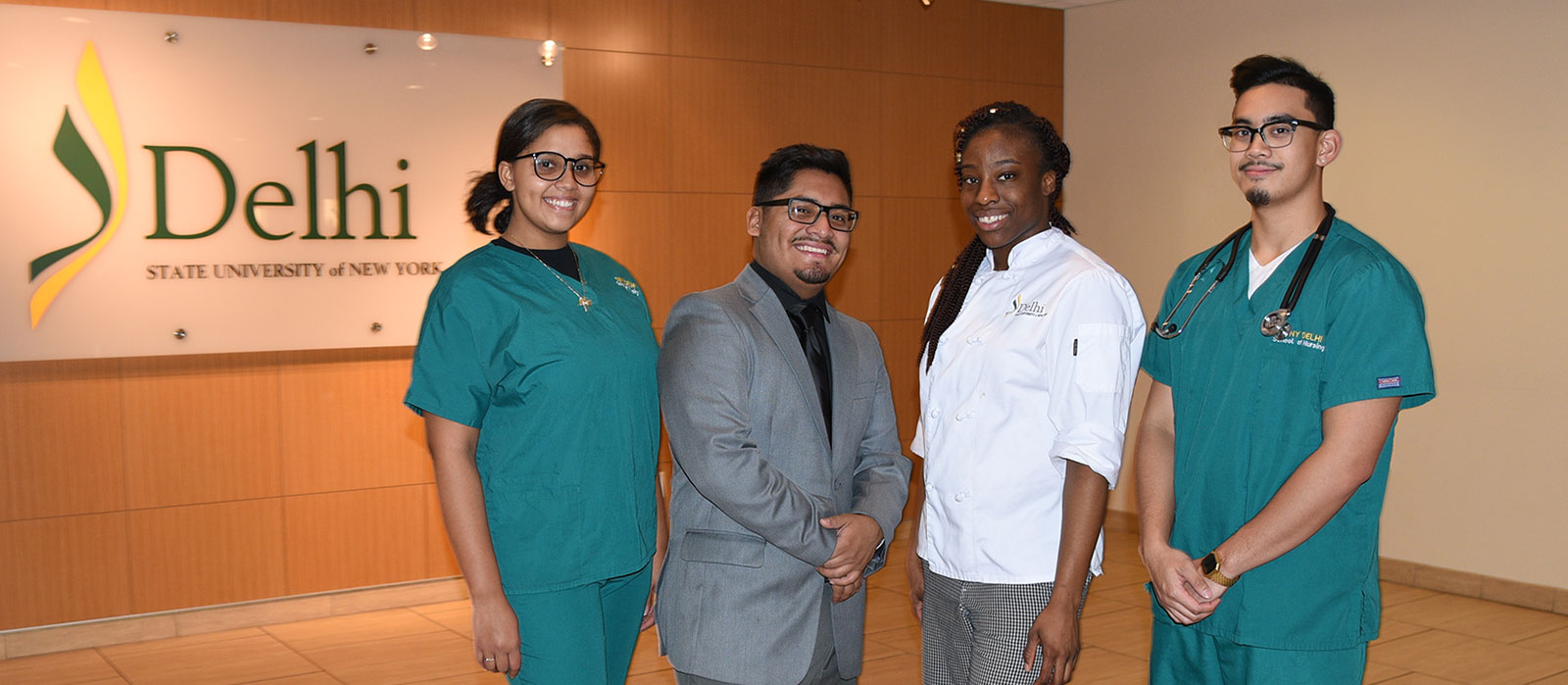 President's Awards for Diversity and Inclusion Excellence
The campus community is invited to nominate individuals, groups and/or events that embody SUNY Delhi's commitment to inclusive excellence.
Overview
These awards recognize outstanding faculty, staff, students, on-campus groups and local residents who have made exceptional efforts and contributions in the areas of equity, diversity, and inclusion. These leaders have a focus on making our college and/or local community more inclusive by creating an environment where all individuals are respected and valued. SUNY Delhi is proud to recognize these diversity champions so others may be inspired by them.
Nomination Process
Category Options: Student, Faculty/Staff, Campus Organization, Community Member, Alumni
Nominators must complete the form by the designated deadline. Please be aware that the nominator may be contacted to gain additional knowledge if needed.
Nominators should provide information about the nominee, including specific examples of how they embrace diversity and equity and demonstrate inclusion in a letter of recommendation format.
Criteria for Selection
Nominees must embody the following qualities:
Works consistently to promote an inclusive campus and/or community
Demonstrates an ongoing commitment to diversity & inclusion
Understands that diversity is an integral part of the college's mission
Goes beyond their job description or student responsibilities to accomplish these objectives
Nominees will also be evaluated based on their demonstrated commitment to the principles and ideals of diversity and inclusion, as evidenced by efforts to:
Advance diversity awareness, knowledge and skills within the Delhi community
Promote institutional policies and practices that invite and reinforce inclusiveness
Serve as an advocate for the interests of under-represented populations
Champion recruitment and retention efforts aimed at improving diversity representation on campus
Develop or lead diversity programming and other diversity and intercultural engagement efforts
Nomination Review
The Equity & Inclusion Advisory Board will conduct the nomination screening process. Final recommendations will be forwarded to the college president. Selected recipients will be notified through email.