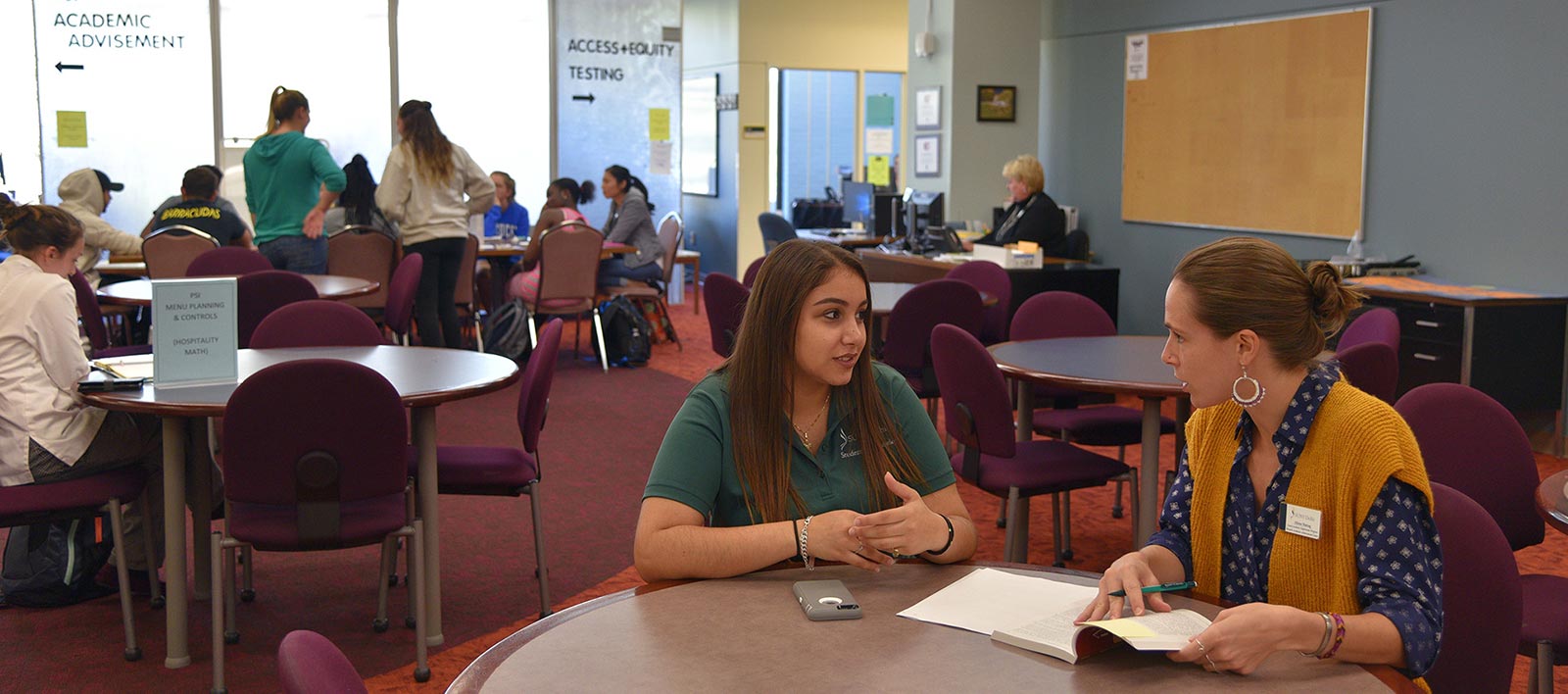 Tutorial Services
Tutorial Services
Tutorial Services are closed for the summer. STAR-NY is still available for Math and Writing assignments through August.

Tutorial Services are still here for you as you continue your remote learning journey. The Math Center and the Writing Center will be virtually open to assist you with your courses. The professional tutors will be accessible online for the duration of the semester during the regular hours of operation, 10 a.m. to 7 p.m., Mondays through Thursdays, and 10 a.m. to 5 p.m. on Fridays for the Math Center. The Writing Center Staff will be available 10 a.m. to 6 p.m. on Mondays, 10 a.m. to 7 p.m. on Tuesdays and Thursdays, 10 a.m. to 4 p.m. on Wednesdays, and 10 a.m. to 3 p.m. on Fridays.
Sign up directly from your course page in Starfish Success and a tutor will contact you to confirm your appointment. Zoom meetings will be an option to provide personal interaction.
You can also reach out directly to the Centers via email, mathcenter@delhi.edu or writingcenter@delhi.edu. We look forward to continuing to help you succeed and welcome you back to our virtual tutoring experience.
Remember, our participation in the STAR-NY Consortium continues offering assistance in a variety of courses covering Writing, most Math courses including Statistics, as well as introductory levels in Biology, Chemistry, including Organic, Physics, Accounting, Nursing, Economics, Psychology, and Computer Science. The hours are 7 p.m. to midnight.
This fall, peer tutoring will also be offered remotely. Check the Master Tutoring Calendar for any course specific tutoring scheduled. If you are looking for a particular course, fill out the tutoring request and email it directly to me, Ms. Josephine Monaco, monacojm@delhi.edu, and I will contact you with the information.
For any questions about tutorial services, please contact Ms. Monaco at monacojm@delhi.edu.
Late Night Online Tutoring
The STAR-NY Consortium of SUNY campuses provides live tutors for synchronous (real time) tutoring sessions for math and writing.
STAR-NY online tutoring is open every Sunday through Thursday evening from 7 p.m. to midnight.
Request A Tutor
Tutorial Services are available to all students and are offered in most entry level, general education courses, as well as some higher level courses. Iff you would like to request a peer tutor, fill out the application to receive tutorial services (pdf) and email it directly to monacojm@delhi.edu.
Interested in Becoming a Peer Tutor?
If you are interested in the position of Peer Tutor, you must be a returning student who has successfully taken the course or a transfer student who has successfully completed an equivalent course, and received a minimum grade of B+, along with recommendation by the Instructor. Please fill out the Peer Tutor Application (pdf) and email directly to monacojm@delhi.edu.