Golf and Sports Turf Management
Four-Year Bachelor of Business Administration (BBA) Degree
Have your office outdoors!
Our bachelor's program in Golf and Sports Turf Management prepares you for management positions at golf courses, athletic venues, landscaping companies and more, by combining the science of turf management with business and communications knowledge. SUNY Delhi is a national leader in golf and grounds management, with alumni managing golf courses and sports facilities across the U.S.

If you have an appreciation for a well-maintained outdoors environment and like to work on your feet, this degree is for you! Developed with input from industry experts, our coursework covers topics like athletic surface management, soil science, and golf course design as well as accounting, communications, and facilities management
The Delhi Difference
Our graduates have enjoyed 100% job placement for the past 10 years!
The bachelor's level program is the only degree in the Northeast that combines turf management with business classes, preparing our graduates for leadership positions within the industry.
Enjoy learning and playing on one of the premier college-owned 18-hole golf courses in the country. We are the only turf program in New York State with our own course! Our 625-acre campus and athletic fields allow additional hands-on learning opportunities.
Other on-campus facilities include a landscape design studio, computer labs with the latest software, a tree and shrub nursery, greenhouses, and an equipment repair lab in the Turf Education Center.
Get the experience you need with a paid internship and local service-learning projects. Recent internship locations include locations such as Augusta National Golf Club in Augusta, GA, Winged Foot Golf Club in Mamaroneck, NY, and the MLB Little League Classic in Williamsport, PA.
In our special projects class, you'll participate in annual projects in the community, such as improving sports fields for the local high school or expanding greens and re-building bunkers at the college golf course.
Our turfgrass equipment vendor agreements allow you the opportunity to gain hands-on experience with the latest machinery and technologies.
Apply for scholarships from industry organizations like the New York State Turfgrass Association, National Association of Landscape Professionals, NYS Nursery and Landscape Association, and others with assistance from your professors.
Bond with your peers and enrich your studies by participating in student clubs such as the Turf Club and the Horticulture Club, allowing you to attend competitions and conferences and build your professional network.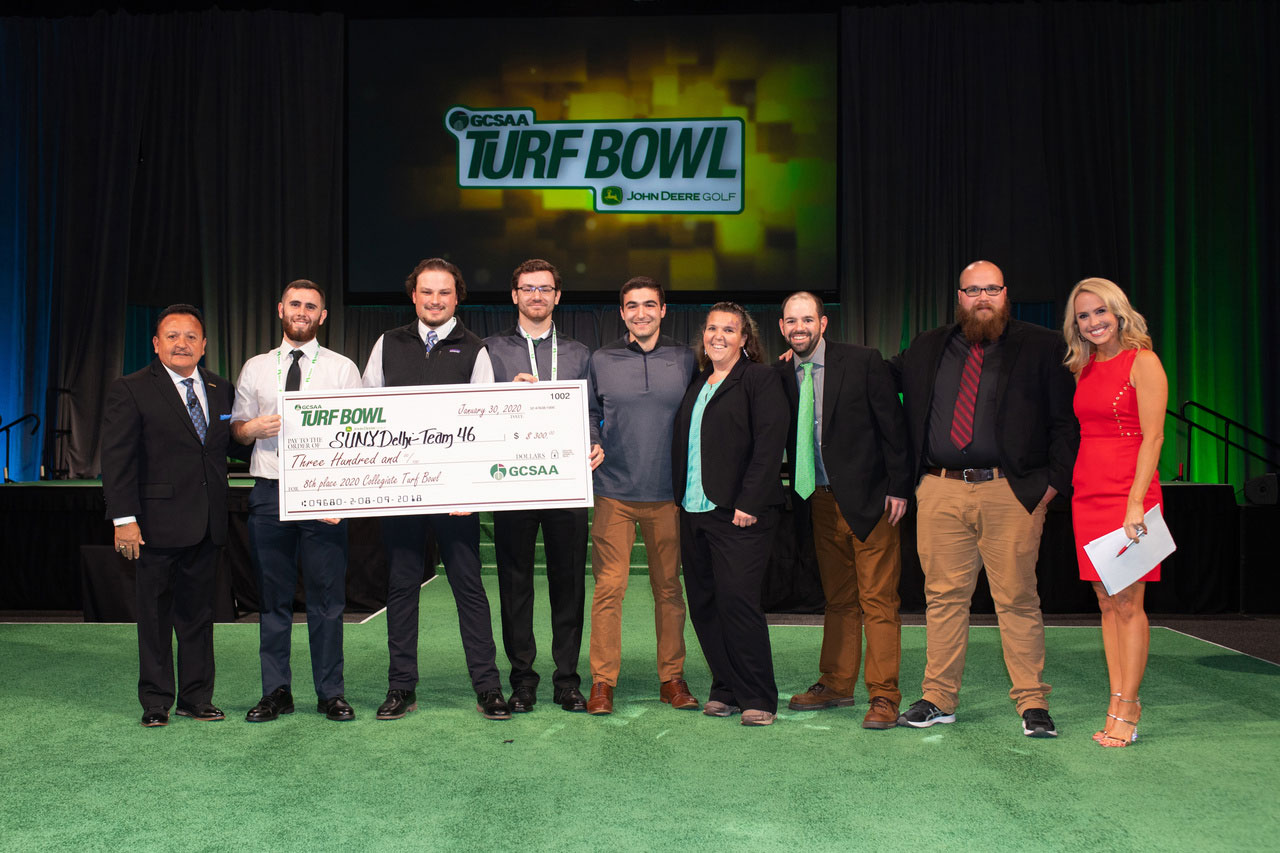 SUNY Delhi Students Place in Top 10 in National Turf Industry Competition
"We get the hands-on experience we need so when we get internships and go into the workplace, we know what to do - almost like a step ahead of the game. The professors are very helpful and offer one-on-one instruction. They're trying to make me a better person and better at my profession."

Nick Ljuljic '23
SUNY Delhi's program is perfect for me because we have a premier 8-hole golf course right on campus for hands-on projects like building tee boxes and sand bunkers and working on drainage. We do an internship every summer, which is great for getting work experience, building my resume, and making connections in the industry.

Sean Carron '24
What Can You Do With This Degree?
Golf course superintendent

Athletic facilities manager

Irrigation Specialist

Pest management technician

Turf industry sales

Golf & sports turf construction/renovation foreman

Golf course general manager

Business owner
Alumni Highlights:
Timothy Clarke '04 – Manager, Tanto Irrigation, Elmsford, NY