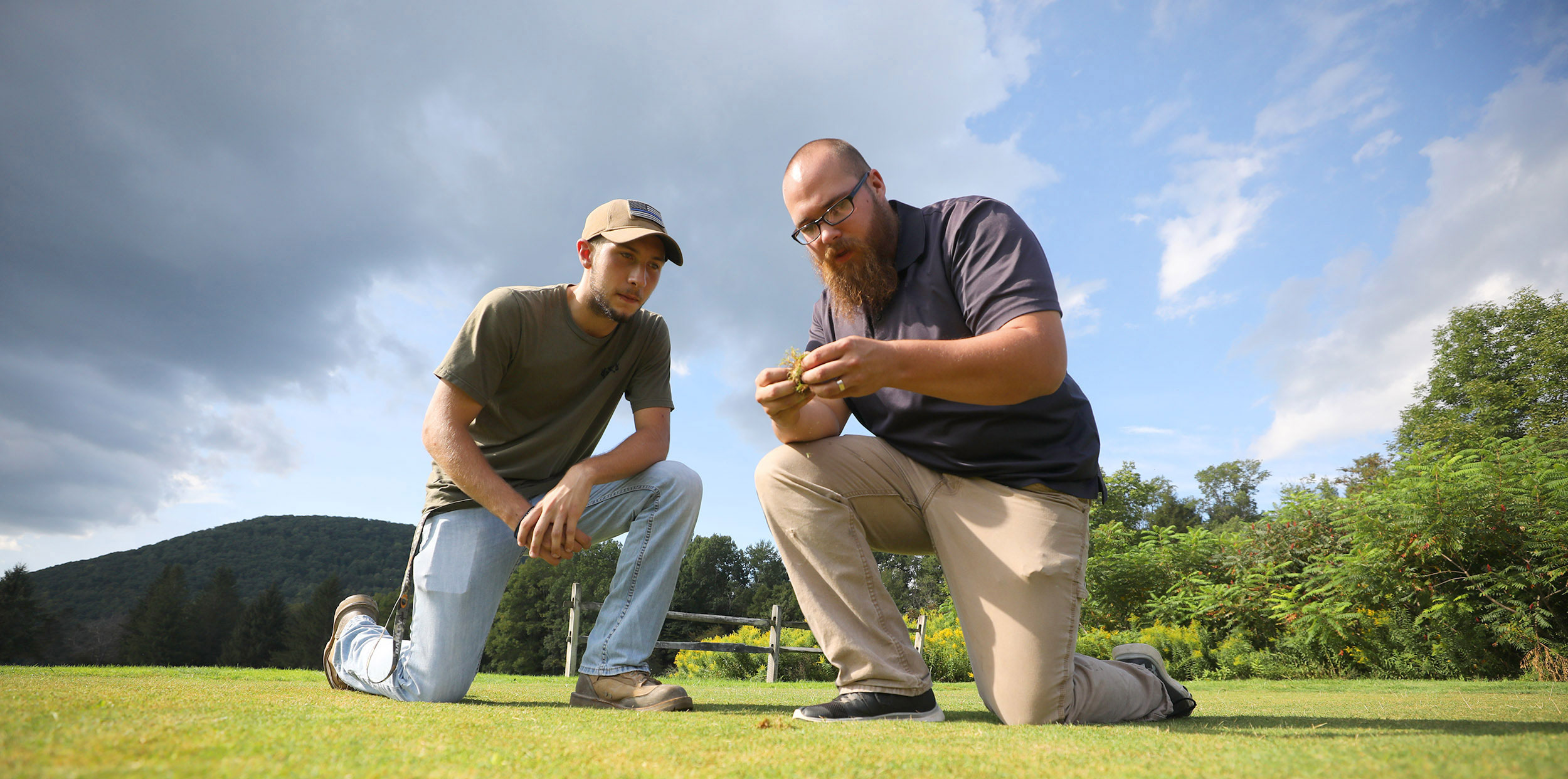 Plant Science
Plant Science
Plant Sciences
Go Green at SUNY Delhi
Become part of the rapidly growing green industry with SUNY Delhi's cutting-edge plant sciences programs.
Choose from three different degrees that feature coursework in horticulture, equipment operation, soil science, landscape construction, and crop cultivation, making you highly employable after graduation.
Internships and volunteer opportunities allow you to put hands-on learning into action through work and community projects.
The only turf program in New York State to have an 18-hole golf course on campus used as a learning lab for students. 
Get hands-on experience operating state-of-the-art turf equipment, installing & repairing irrigation systems, cultivating grasses and sod, and more. This program is perfect for people who love to work outdoors.
Nationwide network of alumni and industry contacts in all areas of horticulture, landscaping and turf management ready to hire you.
Degrees that lead directly to jobs at golf courses, parks, athletic fields & stadiums, nurseries & greenhouses, landscaping companies, scientific research facilities, government agencies, and plant science industry businesses.
Plant Science Programs
Culinary Programs
This two-year degree features two distinct tracks for you to choose from:
Horticulture which focuses on plant management, maintenance, and regenerative practices.
Landscape Design & Management which focuses on residential and commercial outdoor site development.


100% job placement in careers like landscape management/design, greenhouse/nursery manager, horticultural inspector, and many more.
Preparation for seamless entry into our bachelor degree in Golf & Sports Turf Management or related advanced plant science degrees.
Learn more about the Associate in Applied Science in Horticulture Sciences
This two-year degree offers a solid foundation of hands-on turf management and equipment operation experience.
100% job placement with a seamless transition to employment as golf course or sports turf technicians, commercial lawn management, and others.
Preparation for seamless entry into our bachelor degree in Golf & Sports Turf Management or related advanced degrees.
This four-year degree incorporates business and management classes along with the turfgrass and grounds training.
Option for concentration in Athletic and Sports Field Management.
Internship locations include major league baseball parks, PGA tour golf courses, and various other fields and athletic facilities.
Graduates are prepared to serve as course superintendents, supervisors, and managers.
100% job placement for SUNY Delhi graduates.
Plant Sciences in the News

I want to learn more about Plant Sciences at SUNY Delhi!