College Style Guide: Logo
The SUNY Delhi Logo, seen here, is the most current version of the SUNY Delhi logo. Older versions of the logo should no longer be used.


The SUNY Delhi logo should always be reproduced at a size where it is clearly legible in the medium used. The logo should always remain intact. Do not stretch or rotate the logo, re-set the type, or add any embellishments, lines, or boxes. Do not print the logo in any color other than the official SUNY Delhi colors. Do not place the logo on any background that makes it difficult to see.

The SUNY Delhi logo is available for download and is available in green, which is its primary color, as well as black and white for occasions when it's not possible to print in color.

The College Seal


The college seal is reserved for our most formal communication, which is defined by having as one of its primary goals the presentation or connotation of seriousness, officiousness, solemnity, reverence or scholarship. The use of the seal is under the discretion of the President and the Vice President for Marketing and Communications. The seal is not available for download. Permission to use the college seal must be requested from the Office of Marketing and Communications.


Athletics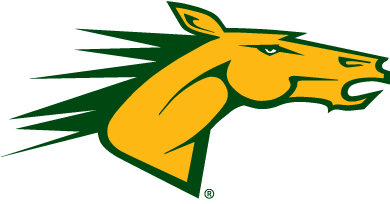 The athletics logo, the Bronco, may be used only by the Athletics Department, Campus Store or by special permission from the Office of Marketing and Communications. It should not be used in place of, or alongside of, the SUNY Delhi logo. The Bronco is a unique symbol for the college's athletic teams, and as such, should not be used to represent academic or administrative units of the college, nor by individuals employed by the college. Exceptions for athletic-related events must be approved by the Office of Marketing and Communications.