Reflections
SUNY Delhi Educational Opportunity Program Newsletter
Hello EOP Family,

It is with much excitement that we present to you our first ever SUNY Delhi Educational Opportunity Program (EOP) newsletter. The newsletter will reflect on the wonderful accomplishments of our students, staff, and alumni. It is a monumental year for the Educational Opportunity Program, as it is celebrating its 50th academic year of providing access and opportunity to New York State residents. I, too, am a product of the Educational Opportunity Program, so it is with great pride that I serve as the Director of SUNY Delhi's EOP program. It is hard to believe that the EOP program has been part of my life for over 20 years. I owe much gratitude to the program and its founding father, Arthur O. Eve. EOP has afforded me and many others the opportunity of Higher Education. I am fortunate to have learned under dynamic counselors and directors. The privilege of working with a passionate staff and talented students at SUNY Delhi makes my heart smile. I am so proud to be EOP.

A Special Thank You
The SUNY Delhi Educational Opportunity Program would like to express our sincere gratitude to the SUNY Delhi Alumni Association. Our graduates will proudly wear the beautiful stoles at commencement for years to come. This kind of support contributes in making our Educational Opportunity Program a success. Thank you for continually supporting our students and programming.


EOP 50th Anniversary
This year we proudly celebrated the 50th anniversary of the Educational Opportunity Program! EOP was founded in 1967 to help students who are academically and financially disadvantaged achieve higher education at SUNY schools. We are honored to have continued the program at SUNY Delhi!

EOP Academic Spotlight: Alexis Lowe
Alexis finished the Fall 2017 semester with her second 4.0 GPA in December of 2017, and we asked her to tell us a little bit about herself and her journey at SUNY Delhi. Edited for clarity.
"My name is Alexis Lowe, though most people know me as Wynter. I am a Senior at SUNY Delhi in the Hotel & Restaurant Management program. My anticipated graduation date is May of 2018. My plans after college are honestly endless, but if I had to structure one legitimate plan, it would be to first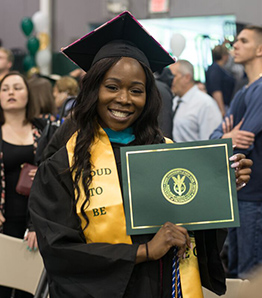 obtain an Assistant Manager position at a well known and respected hotel. Two years later, I would like to leave that hotel and obtain a higher position as a Rooms Division Manager at a different company where I would stay for up to six years. The Educational Opportunity Program has not helped me achieve success - it is the reason I am successful. I will never forget how determined I was to be accepted into EOP. It was down to one more opening and if the student did not come for the first week of fall semester, I would be able to take their spot. The student was a no show, and I was told I wouldn't be funded for the first semester, due to the last minute opening -but I didn't care. It wasn't about the money - it was solely the support I would receive and the bond I'd already made with my counselor, Mr. Reyes. I knew this was where I'd be most comfortable for my four years in Delhi. If I didn't have people like Mr. Reyes, former EOP director Mr. Stedman, and former EOP counselor Mrs. Hoffman in my corner to save me from my annual meltdown, having my best interests, and pulling whatever strings they can to help in dire situations, I wouldn't be the calm, self aware, tactful woman I am today. For those who know me already, when I say this is more than a program, it is a family, I am not being dramatic or exaggerating. Everyone truly wants to see you be great!
Alexis "Wynter" Lowe

Student Award Spotlight: Julio Chavez
"Julio Chavez has won the title of American Culinary Federation (ACF) Northeast Region Student Chef of the Year. The competition took place at Erie County Community College on January 27. Being selected to compete in this prestigious competition is an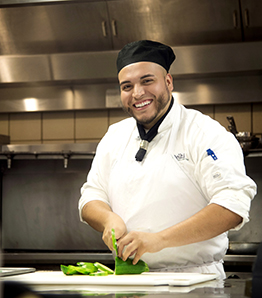 honor and to win is quite a milestone. With his Mexican heritage as his inspiration, Julio had one hour to prepare a dish using duck legs and thighs as the protein. He prepared a tamarind glazed Maple Leaf Farms duck roulade with Mole poblano, duck empanada, avocado puree and a vegetable medley. Julio was able to overcome fierce competition against students from The Culinary Institute of America and The Culinary Institute of New York at Monroe College. He worked countless hours over winter break to perfect his dish and it showed, as he was the winner by a seven points; a huge margin in a culinary competition. The next step for Julio is to travel to Charlotte, North Carolina to be recognized for his achievement at the ACF Chef Connect Vice Presidents' Award Gala. He will then compete for the national title at ACF's Cook. Craft. Create. National Convention and Show in New Orleans, Louisiana this July. This is the third time in four years that SUNY Delhi will have students competing at the national convention."
-Written by SUNY Delhi Professor and Chef Sean Pehrsson
On July 19, 2018 Julio Chavez competed at the American Culinary Federation Convention, where his Mexican-inspired dish won him the title of ACF Student Chef of the Year. We are so proud of this exemplary EOP student, and look forward to seeing what he'll accomplish in the future!


From Our Students: What does EOP mean to you?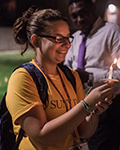 Jaden Davis
"EOP has personally pushed me to accomplish all I am worth. I am very thankful and grateful to have EOP in my life." Jaden, Sophomore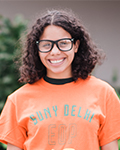 Nanlyett Yulfo Matos
"To me, EOP means having the opportunity to connect with people you never thought you'd talk to. EOP has been my support system and family, and has given me the resources to be successful in classes." Nanlyett, Sophomore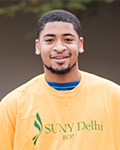 Darryl Valentine
"To me, EOP means family as a whole, hard work & dedication, and it's the first step in success." Darryl, Sophomore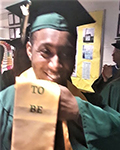 Roman Harrison
"To me, EOP means having the opportunity to connect with people you never thought you'd talk to, learning about them and eventually becoming great friends, and a mini family you look forward to seeing everyday. I love EOP as it helped me grow into myself in a way I couldn't before and gain new family." Roman, Graduate



Meet Our Staff

Jonathan Annan
While this is Jonathan's second year as an EOP Counselor, he is familiar with SUNY Delhi as he is a Delhi graduate and EOP alumni! Jonathan earned his BA in Sports Management from Farmingdale University, and has previous work experience with the Parks & Recreation Department. Jonathan places a high value on spending time with his wife and two sons, and enjoys playing basketball, video games, and watching movies in his spare time.



Jessica Pruschki
This is Jessica's second year as an EOP Counselor. Previously, she worked as a Clinician for at-risk children and families, and as a college mental health counselor. Jessica has an MA in Counseling & Community Psychology, and is certified as a Licensed Mental Health Counselor. In her free time, she enjoys cooking, photography, and spending time with her husband, daughter and French Bulldog Minnie. Jessica is excited to continue working with SUNY Delhi's students!

EOP Contact Information
Louis A. Reyes, Jr.
EOP Director
213 Bush Hall
607-746-4747
reyesla@delhi.edu
Jessica Pruschki
EOP Counselor
214 Bush Hall
607-746-4749
pruschjl@delhi.edu
Jonathan Annan
EOP Counselor
211 Bush Hall
607-746-4746
annanjo@delhi.edu