Culinary Arts
Two-Year Associate in Applied Science (AAS) Degree
Set yourself up for success as a chef!
There's no better place to develop your culinary skills than SUNY Delhi. Recognized as one of the best culinary schools in the country, our award-winning program is the gold standard for training some of the most sought-after chefs in the industry. Learn from our experienced faculty, practice in our top-of-the-line facilities, and maximize your potential for a successful career in culinary arts! The associate degree prepares you for entry-level jobs in the field, or you may pursue advanced studies and career options with our bachelor's degree in Culinary Arts Management (BBA).
If you love preparing food and want to pair that passion with professional skills and creativity, this program is for you. Your coursework will give you a solid foundation in knife skills, sanitation standards, classical techniques, butchering, hot and cold savory preparation, baking and pastry, kitchen management, menu planning, and front-of-house experience. You'll train in small groups in our state-of-the-art kitchens and our brand new pub and restaurant.
The Delhi Difference
Our culinary program is one of only seven NYS schools to be accredited by the American Culinary Federation (ACF). As a graduate of an accredited program, you are eligible to earn specialized ACF certifications which qualify you for more exclusive positions.
Our program is also recognized as an Exemplary Program by the ACF for our high educational standards and excellent management.
Join a tradition of winning! In the last decade, SUNY Delhi culinary students have won more than 500 individual and team competitions, including multiple state, regional, national, and international titles. Most recently, Julio Chavez '19 won the ACF Student Chef of the Year and Carly Yezzo '20 was selected to represent USA in the Chaîne des Rôtisseurs Young Chef International competition.
Hone your skills in our extensive facilities! Our on-campus spaces include the brand new Bluestone Pub & Restaurant as well as a large banquet/catering kitchen, baking and pastry kitchen, ice carving lab, full-scale butcher shop, and a lounge bar with a beverage lab. Culinary and hospitality students run our restaurant several days a week with service open to the general public.
Take electives in areas that interest you the most.
We are one of the few associate programs that offer a baking track for those who want to specialize in pastry and baking skills.
Boost your resume and hone your skills with a summer internship alongside a professional chef at an ACF-certified restaurant (a total of 480 hours is required).
Take advantage of our partnership with the Walt Disney College Program for an opportunity to work at the Walt Disney World Resort in Orlando, FL, for six months while earning college credit.
Participate in related student clubs such as the Escoffier Club and the International Food Service Executive Association for professional development and community service opportunities.
Transfer seamlessly into our related bachelor's programs, including Culinary Arts Management (BBA), Hotel and Restaurant Management (BBA), or Event Management (BBA) to position yourself for leadership positions in the workforce. Take advantage of the opportunity to advance your career before you even graduate.
According to the U.S. Bureau of Labor Statistics, the job outlook for chefs and head cooks is expected to grow faster than average through 2029.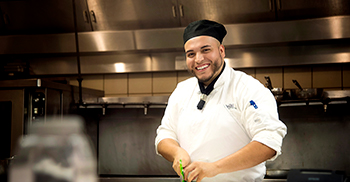 Julio Chavez Wins National Student Chef of the Year 2018
I did a lot of research and found out that SUNY Delhi has an excellent culinary program that has won many awards. I wanted to be a part of that. When I got here, I fell in love with the program. Being in a smaller school like Delhi allows you to have more one-on-one time with different chefs and build relationships. The teachers get to know you – you don't get lost in the shuffle.

Nelson Mondaca '23
What Can You Do With This Degree?
Day/night chef
Line cook
Pastry chef
Garde manger
Entry-level kitchen manager
Alumni Highlights
Dan Hess '17 – Banquet Sous Chef, Westchester Hills Golf Club, White Plains, NY
Patrick Bradley '16 – Sous Chef, Gramercy Tavern, New York, NY
Stephanie Ilasi '15 – Owner, Sweet Escape Bakery, Bayport, NY
Christopher Tanner '06 – Corporate Executive Chef, Griffith Foods, Chicago, IL

Jessica Storrs Ferringer ,'05 - Executive Chef, American Dining Creations, Rochester, NY

Dominic Cerasaro '17 – Head Chef, Fin & Fino, Charlotte, NC

Chris Winkler '07 – Owner of the Twisted Carrot, Plattsburgh, NY