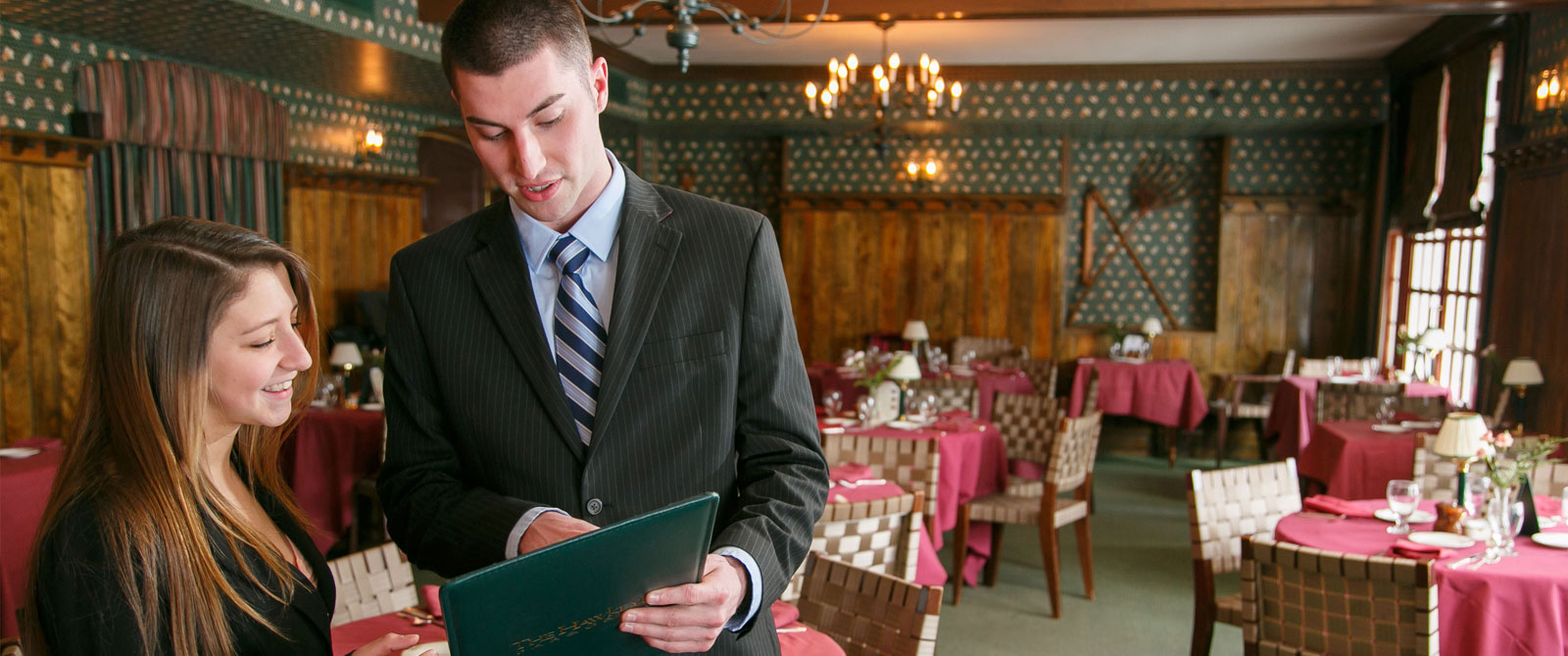 Hotel and Restaurant Management
Hotel and Restaurant Management (AAS)
SUNY Delhi's Associate in Applied Science degree in Hotel and Restaurant Management gives you the foundation you need to launch a career working in the country's premier hospitality properties. Our graduates are in demand and work for such organizations as Hyatt, Hilton, and Marriott International. They have also found success with a variety of corporate and private dining establishments, country clubs, and cruise lines.
At SUNY Delhi, 100% of our students graduate with practical work experience. Looking for an exciting opportunity to earn money and college credit? Our partnership with the Walt Disney World College Program provides students with the chance to work at the Walt Disney World Resort in Orlando, FL, for six months in a structured internship. Have other aspirations for expanding your resume? The faculty can assist! As a SUNY Delhi graduate, not only will you benefit from our extensive professional connections, you'll enter the workplace with the skills and confidence gained from real-world experience.
Program Highlights
Renowned reputation as one of the nation's longest-standing and best regarded collegiate programs in Hospitality Management.
Applied learning opportunities including business simulations and Bluestone Pub & Restaurant, our newest lab, located at the College Golf Course. Culinary and Hospitality students run the restaurant several days a week with service open to the general public.
Faculty are industry professionals who have owned and managed successful hospitality businesses.
Industry connections provide close relationships with regional and national industry leaders which open doors for employment. Our graduates also receive priority consideration for employment at the luxury Otesaga Resort Hotel in Cooperstown.
Small classes mean extensive one-on-one interaction and personal guidance from faculty.
Community service opportunities through various hospitality-specific student trade organizations including the SUNY Delhi student chapter of the International Foodservice Executives Association (IFSEA) and the Hotel Management Society.
Career Opportunities
Guest service agent
Housekeeping supervisor
Food and beverage manager
Sales and marketing coordinator
Human resources generalist
Purchasing and procurement specialist
Internships
Students must complete at least 320 hours of work experience in a related field during the summer between their first and second years of study. Faculty provide assistance with securing internships including resume development, interview preparation, and housing.
Facilities
Alumni Hall Hospitality Center – fully-operating conference and event center
Well-appointed classrooms, including a demonstration lecture room and commercial kitchens
The Kennedy Lounge – bar and beverage laboratory
Popular Bachelor's Degree Opportunities at SUNY Delhi
Recommended Admissions Requirements
75 High School GPA with a Regents Diploma or 2.0 Cumulative Transfer GPA
Completed Coursework in Algebra and Geometry
Curriculum
SUNY Curriculum Code: 0533