Culinary Arts Management
Four-Year Bachelor of Business Administration (BBA) Degree
Strengthen your career in culinary arts!
Our in-depth culinary arts management program dives deeper into the culinary industry, preparing you for the responsibilities of managing and running a culinary facility. You'll develop the leadership and managerial skills to oversee the business side of culinary arts that executive chefs face every day, such as financial operations and management duties. This program is also available online.
If you want to expand your career potential in the culinary industry, this program is for you. You'll take courses in business communication, hospitality law, food and culture, history of wines, hospitality financial management, and purchasing, among others. Hands-on learning is a key component of our program, and you'll have frequent opportunities to practice your skills in our student-run restaurant, kitchens, and other facilities.
The Delhi Difference
Our culinary program is one of one of the nation's longest standing and most highly regarded collegiate programs in hospitality management.
Join a tradition of winning! In the last decade, SUNY Delhi culinary students have won more than 500 individual and team competitions, including multiple state, regional, national, and international titles. Most recently, Julio Chavez '19 won the ACF Student Chef of the Year and Carly Yezzo '20 was selected to represent USA in the Chaîne des Rôtisseurs Young Chef International competition.
Hone your skills in our extensive facilities! Our on-campus spaces include the brand new Bluestone Pub & Restaurant as well as a large banquet/catering kitchen, baking and pastry kitchen, ice carving lab, full-scale butcher shop, and a lounge bar with a beverage lab. Culinary and hospitality students run our restaurant several days a week with service open to the general public.
Take electives in areas that interest you the most.
Make valuable industry connections by networking with our alumni, industry guest speakers, and employer visits, which may lead to internships or job offers.
Take advantage of our partnership with the Walt Disney College Program for an opportunity to work at the Walt Disney World Resort in Orlando, FL, for six months while earning college credit.
Participate in related student clubs such as the Escoffier Club and the International Food Service Executive Association for professional development and community service opportunities.
Graduate into a lively industry! According to the U.S. Bureau of Labor Statistics, the job outlook for foodservice managers is expected to grow faster than average through 2029.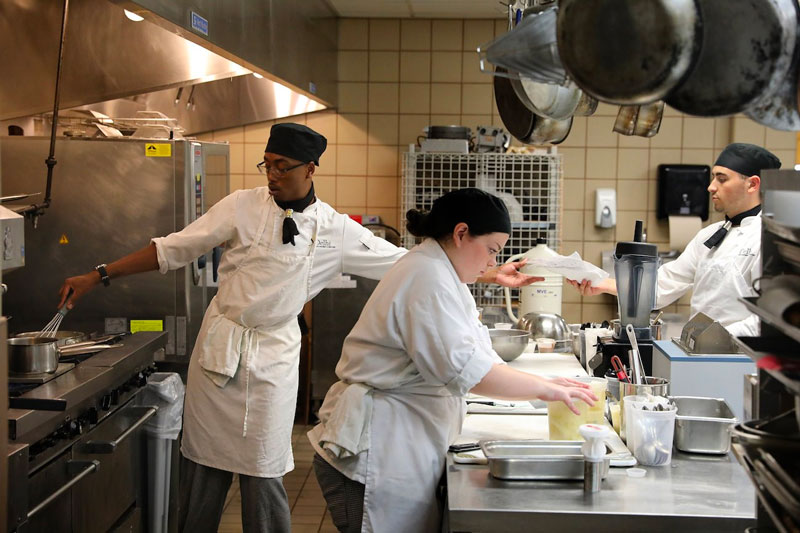 2018 Copa Culinaria Champions
The faculty are so supportive and taught me that with passion and a willingness to push yourself, you can go amazing places.

Thomas Downey '17, Chef De Partie, The Country Club, Chestnut Hill, MA
What Can You Do With This Degree?
Executive chef
Chef instructor
Research chef
Purchasing manager
Restaurant owner
Alumni Highlights
Kathryn Eurich '17 – Sous Chef, Jojo by Jean George, New York, NY
Thomas Downey '17 – Chef De Partie, The Country Club, Chestnut Hill, MA
Deborah Jean '16 – Lead Line Cook, Le Mercerie, New York, NY
Elizabeth Maley '11 – Owner, Bonnie's Restaurant, Greene, NY