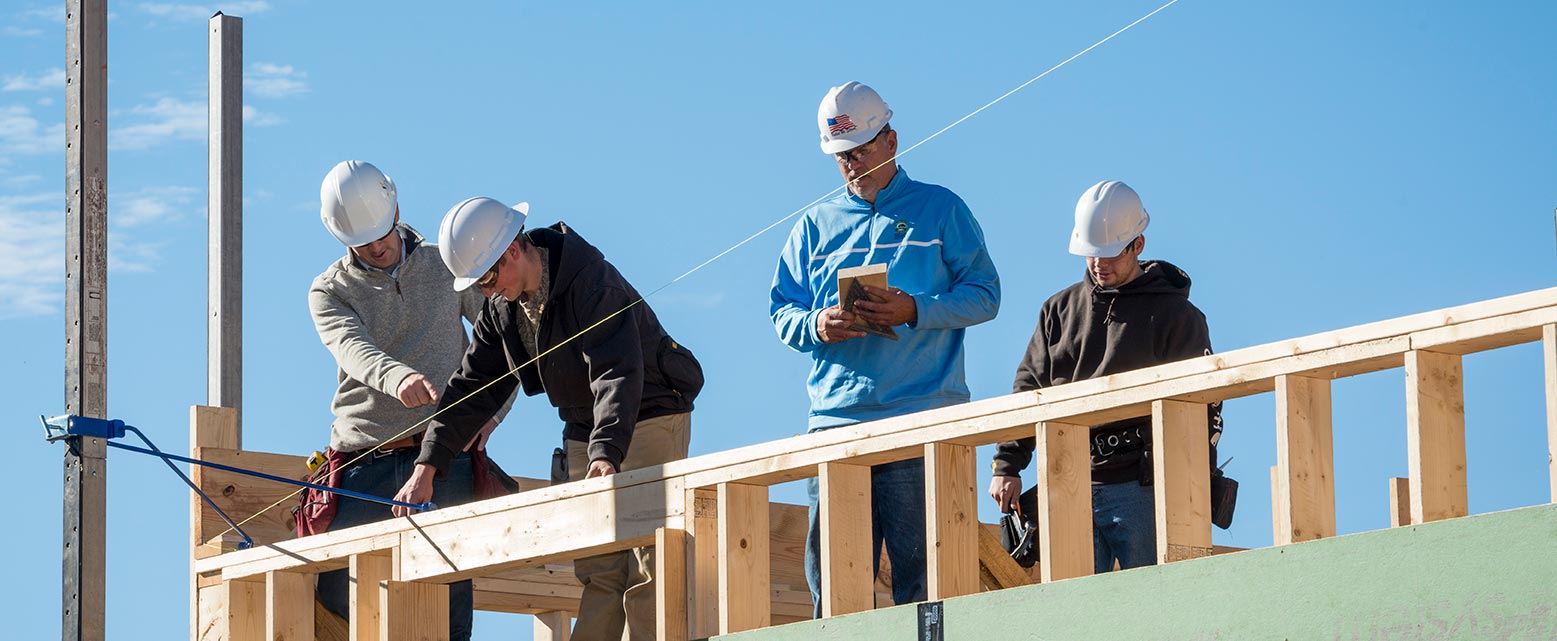 Residential Construction
Woodworking & Cabinetmaking Tool List
This tool list is for students who are entering the Woodworking/Cabinetmaking one-year certificate program directly in their first semester (fall) on campus. Approximate cost: $300
Other Carpentry and Building Trades students who take the program as part of their associate's degree should check with the professors in Woodworking/Cabinetmaking for an appropriate list.
Required Tools
Steel tape measure
Folding wood rule
Pencils - not carpenter's pencils - package of #2
Eraser
Combination square
Block plane
Chisel Set - (set of 6) 1", 3/4", 5/8", 1/2", 3/8", 1/4" (with tip protection or boxed)
16 oz. Hammer (curved claw recommended)
Screwdrivers -standard and Phillips - 2 each #1 and #2
Cordless drill (12 volt minimum)
Screwdriver bits for drill
Set of drill bits 1/16" to 1/4" in 1/16" increments
Countersink bit - hand or for drill
Coping saw and blades
Compass w/adjustment wheel
Marking gauge - wheel type recommended
Scratch awl
Utility knife and blades
Small craft knife with snap-off, disposable blades
Nail sets - 1/16" and 1/8"
Adjustable wrench - 6"
Safety glasses with side shields (no dark lenses)
Disposable paper dust masks (with ziplock bag for storage)
Hearing protection (foam plugs or earmuffs -- earmuffs strongly recommended)
Roll of masking tape - 3/4" wide minimum
Small bottle of yellow woodworker's glue
Simple calculator
Try square - 6" or less
Dovetail saw or gent saw or dozuki saw - 15 TPI minimum
Card scraper set - 3 piece set, one rectangular, one gooseneck, one concave/convex
Graph paper
Protractor
Rule 12"
Sharpie marker
Recommended Tools
Shop apron - bib style
Sliding T-bevel
Bench plane - #3 or #5
Burnisher
Chisel 1/8"
Chip carving knife - (Wayne Barton cutting knife recommended)
Ceramic pocket sharpening stone, medium/fine combination (Highland Hardware)
Sharpening stones - Norton 220/1000 and 4000/8000 waterstones (Highland Hardware sells a waterstone starter set that is economical) OR ceramic bench stone set (medium, fine, ultra fine)
Work Gloves


Work boots and safety glasses are REQUIRED in all lab situations. Students will not participate in labs without them. If you wear prescription glasses, prescription safety glasses are required.
Purchase only professional quality tools. Past students have purchased tools at places such as Sears, Home Depot, Lowe's, and specialty stores. Your entire class will own tools similar or identical to yours. To decrease the possibility of mistaken identity, each tool should be clearly and permanently marked with your name and/or some form of identification number before you arrive to start classes.
Recommended sources for specialty woodworking tools
Tom Ballard Jr.
Pickett Building Materials
6459 State Highway 23
Oneonta, NY 13820
607-432-8391
tballard@pickettbuildingmaterials.com

*Tools can be delivered to campus, or picked up in person at the store. Please order early to allow reorder time for out- of-stock items.
Hartville Tools: 800-345-2396 www.hartvilletool.com
Highland Hardware: 888-500-4466 www.highlandwoodworking.com
Woodcraft: 800-225-1153 www.woodcraft.com
Rockler: 800-279-4441 www.rockler.com