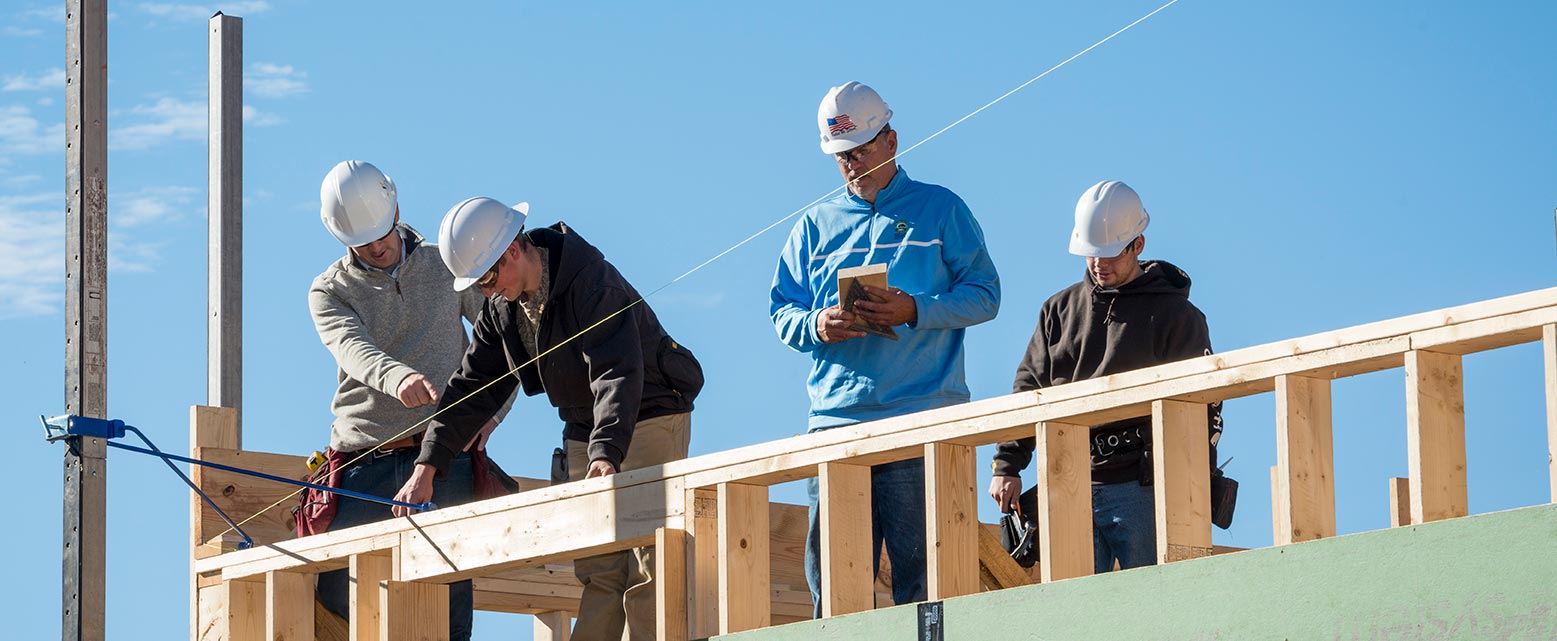 Residential Construction
Residential Construction Tool List
Specific tools are required for the Carpentry and Building Trades associate degrees, and for those enrolled in the one year of Carpentry as a Certificate Program.
The cost of these tools will range from $1,000 to $1,500, depending upon tool quality. Purchase only professional quality tools. Students can purchase tools at places such as Sears, Home Depot, and Lowe's, then transport the tools to campus.
Additional Tool Lists
Work boots and safety glasses are required in all lab situations. Students will not participate in labs without them. If you wear prescription glasses, prescription safety glasses will be required.
Your entire class will own tools similar or identical to yours. To decrease the possibility of mistaken identity, each tool should be clearly and permanently marked with your name and/or some form of identification number before you arrive to start classes.
Carpenter's tool bag or tool carrier for tools. Note: This tool carrier does not have to hold every tool at the same time. It should be something that can be carried to the job site in one hand. Some stores sell fabric type carriers or 5 gallon bucket carriers, which will work. The tools that are not being used on a given day can be put in a cardboard box and left in the residence hall room, or in the trunk of your car.

Note: Residence hall regulations require that if "knife like" tools are kept in the residence hall room, they must be in a locked container. If the tool bag or carrier above is lockable, that will be sufficient. Otherwise, a smaller metal toolbox that can be locked will be required in order to hold the carpentry knives and saw blades.
First Semester
Carpenter's tool bag or tool carrier for tools
Safety glasses
Hard hat hearing protection device (foam plugs or head set)
Disposable dust masks, or one reusable dust mask
Pair of work boots, hard sole, leather uppers
Construction calculator (Master Pro Model 4065 required)
22 ounce or 20 ounce claw hammer
Nail apron or tool belt
Hammer holster
Rafter framing square (Stamped numbers and MUST HAVE RAFTER TABLE)
Pocket or belt 25' tape measure, 1" wide
6" Combination square
Utility knife with extra blades
Speed square
Chalk box and chalk (50' or 100')
10" nail puller (cats claw)
Pair of stair gauges for steel square
100' nylon mason line
Drill; cordless drill, 12V minimum or 120V variable speed reversible
Set spade bits ¼" - 1" (¼" intervals)
High speed steel drill bit set 1/16" to 1/4" in 1/16" increments
Wood chisel set, 4 pieces: ¼", ½", ¾", and 1"
Pair of pliers
6-1 screwdriver
Compass scriber
Pair of quick grip clamps
Straight-cut snips, 10-12" (for cutting sheet metal)
Second Semester
Sur-Form planer (palm held)
16 ounce claw hammer
1/16" nail set, 1/8" nail set
Compass scriber
Sliding tee bevel
6" drywall saw