Event Management
Four-Year Bachelor of Business Administration (BBA) Degree – also available online
Create unforgettable moments for a living!
Our dynamic Event Management programs expand on the skills learned at the associate level, preparing you to become a leader in the industry. With our reputable, top-of-the-line facilities and instructors and a comprehensive curriculum, you'll gain the knowledge and hands-on experience to run events such as corporate meetings, conferences, weddings, ceremonies, parties, and banquets. This program is also available online.
If you have a strong attention to detail and like to be in charge, this program is for you! You'll study a blend of education in liberal arts, business theory, and hospitality management theory with courses such as advanced event management, hospitality law, ethics and sustainability, debate and argumentation, financial management, and many more. Hands-on learning is a key component of our program, and you'll have frequent opportunities to practice your skills in the banquet and conference facilities on campus.
The Delhi Difference
Join one of the nation's most highly regarded hospitality programs! We have a longstanding reputation of producing some of the most skilled and sought-after professionals in the industry.
We are the only SUNY school to offer a bachelor's degree in event management.
Learn from faculty who are leaders in their field with years of industry experience, bringing real-world perspectives into the classroom.
Small class sizes allow you to develop strong relationships with your peers and professors.
Plan and host events at our on-campus venues:

Bluestone Pub and Restaurant, our brand new, state-of-the-art restaurant and event center
Kennedy Lounge bar and beverage laboratory
Alumni Hall Hospitality Center with a commercial kitchen, conference rooms, and banquet space

Network with our vast network of distinguished alumni, as well as employers and other guests, for possible internships and job opportunities.
Customize your education by taking electives in areas that interest you the most!
Your faculty will help with securing internships, resume development, interview preparation, and housing applications.
Take advantage of our partnership with the Walt Disney College Program for an opportunity to work at the Walt Disney World Resort in Orlando, FL, for six months while earning college credit.
Join our student clubs such as Meeting Professionals International, Club Managers Association of America, and the International Food Service Executives Association.
Graduate into a lively industry! According to the U.S. Bureau of Labor Statistics, the job outlook for event planners is expected to grow faster than average through 2029.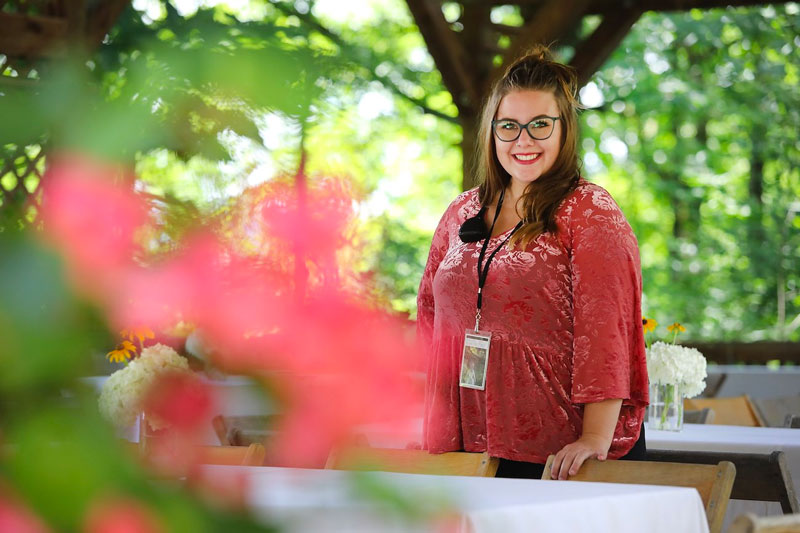 Broadway Stars and Special Events
This program has given me so many opportunities I never thought I'd have. Just a few weeks after arriving on campus, I was able to volunteer at the 2021 Baseball Hall of Fame Inductee Ceremony for Derek Jeter. I worked the 2022 Golf US Open at The Country Club in Massachusetts for several days. I was also a part of a class that organized the Michael Barnes Hospitality Invitational Golf Tournament & Banquet and many other hands-on experiences within the industry. These are not only great learning experiences but also valuable networking opportunities.

Holly Bay '23
My time at Delhi gave me so many hands-on experiences with both small and large events that I was able to hit the ground running when I graduated. The faculty are so knowledgeable and supportive; it was the perfect choice.

Tyler Murray '16
What Can You Do With This Degree?
Convention center manager
Festival/concert/sports event director
Banquet/corporate meeting director
Wedding planner
Convention/conference manager
Concierge/tourism manager
Business owner
Alumni Highlights
Tyler Murray '16 – Activities Supervisor, Vermejo Resort, Raton, NM

Andre Bongiorno '15 – Catering and Events Coordinator, LaGuardia Plaza Hotel, East Elmhurst, NY

Joanna Zimbaro '11 – Special Events Coordinator, Yale Club of New York City, New York, NY

Kaycee Darby '10 – Sales and Marketing Director, Mirbeau Inn & Spa, Rhinebeck, NY