SUNY Delhi Receives Major Gift to Support Construction Management Students
The gift will be used for scholarships for students seeking careers in heavy civil construction.
The College Foundation at Delhi has received a $75,000 gift from Barnard Construction to expand scholarship opportunities for SUNY Delhi students pursuing bachelor's degrees in construction management. The gift is intended to inspire the next generation of industry leaders by supporting students seeking careers in heavy civil construction such as the management of dam, tunnel, and power delivery projects.
Barnard Construction, a leading heavy civil construction company based in Bozeman, Montana, is a long-time SUNY Delhi partner and a member of the college's Construction Management Advisory Council.
"While our firm recruits from top construction and engineering schools across the country, SUNY Delhi's students always perform at the highest level," said Jeff Kanehl, recruiter at Barnard. "We are excited to expand our partnership with Delhi to support future professionals in the construction industry through this scholarship."
"This generous gift will have a substantial impact on our students and support their career goals," said Dr. Mary Bonderoff, acting president at SUNY Delhi. "We are grateful to Barnard Construction for their leadership and investment in SUNY Delhi, our students, and the future of the construction industry."
Through the scholarship fund, junior and senior students majoring in construction management who are interested in careers in civil or heavy construction can apply for a $5,000 scholarship per academic year towards their tuition.
About the construction management program at SUNY Delhi
As one of the top construction colleges in the Northeast, SUNY Delhi's bachelor's program Construction Management: Design and Building takes a comprehensive approach to the construction process with classes in planning, architecture, and business. With over 800 hours of on-the-job training and a 90% job placement, graduates are prepared to take on managerial and leadership roles in any sector of the industry. Visit www.delhi.edu to learn more.
About Barnard Construction
For 48 years, Barnard has delivered large and complex infrastructure projects throughout North America. The company's core services include heavy civil, tunneling and underground, hydropower and renewables, power delivery, oil and gas pipelines, and environmental efforts. Visit www.barnard-inc.com for more information.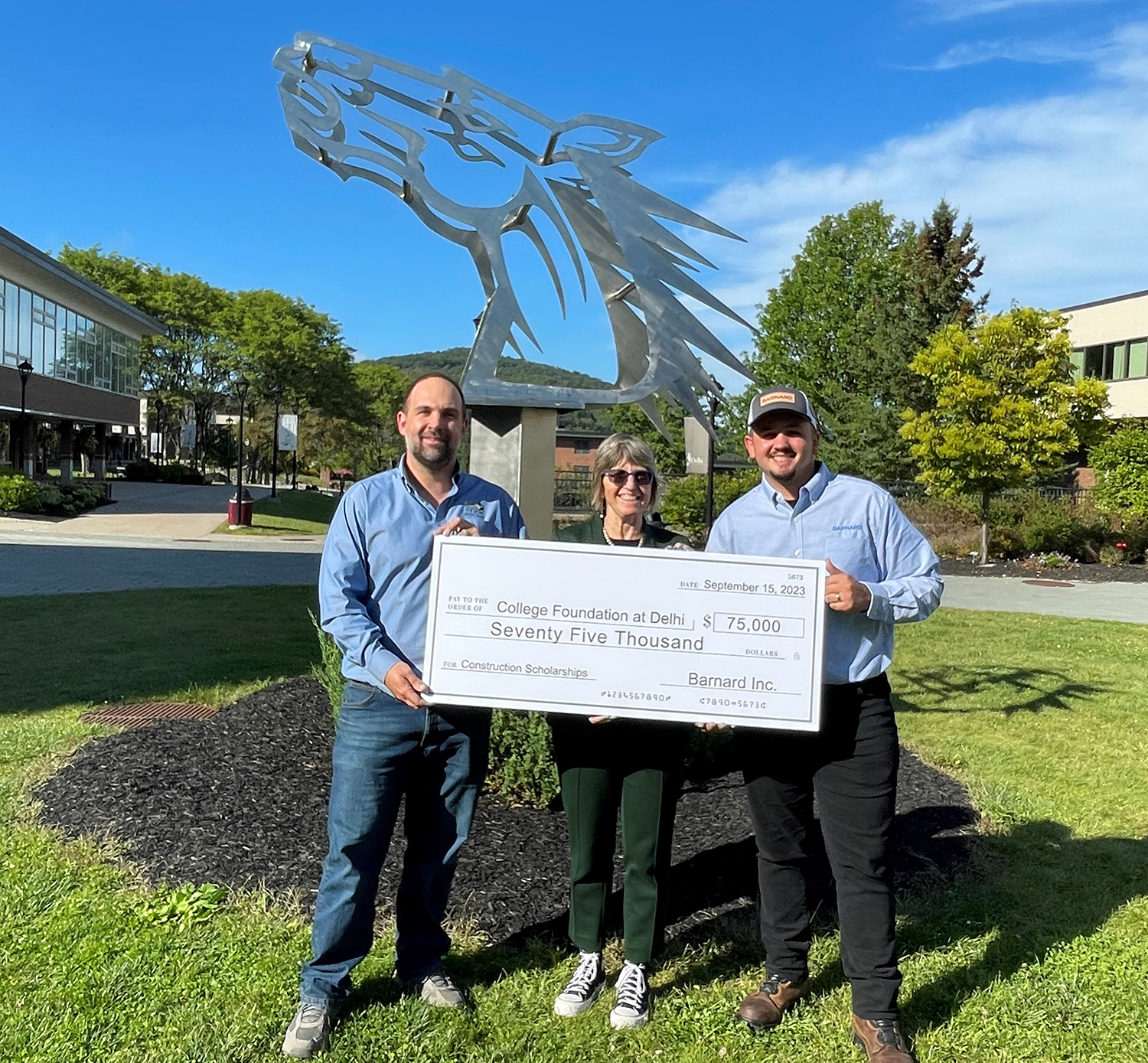 Photo: Barnard Construction presents a $75,000 check to the College Foundation at Delhi. Left to right: Blaze Cordaro, Associate Professor of Construction Management at SUNY Delhi; Dr. Mary Bonderoff, Acting President at SUNY Delhi; and 2016 SUNY Delhi Graduate Chris Butta, Project Manager at Barnard Construction.